IN FOCUS: The demand for luxury watches in Singapore and why collectors turn to the grey market
The demand for luxury watches is in the spotlight after a couple who were selling them went missing with millions of dollars of their customers' money. CNA looks at why some buy from the grey market rather than authorised dealers.
SINGAPORE: It took Mr Jay Tun almost two years of deliberation before he bought his first luxury watch in 2018.
The S$16,480 Rolex Sea-Dweller, which is still in his possession, started him on a journey that has been "hard to stop".
The 35-year-old has since spent more than S$300,000 on these timepieces. He now sees his watches, now valued at about S$400,000, as not just a passion, but also an investment.
"I don't just like watches for the value. I like the watches for the different movements, different intricacies of the movements itself. It's very intriguing … It's like art to me," he explained.
"Whichever purchase I want to buy, especially for watches, the numbers must make sense first. But of course the piece must be something that I like."
For luxury watches like some of the ones Mr Tun collects, demand far outstrips the supply. Watches from brands such as Rolex, Patek Philippe and Audemars Piguet are among the most popular.
Buyers cannot just walk into shops and purchase these watches. There are usually long waiting or interest lists, especially for popular models, watch dealers and collectors said.
Mr Jarod Ng, co-founder of retailer Watch Capital which sells new and pre-owned luxury watches, said a lot of people find the waiting time too long.
"Let's just say that you want to buy this as a wedding anniversary gift or you want to buy it for your son as a graduation present. You can't be waiting for two years when he graduates in the next six months," said Mr Ng.
Getting your name on the list also by no means guarantees you a watch.
"With the authorised dealer, I think a lot of people feel the same frustration as I did. You go there and they will give you the standard SOP (standard operating procedure) - that this is a highly sought-after piece, there's this interest list," said Mr Tun.
"If you don't follow up, if you don't buy anything more from them, likely you will never hear from them ever after."
Even VIP customers have to wait a few months for a watch of their choice, said Mr Tan Khai Hsiang, who runs an online shop on Carousell called KHF Watch.
Mr Tan started out as a watch collector himself, and started buying and trading luxury timepieces on the e-commerce marketplace in 2019. He also purchases watches overseas on behalf of other dealers in Singapore. 
GOING FOR GREY
New customers are often told that the watches they want are out of stock and so they turn to the grey market, Mr Tan said. The grey market is made up of retailers who are not officially authorised by brands to sell their watches.
Mr Tan likened the process to buying an exclusive bag like the Hermes Birkin. "For normal people, it's impossible to get," he said.
Mr Charles Lee, founder of Good Time Luxury at Far East Plaza, said that it became harder to get watches amid the pandemic as customers could not travel overseas to buy them. 
"Even if they walk into the boutiques, you can't get the popular models. You can't get the Rolexes, the shelves are empty. That's why people have to buy from grey dealers like us." 
And some customers do not mind paying more to get what they want immediately.
More popular brands and models can cost between 20 and 30 per cent more on the grey market, while some can command almost double the retail price. 
Checks by CNA on authorised dealer websites found that an entry-level Rolex Submariner model is listed for about S$12,000. On Chrono24, an online marketplace for watch buyers and sellers, the same model costs about S$22,000. 
Some customers may choose to buy watch models that are less popular or less in demand for the sake of building a relationship with an authorised dealer, watch dealers told CNA. These customers then resell the watches they don't want to grey market dealers.
With the low supply, boutiques prefer to sell their popular watches to customers that have an existing relationship with them rather than a first-time buyer, said Mr Lee, describing this as "common business sense". 
"Not everybody has the time and the capability to keep spending," he added. 
Some authorised dealers may even "bundle up" several watches together - customers who want a certain more popular model may be asked to buy some other watches from other brands. 
"Maybe a normal Rolex Submariner, S$13,000 to S$14,000, and you want to get that, it's nearly impossible. You need to bundle up with something else, let's say a Tudor, a Cartier or a Hublot. Each of them maybe will be at least S$10,000 also. (Add everything) together then you can get the model that you want," said Mr Jeron Toh, who runs Athena Jewels & Watches with his family. 
The grey market watch dealer, which has three outlets across Singapore, has been around for more than 10 years. 
"But let's say really wealthy people - they don't mind. They can buy this Hublot for S$200,000 in order to get a chance to buy a Patek Philippe or an exotic Rolex model. But that's for really wealthy people."
Authorised dealers are aware that some customers flip the watches to sell at a profit, added Mr Tun. And they try to "filter out" these individuals.
CNA contacted the representatives of several authorised dealers in Singapore, all of whom either did not respond or declined comment.
When two CNA reporters posed as first-time buyers and visited several authorised dealer shops on Friday (Aug 5), sales assistants confirmed that all the timepieces in the stores were "exhibition models" and there were no watches in stock. All also confirmed that the demand for luxury watches was currently extremely high, leading to long wait times. 
The sales assistants explained that potential buyers would have to add their names and details to an "interest list", along with their preferred watch models. Some authorised dealers accepted multiple entries of watch models while others limited this to one model per customer. 
They could not say how long the wait for a watch would be, but stressed that adding one's name to the list did not guarantee one would be able to purchase a watch. This partly depends on the demand of the specific watch model in question. 
When asked whether a prior relationship with the shop would make a difference, some sales assistants noted that existing customers would be given higher priority.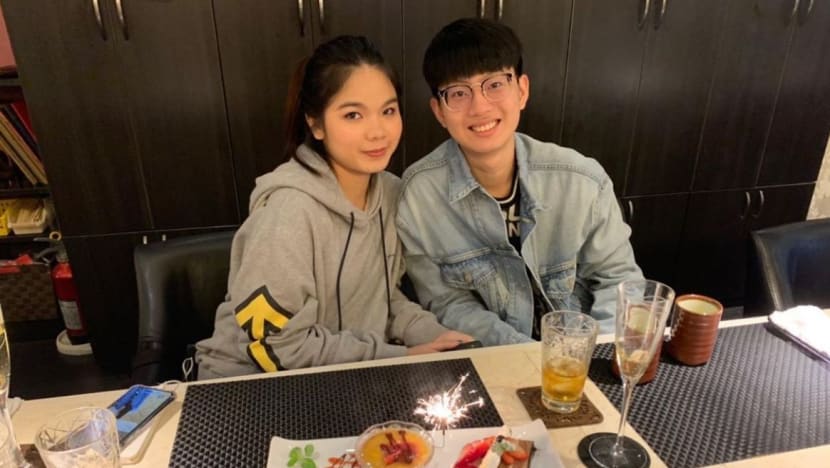 MILLIONS LOST IN TRADENATION SCAM
The demand for these watches and the grey luxury goods market in Singapore made the headlines in recent weeks after a couple went missing in July allegedly with millions of dollars of their customers' money. 
Pi Jiapeng, 26 and Siriwipa Pansuk, 27, are accused of cheating victims who made advance payments for luxury watches and bags they sold under two companies – Tradenation and Tradeluxury. 
Arrest warrants and Interpol notices have been issued against the couple, who are wanted in connection with a series of cheating cases associated with these companies.
As of Jul 20, at least 180 reports involving the two companies have been made, said the Singapore Police Force. CNA understands that the victims who made police reports have not received goods worth at least S$20 million as of Jul 17.
The couple fled Singapore on Jul 4 by hiding in the container compartment of a lorry. Two people have been arrested and charged for helping them escape.
Victims CNA spoke to said the couple operated mostly online on Carousell, with sparkling reviews to their name. They also opened a store in Tanjong Pagar earlier this year. 
In response to queries on whether buyers flagged issues with Tradenation or Tradeluxury, and when the complaints began, Carousell said it is currently working with the authorities and could not comment on the ongoing investigations. 
However, it said it has a "tiered system" for actions taken against sellers who are suspected of fraudulent behaviour. Higher risk behaviour results in an immediate suspension, said a spokesperson. 
"However, bad actors are always shapeshifting and are very savvy. We are constantly innovating to stay ahead of the curve and to keep one step ahead of opportunistic scammers, who evolve almost as quickly as we do." 
The number of luxury goods listed on Carousell surged by 100 per cent from 2019 to 2020. The majority of these were by "casual sellers", it said. 
A quick search for luxury watches and brands on the online marketplace brought up hundreds of listings looking to buy or sell these products. 
Of the grey market watch dealers CNA spoke to, a few operate purely on Carousell while others have a physical store and mostly use the platform as a way to reach customers. 
Most of them also observed that the number of casual buyers and sellers on Carousell or other online platforms, also known as private dealers, has increased over the last few years. 
Transacting with more casual watch collectors started to get popular about two to three years ago, said KHF Watch's Mr Tan, adding that he also started his own business around then. 
Since he only sells his watches online, he usually meets his customers and accompanies them to authenticate the watch. After the customer confirms they want to go through with the transaction, they pay Mr Tan in cash or by PayNow, and he hands over the watch immediately. 
Good Time Luxury's Mr Lee said: "I just treat it as a marketing tool to display, market my products. Then the whole transaction happens at my shop so it's safe for both parties." 
When customers contact them through Carousell listings, Athena Jewels & Watches' Mr Toh said the team will encourage them to come down to the shop to see the watch they want in person. 
"We want to make sure that the customer really wants the watch. Some people come down to see a 36mm watch, but they come down and try it on and it's too small or too big, they don't have an idea of what it looks like on their wrist," he added. 
If customers were to pay the full amount for a watch before seeing it in person, it would pose complications if they no longer wanted the watch after they collected it, said Mr Toh. 
"That's why we don't do that. You see, you like, you buy on the spot." 
Grey market dealers told CNA they have come across other accounts on Carousell that appear suspicious, including selling fake watches or selling them below market price. 
"Honestly, there are a lot of these people out there on Carousell. My advice is definitely some are good sellers, genuine sellers, but there are also some that are really ripoffs, the condition can be bad and so on," said Mr Lee. 
It is more difficult for grey market dealers with a physical shop to sell inferior goods, compared to private dealers who only transact online, he added. 
"When you buy online, if the guy sells you a watch the condition is substandard, (and) disappears or runs away, there's no way you can track him down. So that's the huge risk they have to take if you buy from these so-called casual sellers online."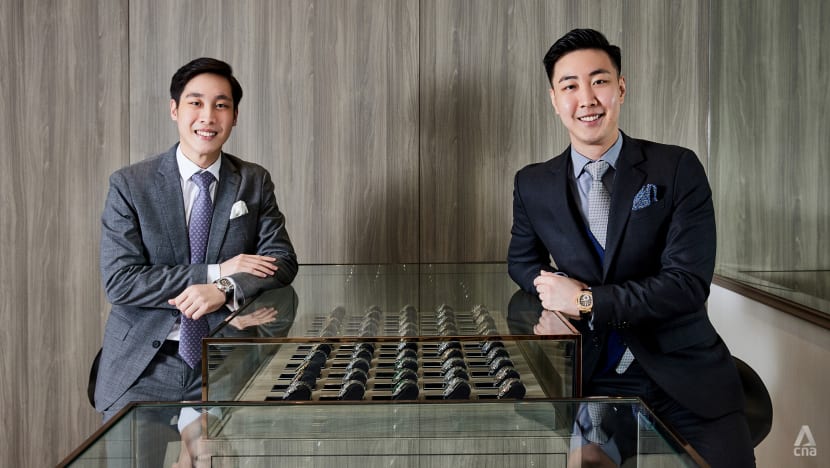 FOR COLLECTORS, FOR INVESTORS
Interest in luxury watches in Singapore has been strong over the last few decades but demand grew rapidly in the past few years,  said Mr Peter Chong, who is the founder and editor-in-chief of watch blog Deployant.
Singapore Watch Club founder Tom Chng noted that interest in luxury timepieces increased amid the COVID-19 pandemic.
"During the pandemic was also a time where a lot of young people saw (an increase in) their net worth due to profits from cryptocurrency or NFTs (non-fungible tokens). I've seen more and more of this demographic not only very eager to learn about watches, but also very eager to spend on watches as well," he said.
Watch Capital's Mr Ng said that some view these watches as "alternative" investments. 
He estimates that about 40 per cent of his shop's clientele buy watches as an investment. Others simply purchase watches they like.
"Some of my clients don't mind buying 20 watches that they don't like and just put it in a safe. At the end of the day, they just let the watches appreciate in value … It's like a safe haven for your money.
"You just park it in your safe and if anything goes wrong, it's highly liquid, you can liquidate and just cash it out … It is basically cash but cash on your wrist."
While watch prices are affected by economic conditions, they are generally less volatile, he added.
Being able to own the item that you have invested in also helps, said Mr Tun.
"This is something I have physical utility over and something I can see, I can touch, it is with me, and so of course that adds to that confidence factor," he added.
Over the last one-and-a-half years, the watch market has been a "gold mine" for some, noted Mr Ng.
"(For) some of the watches, the prices rose by at least four times over the past two to three years," he added.
In 2021 alone, Watch Capital sold more than 1,000 watches, Mr Ng shared. There were times when the shop sold more than 150 watches a month, he added.
"That point of time, it was crazy. It was really insane. People were literally riding on the gold rush."
Buying a luxury timepiece from the grey market? Here's what to watch out for
When it comes to purchasing watches, there are several red flags that potential customers should be aware of, watch dealers and enthusiasts said. 
Don't leave too high a deposit
Leaving a deposit of more than 20 per cent before buying a watch is very uncommon, said retailer Watch Capital's Mr Ng. 
Other watch dealers CNA spoke to cited amounts of anywhere between 10 and 20 per cent, or about S$500 to reserve a watch. 
In the case of the Tradenation scam, customers were instructed to pay the full amount upfront for their purchases, before the items were in hand. They were promised that the items would arrive in two to four weeks. 
"Usually no one pays the full amount to (reserve) something," said Athena Jewels & Watches' Mr Toh. 
For his shop, customers can reserve a piece for two days without a deposit. If they are serious about the watch, they can place a 10 per cent deposit to hold the watch for a few weeks, he added. 
Look for a secondhand dealer's licence
Unlike casual dealers on Carousell, many grey market luxury watch dealers have obtained a Secondhand Goods Dealers Licence from the police. 
Although Tradenation was registered as a precious stones and metals dealer with the Ministry of Law, this registration – which has since been suspended – only regulates money laundering and the financing of terrorism. It did not have a secondhand dealer's licence. 
Long waits are suspicious
The long wait that Tradenation customers faced for items was also another warning sign, said dealers and hobbyists. Most transactions are made when the watch is already in hand, with the exception of some pre-orders. 
"The other red flag they should have noticed is basically he said that he would not deliver the watch until one month later. There's just no logic to that. Usually for us, the maximum time we take to deliver the watch is one week," said Mr Ng.
"One month is a really long time, and a lot of things can happen within that one month."
If something is too good to be true, it probably is
Tradenation's watches were priced significantly below the typical grey market rate, watch dealers told CNA. 
"This would have attracted many people to come, they probably got a huge amount (of enquiries). That's a red flag," said Mr Toh. 
Before buying a luxury watch online, do your research and compare prices with other private dealers or grey market dealers with physical stores, he added. 
A NEW PHENOMENON
The luxury watch grey market is a relatively new phenomenon, noted watch blogger Mr Chong.
"Retailers would mark up the watches and sell it at what they then would perceive as a fair market price. But … five or six years ago, (watch brands) started to clamp down on this practice by the authorised dealers and prevented the authorised dealers from selling above retail," he said.
"So the dealers have to sell at retail price and therefore there is a perceived gap where somebody steps in as a grey market dealer, which I think is a very opportunistic move."
There are other alternatives to splashing out more for a watch on the grey market, he added. 
"So if people come to me and say 'What do you think about this watch if I buy it on the grey market for double the price?' We always try to discourage them to say there are other alternatives, buy something else. It's not that you will die if you don't have a (Rolex) Daytona," he said.
"As long as people keep supporting them … they will continue to be in this business."
Watch collector Mr Tun, who has purchased his watches both from the grey market and from authorised dealers, noted that there are pros when it comes to purchasing watches from the latter.
"If they tell you this (watch) is brand new in box, it is literally brand new in box," he said.
"From the grey market dealers, sometimes I've encountered before - the dealers selling them or marking them as brand new in box but obviously it is not."
It ultimately boils down to what the buyer wants, Mr Tun said.
"If somebody were to start their journey, if they want to buy more than one piece then I would suggest going to the AD (authorised dealer). But if you just want that one piece … and want this Rolex specifically, this model, then just buy it from the grey (market)."
Watch dealers were quick to stress that buying from the grey market has its benefits, especially for people who do not have the time and resources to build a relationship with authorised dealers. 
"We are there to help people to get those timepieces, those watches that they want, but they couldn't get at the boutique. Of course, they have to probably pay a higher price than at retail but that's just how it is," said Mr Lee. 
"For this watch I don't mind paying more, I get this watch and I don't have to wait. I don't have to buy and build a profile (by buying) watches I don't like at the boutique, I get (the one I want) immediately. So I think it's a win-win."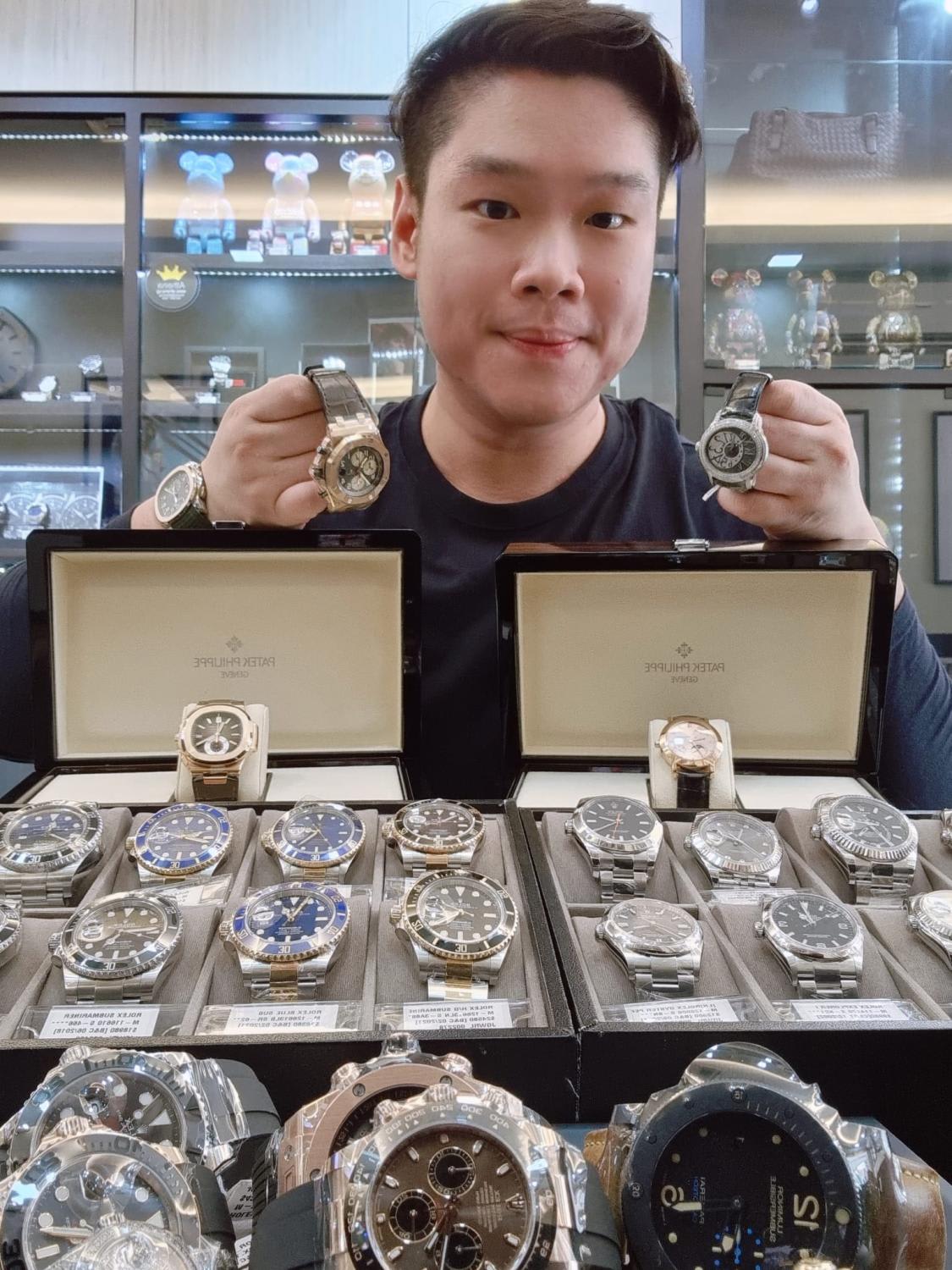 With the possibility of a global recession looming, the luxury watch market could take a hit as well. 
"I think it will continue to roll (on) but for the next one-and-a-half years, I think it'd be slower because of the economic situation," said Mr Chong.
"But of course we don't know. If you asked me just before the pandemic, would the interest in watch collecting drop, I would say yes. But now looking back, it actually went up."
Brand awareness of luxury watches among the public has also increased, said Singapore Watch Club's Mr Chng, who believes the market will continue to grow at least in the next few years.
"Even the layman on the street, they kind of recognise these brands now. And it's also not a coincidence that these brands are the 'hottest' right now, selling for multiple times as retail prices," he said.
"So naturally, they have become definitely a status symbol, which is also why it's further fuelling that hype. It's more recognisable, it's going to be even more expensive, and when it's even more expensive, it's going to be even more recognisable."
But as more are drawn to buying luxury watches for various reasons, some will grow to appreciate the timepieces.
"Of this pool of speculative people, there also will be people who genuinely fall in love with watches, beyond resale value, beyond investment value, beyond how many times above retail, and those people will eventually become watch lovers. It will also contribute to a very natural, gradual and steady growth of watch enthusiasts, added Mr Chng.
"Ultimately, it's about finding the watch that you enjoy for what it is, rather than what it says about you."
Why do people buy luxury goods online and what makes them vulnerable to scams? Listen: