Mortgage outlook for 2023: Will home loan rates keep rising? What can home owners expect?
The US Federal Reserve lifted its benchmark lending rate by half a percentage point on Wednesday. What does this mean for home owners in Singapore in 2023?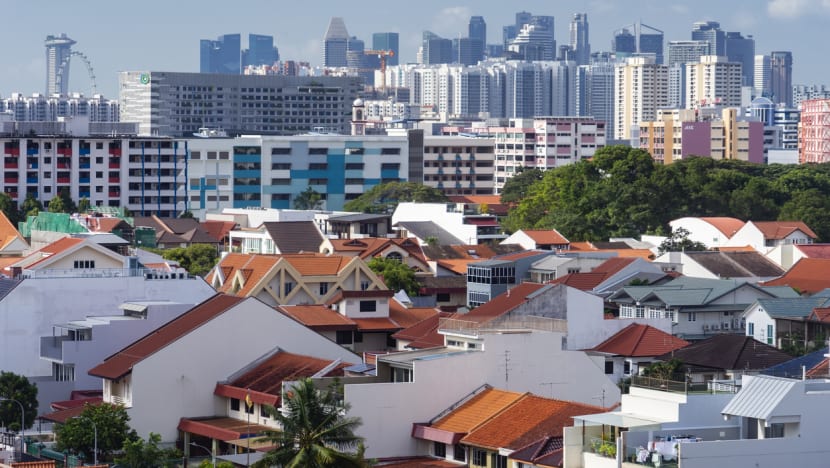 SINGAPORE: If you are a current home owner or wish to buy your first home in Singapore next year, you may be affected by the continued rise in mortgage rates as a result of the US Federal Reserve increasing interest rates.
Lenders take their cues from the US Federal Reserve, which lifted the benchmark lending rate by 0.5 percentage points on Wednesday (Dec 14) in a bid to tame inflation. Fed Chair Jerome Powell warned that there is still "some ways to go".
America's central bank has hiked rates seven times this year, with its latest increase taking the benchmark lending rate to a range of 4.25 per cent to 4.5 per cent, the highest since 2007.
In their projections, policymakers expect rates would land higher than expected at 5.1 per cent next year, according to a median forecast.
HOW WILL THIS AFFECT MY MORTGAGE RATE? 
The 5.1 per cent projection "does not differ much" from the market's expectation that interest rates would hit 5 per cent in 2023, said Mr Paul Wee, vice president of PropertyGuru Finance.
The latest change is unlikely to significantly impact the interest rate on mortgages, he added. 
Mr Wee said that based on current conditions, the three-month Singapore Overnight Rate Average (SORA) is expected to reach 3.3 to 3.5 per cent in the first quarter of 2023. 
The three-month SORA on Dec 15 was 3.0910, up from 0.1949 at the start of the year.
In Singapore, a floating home loan rate is usually pegged to SORA. The interest rates vary throughout the life of the loan, depending on the economy and market conditions.
Mr Darren Goh, executive director at MortgageWise.sg, added: "Already right now, the rates are at levels not seen perhaps in the last 15 years. So yes, it will still go higher, but probably not as much as before."
This is because there is a "resistance level" when it comes to SORA. Historically, the US Fed rates have climbed to more than 5 per cent, but it does not mean SORA followed suit, he added. 
Regardless, there is "no escape" from local mortgage rates rising in tandem with US rising rates, noted Singcapital's chief executive officer Alfred Chia. 
"HDB concessionary loan, which is pegged at 0.1 per cent above CPF Ordinary Account (OA) rates, will rise if OA rates rise. There is a high chance that this will have a slight increase," he added.
Singapore's property market "has been resilient" due to cooling measures and the tightened total debt servicing ratio (TDSR) put in place by the Government, said Mr Chia. 
TDSR refers to the portion of a borrower's gross monthly income that goes towards repaying monthly debt obligations, including the loan being applied for. 
By raising the medium-term interest rate floor for property loans from private financial institutions in September this year, authorities tightened the criteria to assess a borrower's ability to repay the loan and helped borrowers to exercise greater prudence. 
"With Singapore remaining an attractive hub for foreign investors, our market should remain stable," added Mr Chia.
WHAT SHOULD CURRENT AND PROSPECTIVE HOME OWNERS EXPECT?  
First-time home buyers are likely to be the most impacted given the potential increase in mortgage rates, as this is not the final wave of US Fed rate hikes, said Dr Tan Tee Khoon, country manager for PropertyGuru Singapore.
"They are likely to rework their sums, exercise prudence and right size their property purchases," he added.  
"They could also defer their decision to purchase and opt to stay with their parents or explore leasing accommodation, including co-living spaces, in the meantime. Those who are eligible for executive condominium purchases may explore this particular asset class given the housing grants available and also the possibility of deferred payments.
"Those who are more flexible with their timelines and have no urgent need for accommodation may attempt to ballot for a BTO (Build-to-Order) flat should they qualify."
Following September's property cooling measures, Dr Tan noted that there were already dips in the secondary market transaction volumes.
However, prices remained "resilient" in sought after locations, bolstered by demand and the lack of supply. 
As such, for those planning to buy a home, analysts noted that financial prudence is key, especially with some economies expected to slip into a recession. 
"The Singapore economy largely depends on the world, and we need to prepare for a possible recession. Nonetheless, one's home is an important asset," said Singcapital's Mr Chia. 
"Most home owners are not highly leveraged. However, with rising rates and use of CPF, more budget will be used for housing instalments. This will impact retirement planning for many."
Mr Goh from MortgageWise.sg noted the impact of rising rates on potential home owners whose loan capacities are "being crimped" because of rising rates. There is also a fear of losing their jobs if a deep recession hits.
"So there will definitely be some dampening of demand," he said. 
"My advice is to be very careful and don't overcommit on home loan packages that you sign, especially taking note of the lock-in period and especially if you're going for a fixed package."
Mr Wee said current home owners can look for opportunities to either reprice one's loan – to ask the existing financier for a lower interest rate – or to refinance with another financial institution.
"It would be wise to 'pay it forward' in terms of home loans, whether one is a current or prospective home owner," he added.
What this means is to arrange for a higher instalment amount to be transferred to your home loan servicing account, he explained.
"For example, if one's instalment is S$3,000, try transferring a higher amount such as S$3,500," he said.
"There is a two-fold impact to this approach. Firstly, one prepares oneself for the possibility of higher instalments, and secondly, this approach prepares a financial buffer (S$500 in this scenario)."
WILL RESIDENTIAL RENT INCREASE IN 2023? 
There appears to be little respite on the horizon for the rental market. Tenants tend to bear the brunt of the trickle-down effect of rising mortgage rates, with housing rents hitting record highs this year.
A report by Savills Singapore on the local property market outlook for 2023 projects that residential rents and residential prices will rise amid "geopolitical tensions and rising interest rates". 
In 2023, private non-landed residential rents may rise by 5 to 10 per cent year-on-year at a "much slower rate of increase", compared with the 25 per cent expected for 2022, the report stated. 
Savills anticipates that it may take another 18 months before the market starts to "cool down or correct", as this is when the stock of delayed completions caused by the pandemic gets cleared up. 
Residential rent in the high-end non-landed segment in the core central region may rise by "a significant 15 per cent" on a year-on-year basis, given the low availability of leasing stocks, the report added. 
"Even if there is any correction, it may be mild because short of a crisis, rents tend to be sticky," noted Alan Cheong, executive head of research and consultancy at Savills Singapore. 
For the residential sector, the "strong influx of foreign professionals" is expected to keep rents rising, albeit at a lower rate than in 2022, stated Savills' report.
What should you look out for when getting a mortgage loan?