Rental prices of HDB flats surge most in the heartlands; Punggol, Woodlands among the highest
With rental prices of HDB flats hitting record highs, CNA looks at how rents have increased in every Singapore town in the current property boom.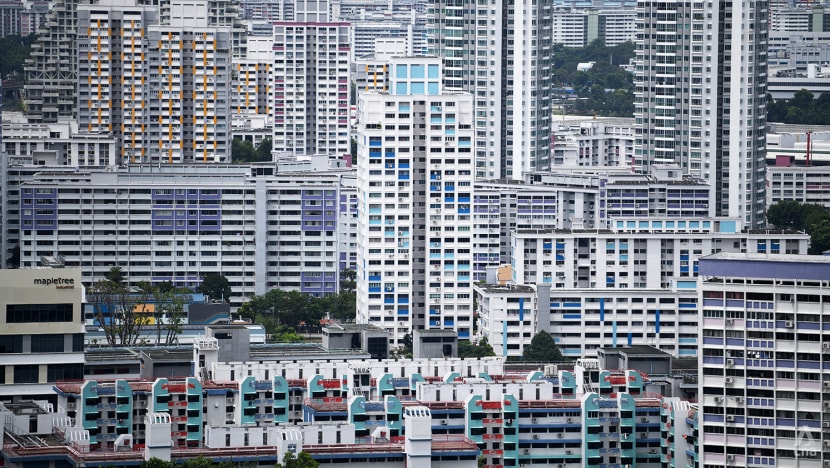 SINGAPORE: Rent prices of Housing and Development Board (HDB) flats across Singapore have risen to record levels, with some increasing by nearly 50 per cent in the last two-and-a-half years.
Analysis of median rent prices of HDB flats shows that prices have reached record high in some neighbourhoods.
Rent prices had mostly stayed stagnant or fallen in the 10 quarters before COVID-19 hit at the start of 2020, but they have since soared in the 10 quarters after.
Earlier this month, CNA reported that people in Singapore are facing up to a 70 per cent increase in their rental payments. 
Construction delays due to COVID-19, the reopening of borders amid the pandemic recovery and a tighter supply of flats are among the reasons for the increase in rent prices across the country, experts told CNA.
The current property boom has also seen HDB resale prices hitting record highs, with prices rising for 10 consecutive quarters since Q1 2020.
"A boom in HDB resale transactions would in a way reduce the supply of HDB flats available for lease. This tighter supply – when set against healthy demand – will put upward pressure on rents," said PropNex's head of research and content Wong Siew Ying.
CNA looks at how rent prices of HDB units have increased across most flat sizes in almost every town, and what might happen next.
FIVE-ROOM FLATS
Rent prices for HDB flats stayed mostly stagnant in the two-and-a-half years before the first quarter of 2020, when COVID-19 hit.
Some towns, mostly those in the heartlands, saw median monthly rent prices fall between the third quarter of 2017 and the first quarter of 2020. But since the start of the pandemic, rents have gone upwards and mostly in the heartlands rather than central regions.
Rent prices for flats in some of these towns hit new highs in the third quarter of this year, according to data released by HDB earlier this month.
Compared with the first quarter of 2020, the rental prices for five-room flats have increased by as high as 47.4 per cent. 
The largest growth was seen in Punggol, where the median monthly rent hit S$2,800. The next largest was in Woodlands, where rents rose 44.4 per cent, with Sengkang coming third.
There is greater demand for flats in such towns as the adoption of remote working by many companies during the pandemic encouraged some tenants to move further from the city centre and aim for larger flats, said experts.
A "sizeable number" of flats in the heartlands have also met their minimum occupation period (MOP) in the last two-and-a-half years, meaning they could then be leased, Ms Wong said.
She added that improved amenities, coupled with the phased opening of the Thomson-East Coast Line station in Woodlands, meant more people looked to rent in these areas.
Mr Mohan Sandrasegeran, a senior analyst with One Global Group, agreed, adding that such non-mature estates underwent urban transformation in recent years that made them more desirable. People looking for "interim alternatives" are also boosting the rental market.
"Home owners who have sold their properties and waiting for their new units to be completed due to construction delays have also played a pivotal role in fuelling rental demand," he said.
Many landlords are also "cashing in" on the current situation, passing along the cost of higher interest, mortgage and inflation to tenants.
"With the increase in volume of renters, it is essentially pushing rental prices up," said Mr Sandrasegeran.
FOUR-ROOM FLATS
Rents of four-room HDB flats have increased quickly – between 13 per cent and 47.4 per cent.
The same three towns that saw median monthly rents of five-room flats rise quickly – Punggol, Woodlands and Sengkang – also feature among the top five for four-room flats.
Construction delays of Build-to-Order (BTO) flats and condominiums have spurred the rental market, said the analysts.
HDB upgraders who have sold their flats to avoid paying additional buyer's stamp duty have added to the billowing demand, said Ms Wong.
Earlier this year, HDB said the construction sector has been hard hit by the COVID-19 pandemic, as well as supply chain issues.
In the last parliament sitting, Minister for National Development Desmond Lee said the delays in the construction of new flats contributed to the increase in HDB rent prices.
THREE-ROOM FLATS
It is not only larger flats that have seen rent prices increase – smaller three-room flats have also experienced such growth.
Analysts told CNA the reopening of borders amid the COVID-19 pandemic recovery and the return of foreign workers to Singapore have meant an increase in rental demand.
"More international expats, permanent residents, and holders of employment passes have also returned to Singapore as a result of the improving employment situation brought on by better hiring opportunities," said Mr Sandrasegeran.
The demand for three-room flats is partly driven by lower-salary foreign workers who were afraid of losing their jobs if they returned home during COVID-19, said Mr Alan Cheong, executive director for research and consultancy at Savills.
Some of these workers faced drastic salary cuts and had to find cheaper accommodation.
"Their collective migration to new towns with lower rents egged the three-room flats in Hougang, Woodlands and Jurong West to rise," he said.
Some of these workers decided to downgrade to a "decent new town to ride through this rough patch in their lives", Mr Cheong added.
WILL RENT PRICES FALL?
Analysts who spoke to CNA said rent prices will likely continue to rise towards the end of the year, but how rental prices go next year will depend on a few factors. 
One of them is the new 15-month waiting period for private property owners who want to move into HDB flats. Under a new set of cooling measures implemented on Sep 30, such home owners must wait 15 months after selling their private unit before buying an HDB resale flat. 
This waiting period does not apply to seniors aged 55 and above.
Ms Wong said: "The 15-month wait-out period for private home downgraders could see some of those who are affected opting to rent in the interim before they can buy an HDB resale flat. 
"This will contribute to rental demand, and we think many former private home owners – should they decide to rent over the wait-out period – may choose to rent HDB flats to manage rental expenses."
But given the current market situation, some private home owners may also decide to hold off on plans to downgrade for now, bringing down demand.
The completion of new flats next year could help to "potentially rein in" rental growth, she added.
HDB previously said it plans to launch up to 23,000 flats per year in 2022 and 2023, an increase of 35 per cent from the 17,000 flats launched in 2021.
Mr Sandrasegeran added: "More BTO flats are also progressively completed with an improving delivery timeline, it is expected that temporary home seekers would move into their completed flats as well. This may likely contribute to a dip in HDB rental market in the upcoming quarters."