She lost her son to suicide: Here's what this mother wants to tell other parents
Last year, 476 people in Singapore took their own lives. A mum who lost her son to suicide tells CNA what parents should look out for and how they can support their children.
SINGAPORE: Weeks before Paul Ko took his own life aged 23, he had told his mother that he was on the path to recovery and seeking help for mental health issues. 
Two years on, the grief of losing him has not abated. Alicia Lim said she realised there were several warning signs before her son attempted suicide. 
Speaking to CNA about a week after a report showed there were 476 suicides in Singapore last year, Alicia shared her story in the hope that no one would have to go through the same experience.
"Listen more, and ask less. As parents, sometimes we tend to ask a lot of questions and we are not listening. I think giving a listening ear is more important than trying to find solutions for them," she said.
The number of suicides recorded in Singapore last year was the highest in more than 20 years. Nearly one in five were aged 20 to 29.
"When I saw the article, I took a few deep breaths to read all the reports because I really feel that it is very sad, and it's very alarming that we lose lives this way. And of course, it does bring me back to my son's passing," said Alicia.
PAUL'S STORY
An extrovert who always wanted to help others, Paul had ambitions to be a social worker and studied to be a nurse.
But the stress of the course meant he changed his plans and moved into studying drama at the Nanyang Academy of Fine Arts (NAFA), where he graduated with a diploma.
The eldest of three children, Paul was always attentive to his sister and brother.
"He will bring them out for meals, like sibling bonding. As a kor kor (older brother), he was very caring towards his two siblings," explained Alicia.
He was especially close to his younger sister, who has mild autism. From primary school, he started taking a more "hands-on" approach towards caring for her.
In 2019, Paul started staying away from home, straining his relationship with his mother. 
He started having bowel issues and had asked his mother for sleeping supplements. She did not think much of it and thought he had sleep issues because he was up playing games.
During the first suicide attempt, he reached out to a friend, who contacted the police. His family was notified, and they started counselling.  
In 2020, when COVID-19 hit and the two-month "circuit breaker" – where residents could only leave home for essential activities – was implemented, Paul struggled with staying at home. Tensions rose, and when the circuit breaker was over, the young man again attempted to take his own life.
He was admitted to the Institute of Mental Health and started working with a counsellor. Again, things started to look up.
"After his second attempt, I saw a change in his character, I saw a change in his attitude towards life. And I thought that he knew what he was doing, and what he shouldn't do," recalled Alicia.
Paul graduated from NAFA and started working in a food outlet while volunteering to help provision stall owners on Pulau Ubin – delivering food and drinks to the stalls weekly.
Paul's counsellor told his mother at the start of 2021 that he was doing quite well and was getting better.
THOUGHT HE WAS GETTING BETTER
About a month before Paul's death, he asked his mother out for a Mother's Day dinner. 
"He actually told me that, 'Mummy, I know you have been worrying for me all this while. I'm telling you that I'm getting better. I don't want you to worry for me. I know what to do next'.
"(It was) National Service and after that, he (wanted to) get into a course to enhance his writing skills because he's thinking of doing script writing … he shared with me about his dreams and his inspiration or what he's going to do," said Alicia.
"I was very happy that he shared with me all this, and in fact to me, it's like a prayer answered when your child comes to you and tells you that he has (woken up) and is looking forward to his future," she added.
Although stressed at work and despite the COVID-19 restrictions at the time, he said he would see his counsellor. He also spent time with his family, messaging his mother often to let her know his whereabouts.
"I saw Paul in his worst state before, and that was not the worst state. I thought he was seeking help and he was fine."
With things looking up, Alicia did not expect the knock on her front door by police officers about a month later.
On Jun 4, 2021, Paul was helping his younger brother to draft an email when the family went to bed as usual. But early the next morning, the police were at the house.
Alicia recalls the morning vividly – the officer had gone into Paul's room and there was a note to his family.
"I asked the officer 'where is my son now? Is my son still alive?' And he said no. That's when I broke down."
Closed-circuit television footage showed Paul leaving home at about 1am.
"He looked pretty normal (when he left the house). Why he ended up making that decision to not come home any more … we do not know the answer."
In the immediate aftermath of Paul's death, Alicia asked herself if she could have done better as a mother.
"Why didn't he come to me that very night when he stepped out of the house? Why did he put me off guard by telling me that he's okay when actually he's not okay at all?"
The anger followed – with herself, with Paul, with God, and with the COVID-19 situation.
"COVID-19 definitely took a toll on his mental health … finally when the restrictions were lifted, I was so angry with the whole situation. If only my son were to wait a while later, he could have still been around to see that all these were just temporary."
She lost hope and purpose, and she did not know how to let Paul's siblings know that he had died.
"When she (Paul's younger sister) saw her brother lying down in the coffin, she went over and asked kor kor to wake up. She did not understand why her brother can't come home," said Alicia.
LOOKING FOR WARNING SIGNS
Paul was close to his mother. Like most families, they had arguments and disagreements, but as he matured, so did their relationship.
"As parents, we also have to change our parenting style and try our best to go into their world to understand their perspective. I did my best to get to know him as a friend first, before the mother role comes up. Not easy … but that's how I can really get to know my kids better."
There is no "standard checklist" for warning signs, Alicia said. Looking back, she wished she could have done more to stop Paul before the first suicide attempt.
Paul had asked for sleeping supplements and had irritable bowel syndrome. At that time, Alicia thought it was his anxiety and that he was having sleepless nights because he was staying up to play computer games. But she realised they were signs of stress.
Other than the physical signs, she said she wished she got to know his friends better so she could have reached out to them to help him.
"When I couldn't talk to my son, especially at his second attempt, I did not know how to talk to him because as a mother I was so angry that he did it again.
"At the same time, I did not want to scold him and add on to his stress. I just didn't know how to talk to him."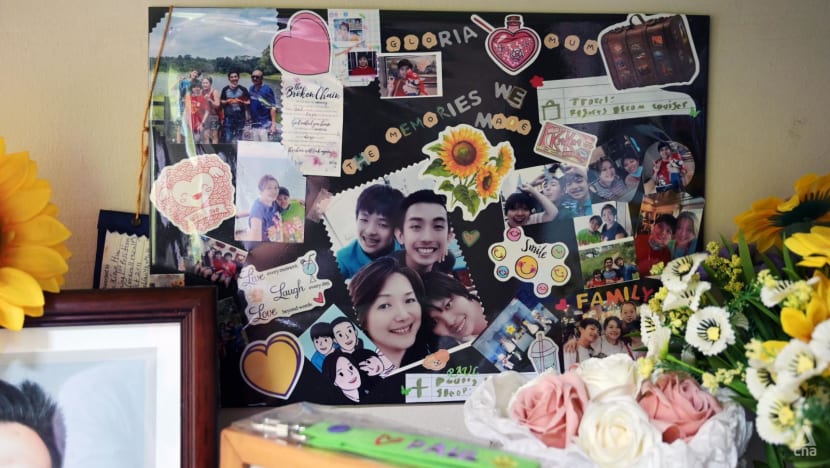 Alicia is now a member of support groups helping other bereaved parents who have lost a child to suicide.
Spending one-to-one time with a child is important so that they have "undivided attention" – that's when they can open up about their issues.
It is easy to offer solutions to problems, but she urged parents to listen more and ask less.
"Actually our kids know the solution – they know what they should do and (what) they shouldn't do, but they just want someone to listen to them," she said.
"I'm still learning too, with my youngest boy. Obviously ... every child is different – and we have to learn how to do our best to parent them," Alicia added.
"I won't say that I know everything to be a parent even after what I've been through. 
"I think prevention is definitely better than cure. We do our best. You asked me what I would have done, I will say that if I had a choice, I would definitely want to prevent even the first attempt." 
There are grief triggers – Christmas, Chinese New Year, someone posting a picture of their son going to National Service, among others.
Besides urging young people to seek help if they are facing mental health issues, she also advised people to look out for their loved ones.
Someone may make a passing remark about suicide, but people should take it seriously. 
"I know it's not easy to journey with a person with such thoughts. It can be very tiring as a caregiver ... If you do not have the capacity to help that person that much or that long, then get the person some help. Follow up with the person constantly," she said.
Where to get help:
Samaritans of Singapore Hotline: 1767
Institute of Mental Health's Helpline: 6389 2222
Singapore Association for Mental Health Helpline: 1800 283 7019
You can also find a list of international helplines here. If someone you know is at immediate risk, call 24-hour emergency medical services.