Low inflation and interest rates 'not likely to return anytime soon', says PM Lee in National Day message
The Government also stands ready to do more to help Singaporeans if things worsen.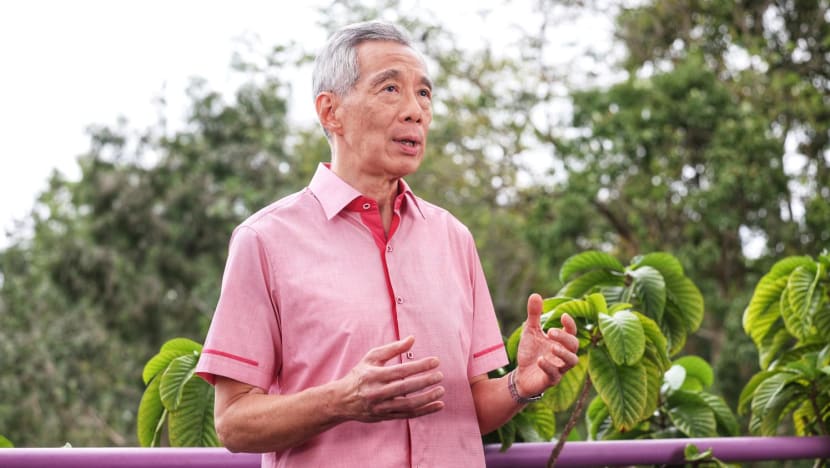 SINGAPORE: The world is not likely to return anytime soon to the low inflation levels and interest rates it has enjoyed in recent decades, said Prime Minister Lee Hsien Loong in his National Day message delivered on Monday (Aug 8) evening.
Singaporeans also have to be prepared that the region may not be as peaceful and stable as it has been so far, Mr Lee said on the eve of Singapore's 57th National Day.
The message was recorded at Gardens by the Bay and telecast on Monday.
While Singapore has weathered the test of the COVID-19 pandemic, the road ahead will not be easy and Singaporeans have to stand united, Mr Lee said.
On inflation, he gave the assurance that the Government is "doing everything necessary" to help people cope with rising prices. 
In June, Deputy Prime Minister and Finance Minister Lawrence Wong announced a S$1.5 billion support package to provide targeted relief for more vulnerable Singaporeans affected by inflation. The Monetary Authority of Singapore has also strengthened the Singapore dollar four times in the last few months to dampen imported inflation.
"The Government also stands ready to do more to help Singaporeans if things worsen," Mr Lee said. "But the basic reality is that international economic conditions have shifted."
Singapore's "deeper response" to this shift should be to transform its industry, upgrade skills and raise productivity, he said.
"Then our wages can go up higher than inflation, and Singaporeans can earn more in real terms year by year."
"A STORM IS GATHERING"
On the geopolitical situation, Mr Lee said that the relationship between the United States and China is unlikely to improve soon.
"Around us, a storm is gathering. US-China relations are worsening, with intractable issues, deep suspicions and limited engagement between them," said Mr Lee.
Last week, US House of Representatives Speaker Nancy Pelosi visited Taiwan, prompting Beijing to hold live-fire drills in waters around the self-ruled island. 
China has announced that it is halting cooperation with the United States in a number of areas, including dialogue between senior-level military commanders and climate talks, in retaliation for the visit.
Russia's invasion of Ukraine also has profound implications for the world and Singapore, he said.
It has set Russia against many states, especially the US and NATO countries; the invasion violates fundamental principles of sovereignty and territorial integrity, and war in Europe will affect regional security in the Asia-Pacific, said the Prime Minister. It has also further strained China's relations with the US and with America's partners in Asia.
"Singapore will be buffeted by intense rivalry and tensions in the region around us," he said. "What can we do about this? Staying united is key to Singapore's survival – it is the only way to deal with challenges in an increasingly troubled world."
Mr Lee said that Singapore must maintain a strong and credible Singapore Armed Forces (SAF) and Home Team.
"We must also brace ourselves and be psychologically prepared that in the next decades our region may not be as peaceful and stable as it has been thus far."
LOOK TO THE LONG TERM
Mr Lee urged Singaporeans to look to the long-term, pointing out how Gardens by the Bay was decades in the making, and that the land he was standing on to deliver the National Day message was reclaimed decades ago as part of Singapore's plan to create a new downtown with a landmark green public space. 
"This is how we do things in Singapore – always daring to dream, setting our sights on the next frontier, and searching for better solutions and fresh possibilities," said Mr Lee. "We look and plan ahead not just for the next five or 10 years, but for the next 30 or 50 years and beyond."
One example is that the Urban Redevelopment Authority has launched a long-term plan review, with an ongoing exhibition at the URA Centre showcasing concepts for major developments.
Mr Lee said that long-term plans are not just about physical infrastructure. 
"We also need to sustain economic progress and social resilience – investing in our people to reach their full potential, taking care of our elderly and vulnerable, fostering a common identity and building a brighter future for our grandchildren and beyond," he said.
Mr Lee said that Mr Wong and the fourth-generation leaders of Singapore have launched the Forward Singapore exercise to involve Singaporeans in refreshing the nation's social compact and chart the way forward. He invited citizens to participate actively and contribute their ideas.
"We must never stop imagining and building the Singapore we want, even as we strengthen our guard against what can go wrong," said Mr Lee.
"COVID-19 will not be Singapore's last crisis. More storms and turbulence lie ahead. But do not fear. As long as we stay united and resolute, we can keep our nation peaceful and secure, build a more prosperous economy, and forge an inclusive society that all of us can belong to and can be proud of, for many years to come."