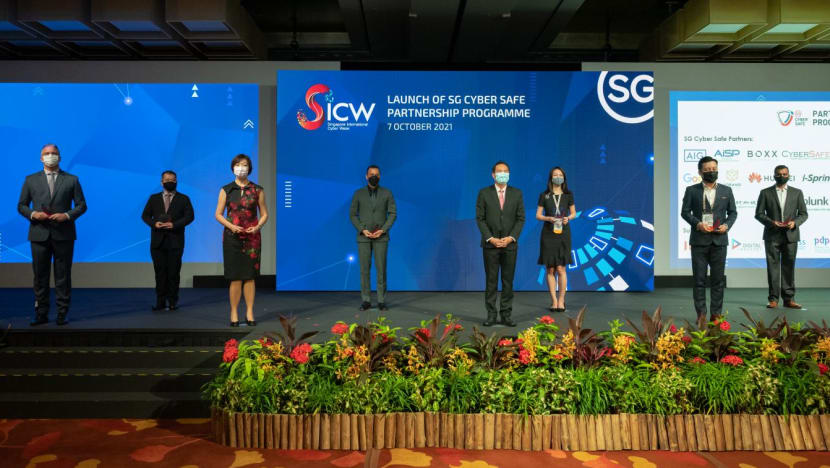 SINGAPORE: A new toolkit that could help to simplify cybersecurity and enable businesses to make more informed trade-offs between security, system usability and cost was launched by the Cyber Security Agency of Singapore (CSA) on Thursday (Oct 7).
The SG Cyber Safe cybersecurity toolkits are tailored for large enterprise leaders, small and medium-sized enterprise (SME) owners, IT teams, and employees, said CSA in a media release on Thursday.
"Although 80 per cent of Singapore SMEs embrace digital transformation and have digital transformation in place, cybersecurity has been the key reason for small enterprises not digitalising," said CSA.
The toolkit for enterprise leaders and SME owners will focus on the business reasons for business leaders and SME owners to invest in cybersecurity.
This includes rationalising investment in cybersecurity, and how fostering a culture of cybersecurity would enable enterprises to "reap the benefits of digital transformation", said CSA.
The cybersecurity toolkit for employees is intended for enterprises to "plug and play" as an employee programme for raising awareness and conducting cybersecurity training.
The content addresses the most common cyber threats faced by employees such as phishing, as well as weak cybersecurity practices such as using compromised and weak passwords.
It will also encourage employees to learn about cybersecurity to stay cyber safe at work as well as in their private life.
"This is crucial as employees are the first line of defence and key to any enterprise's cybersecurity," said CSA.
PARTNERING INDUSTRY TO INCREASE CYBERSECURITY AWARENESS
Beyond toolkits, CSA will also partner the industry to further drive cybersecurity awareness to local businesses, individuals and the wider community.
It launched a new partnership programme that aims to equip businesses and enterprises with tools and information to strengthen their cybersecurity.
Under the new SG Cyber Safe Partnership Programme, enterprises will help to develop training content, products and services, or community outreach programmes to raise awareness and encourage adoption of good cybersecurity practices by businesses and the public.
Speaking at the launch of the programme, Minister of State for Communications and Information Tan Kiat How said cybersecurity is a "collective responsibility" that requires the Government and the industry to work closely together. 
"The Government alone cannot reach out to all businesses to encourage them to strengthen their cyber resilience. Private-public collaboration is therefore key to ensuring that businesses stay cyber-secure," he said.
"We welcome other industry partners who are keen to work with CSA to drive cybersecurity awareness, shift attitudes and encourage adoption amongst enterprises in their digitalisation journeys."
Nineteen local and international business organisations, trade associations and societies have joined the programme as SG Cyber Safe partners, said CSA.
They include companies such as Google and Dell, as well as organisations such as the Singapore Business Federation and the Association of Information Security Professionals.
The Singapore Business Federation will work with CSA to reach out to their business community through events, webinars and curated content, to enhance the cybersecurity awareness of SMEs, said CSA.
Some partners are looking to develop products and services to complement CSA's SG Cyber Safe initiatives.
Local software start-up V-Key, for example, has contextualised its identity solution as a multi-factor authentication solution for SMEs, offering better protection for high-value accounts.
To help SMEs defend their business against cybercrime, Mastercard has created the Mastercard Trust Centre, which gives companies free online access to trusted cybersecurity research, education, resources and tools.
While the partnership programme has a tenure of two years, partner companies may approach CSA to discuss an extension of their participation after their initial tenure.
CSA said that being an SG Cyber Safe partner organisation is "not tantamount to" the authority endorsing the partnering company or its products and services as possessing a higher cybersecurity rigour.
"Instead, SG Cyber Safe partners and other business enterprises may apply to be certified under the SG Cyber Safe Trustmark when it is launched in 2022," said CSA.
The programme is one of the major initiatives under the Safer Cyberspace Masterplan, which was launched last year.
The masterplan was developed in consultation with the cybersecurity industry and academia, to raise the general level of cybersecurity in Singapore for individuals, communities, enterprises, and organisations.
Key areas of focus include securing Singapore's core digital infrastructure, safeguarding cyberspace activities and empowering a cyber-savvy population.
On Tuesday, Singapore launched an updated national cybersecurity strategy, signalling that it will take a more proactive stance in dealing with new cyber threats and technological shifts. 
CSA also said it will seek to grow the market to develop more "Made-in-Singapore" cybersecurity products and services.
It will also focus on investing heavily in people to boost capabilities and develop its cybersecurity workforce.