New laws passed to give police more powers to prosecute money mules, those who sell Singpass details to scammers
MPs raised concerns about whether the authorities would go after those who were genuinely tricked into giving up their details, or betrayed by their family and friends.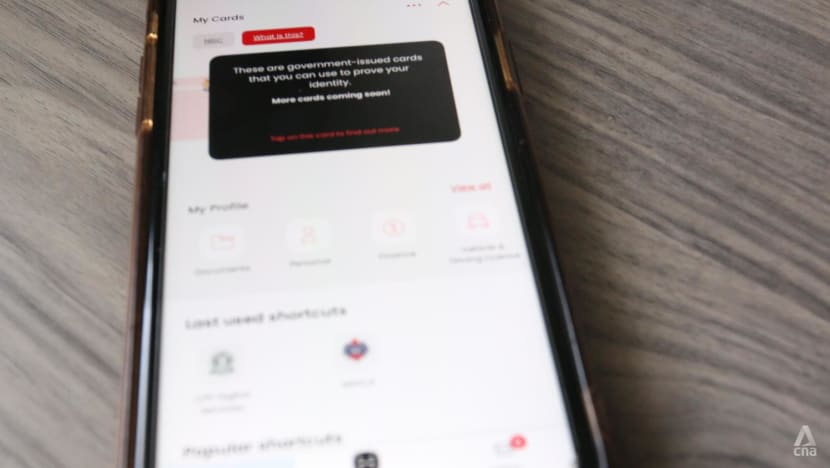 SINGAPORE: Those who share their Singpass credentials or bank accounts with scammers may be deemed liable if they do not take steps to verify the transactions or arrangements, after parliament passed new laws on Tuesday (May 9) to crack down on scams.
Tabled last month, amendments to the Corruption, Drug Trafficking and Other Serious Crimes (Confiscation of Benefits) Act (CDSA) and the Computer Misuse Act seek to make it easier for authorities to prosecute offenders who help to launder money for scammers.
They also give the police more powers to act against money mules and those who sell their Singpass credentials.
Speaking in parliament on Tuesday, Minister for Communications and Information Josephine Teo said the changes will build up the country's collective defence against scams, disrupt scam syndicates, and better protect people.
"Scammers are not remaining static, and neither can we. We will continue to conduct regular security reviews and enhance our defences," she said. 
"Even as we prepare to respond to future threats, I am glad that members agree on the need for these Bills to tackle the pressing issues at hand."
The amendments come amid a significant increase in scam cases in Singapore. Between 2018 and 2022, the number of scam cases increased by more than five times to nearly 32,000 reports.
According to the Ministry of Home Affairs (MHA) and the Smart Nation and Digital Government Office (SNDGO), a large number of money mules arrested cannot be prosecuted due to difficulties in proving their intent to facilitate criminal activities.
The police investigated more than 19,000 money mules between 2020 and 2022, but fewer than 250 cases were eventually prosecuted.
SCOPE OF NEW OFFENCES
During the debate, Members of Parliament (MPs) sought clarifications on the scope of the new offences.
Under the CDSA Bill, a person can be deemed liable for rash money laundering if they proceeded to carry out a transaction while they had some suspicions about the transactions, but did not make further queries about those suspicions.
A person may also be liable for negligent money laundering if they continued with a transaction despite the presence of red flags or suspicious indicators, which would be noticeable by an ordinary, reasonable person.
Singpass users who give away their credentials will be presumed to have broken the law if they received any gain for the disclosure; knew the disclosure would likely cause wrongful loss to someone; or did not take "reasonable steps" to find out the identity and physical location of the person to whom they disclosed their credentials.
They will also be deemed liable if they did not take "reasonable steps" to find out the identity and physical location of the person they disclosed their credentials to.
This prompted several MPs to question whether those who were genuinely tricked into giving up control of their bank accounts or disclosing their Singpass credentials would be held liable. 
They also asked if the same would apply to those who needed help making transactions and gave up control of their bank accounts or disclosed their Singpass credentials to a family member or friend, and subsequently had their trust betrayed.
In response, Mrs Teo said the intention is not to penalise such people through these new offences. 
"The provisions of the Bills are not targeted at persons who had no reasonable grounds to believe they were dealing with criminal proceeds or facilitating offences," said Mrs Teo, who is also Second Minister for Home Affairs. 
"The police also recognise that there are indeed situations where there is a genuine need to share credentials for legitimate transactions."
Responding to questions from MP Louis Ng (PAP-Nee Soon) and MP Zhulkarnain Abdul Rahim (PAP-Chua Chu Kang) about the extent of verification needed to address suspicious behaviour and what constitutes "reasonable steps", Mrs Teo said: "First, everyone must understand that these accounts are for our own use.
"They should not be used by another person, especially if we do not know who the other party is or what the transactions are for.
"Second, as a rule, we do not share details about these accounts because they should only be operated by ourselves."
Turning to a suggestion by MP Murali Pillai (PAP-Bukit Batok) to have a policy where individuals who speedily report transactions to the police will not be held criminally liable, she said the authorities will take this into account during investigations. 
However, Mrs Teo said she would not "go so far as to say that they should automatically be freed of criminal liability". Each case has to be assessed on its own facts and circumstances, she added. 
VULNERABLE GROUPS AND SENIORS 
Several MPs also raised concerns about how the new laws might implicate those who are less tech-savvy, such as seniors or vulnerable groups. 
Responding to a question from MP Sylvia Lim (WP-Aljunied), who had asked how authorities will approach a case where the suspect appears to be mentally impaired, Mrs Teo said the police will investigate the cases comprehensively, considering factors such as the person's mental capacity.
She added that the Attorney-General's Chambers will also carefully consider each case on its own facts and circumstances.
With many banks shifting towards digital transactions, it may be disconcerting for some seniors who are not familiar with it, said MP Yip Hon Weng (PAP-Yio Chu Kang). 
"In such cases, they may seek assistance from others, which puts them at risk if these individuals have malicious intentions," he added. 
"How will the law address cases where seniors willingly hand over control of their Singpass or bank accounts to family members or caregivers who may then use them for illegal activities?" 
There are also many seniors who live alone or spend a significant amount of time alone, making them more susceptible to falling prey to scammers who pose as friends or manipulate them into becoming money mules, said Mr Yip. 
"If the victims' accounts are frozen due to illegal activity, they face a double whammy of being charged with a criminal offence for acting out of fear." 
In response, Mrs Teo said that the police recognise that there are situations where there is a "genuine need" to share credentials for legitimate transactions, and that they will investigate the case comprehensively. 
"They will consider any credible evidence that a person was genuinely tricked into entering their banking or Singpass credentials on phishing websites," she added. 
SUGGESTIONS TO FIGHT SCAMS
With the new laws now placing the burden of proof on those who are accused of being money mules, some MPs proposed initiatives to make it easier for the public to verify transactions. 
Mr Zhulkarnain suggested setting up a public reporting office that provides an avenue through the anti-scam hotline or ScamShield to assist with verification.
This way, a person can make a call and alert the agencies or banks of such an offer, or to verify a transaction before it is made, he said. 
He also asked if the government would consider delaying the implementation of the amendments while carrying out public education events on the seriousness of such offences. 
Mrs Teo said the government will step up its efforts in areas such as education and preventing scammers from reaching victims as well as detecting scams and enforcement.
She added that the Smart Nation and Digital Government Group has also taken measures to better protect Singpass users. This includes early detection mechanisms and fraud analytics to detect potential scams.