MINDEF prepared to allow more people to disrupt NS to train and compete in international competitions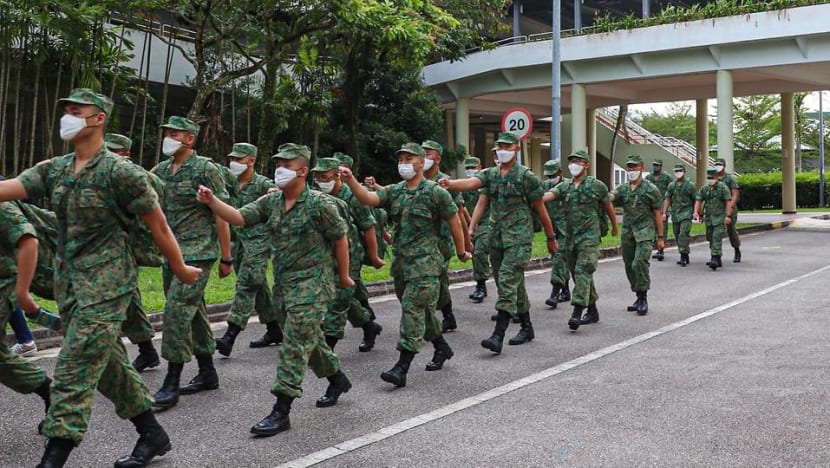 SINGAPORE: The Ministry of Defence (MINDEF) is prepared to allow more people to disrupt their full-time National Service (NS) to train and compete in international competitions, Defence Minister Ng Eng Hen told Parliament on Tuesday (Jul 5).
Dr Ng acknowledged that national sportsmen want to do well in both NS and competitions, and while some have achieved it, he said it is "not easy to attain" and cautioned against setting unrealistic expectations on all of them.
"However, for those who want to pursue both goals, MINDEF is prepared to allow more to disrupt to train and compete in international competitions during their full-time National Service," he said.
"This is on the understanding that they fulfil the full period required after their disruption, and also perform their NS duties satisfactorily while in National Service."
A disruption is a short-term leave from full-time NS, while a deferment is longer term and could delay the start of full-time NS.
"MINDEF re-iterates that all NS men must perform their duties, and that short-term disruptions or leave for sportsmen to train for and compete in international competitions are only allowed outside critical NS periods," Dr Ng said.
Athletes who were granted disruptions or leave for the most recent Southeast Asian Games in May include table tennis player Koen Pang, hurdler Ang Chen Xiang and triathlete Luke Chua.
Dr Ng was responding to a question by Progress Singapore Party NCMP Leong Mun Wai, who asked if MINDEF will relax the eligibility criteria for NS deferment for those have the potential to accomplish significant successes in sports and arts.
"Long-term deferments from full-time NS, such as those mentioned by Members, are exceptional, only for those who have the potential to win medals at top-tier international competitions like the Olympic Games," he said.
Dr Ng cited the example of national swimmers Joseph Schooling and Quah Zheng Wen, who were granted deferments of seven years and six years respectively for the 2016 and 2020 Olympic Games.
"Therefore, each appeal for deferment and disruption for sports and arts talent must therefore pass a very high bar," he said.
"Each request is assessed on its own merit, in consultation with MCCY (Ministry of Culture, Community and Youth), taking into consideration the applicant's past achievements, and potential to excel in international competitions and bring national glory."
Even when granted, MINDEF must ensure that the applicant's NS duties are still taken seriously and that he must be trained to be competent in his assigned vocation, Dr Ng said.
This will include periods like Basic Military Training, specialist and commanders' courses, and his unit's key operations, which the applicant must fulfil as part of NS duties.
Despite the strict criteria, Dr Ng pointed out that not all Singaporeans support deferment or disruption for sportsmen, citing a forum letter that said it is more important to have NS than medals for Singapore's peace and security.
"MINDEF also received some letters from Singaporeans from time to time questioning the fairness, when deferred sportsmen receive financial rewards through endorsements, while others had to serve their National Service as required," he said.
"I cite these criticisms, to show that even when sparingly applied, deferments and disruptions can have a pernicious effect, to cause invidious comparisons that some are given preferential treatment and are not performing their NS duties."
While MINDEF convenes review committees to address these and other NS issues as top-down initiatives, there is also "space" for ground-up dialogues, Dr Ng said.
"When the next review of NS policies is convened, MINDEF will incorporate views across the spectrum of supporters and detractors of deferments and disruptions for sports and arts talent," he said.
Dr Ng reiterated that everyone, regardless of talent or status, must fulfil their NS obligations as a first priority, and that all personal pursuits "must be secondary" during their full-time NS.
"I am proud that our national athletes understand and accept this duty of National Service," he added.
"None of them asked to be exempted from National Service duties, including those who trained hard and participated in recent regional and international events."
NATIONAL SERVICE FOR NEW CITIZENS
Following Dr Ng's oral reply, Mr Leong then cited public reaction and athletes' feedback to say that there seems to be "insufficient leeway" given for deferments and disruptions, sparking off a frosty exchange with the minister.
Mr Leong had not finished asking his question when Dr Ng interjected: "I answered the question quite adequately for the Member. I suggest he does not make another speech."
The NCMP then asked if Dr Ng will look into "further relaxation" of the measures, but was again interrupted several times by Dr Ng.
Deputy Speaker Jessica Tan eventually got involved, at first requesting that Dr Ng let Mr Leong ask his question, and then telling Mr Leong to get to the question or "take a seat".
"Okay, let me ask the question again. Is it fair that while we are hindering the development of our talents by not granting them deferment, citizens by registration are also not doing NS?" Mr Leong asked.
Dr Ng called it an "utter mischaracterisation" that citizens by registration are not doing NS. "I think he's filed a separate question and I think he can read the reply," he said.
Mr Leong then tried to protest, saying he had asked a question but Dr Ng did not reply.
"Your question is not related to the PQ you have asked, so please take a seat," Ms Tan said.
In a written answer released on Tuesday evening, Dr Ng said that all male Singapore citizens and permanent residents between the ages of 18 to 40 for non-officers and 50 for officers are liable to serve NS.
"However, males who receive citizenship as mature adults, typically in their 30s and 40s, are not enlisted as they are not suitable for full-time NS at that age and did not enjoy any benefits prior to their citizenship," he wrote.
For those who had stayed in Singapore when young and enjoyed its economic and social benefits, Dr Ng said they will be enlisted when they reach 18 years of age or older.
This group makes up about half of all new male citizens registered each year, or an average of 3,400 men annually, he said.