About 1 million past and present NSmen to get S$100 in credits to mark 55 years of National Service
They will also receive a free one-year SAFRA or HomeTeamNS membership.
SINGAPORE: All past and present national servicemen (NSmen) will receive S$100 worth of digital credits and a free one-year SAFRA or HomeTeamNS membership, as Singapore marks 55 years of National Service. 
This is to thank past and present NSmen for their contributions to Singapore's defence and security, said the Ministry of Defence (MINDEF) on Saturday (Mar 26). 
The NS55 Recognition Package comprises S$100 worth of credits to be digitally disbursed via the LifeSG mobile application.
The credits, which will be valid for a year, can be used at any online or physical merchant accepting payment by Scan and Pay via PayNow UEN QR or NETS QR.
"This includes heartland shops, hawkers, and e-commerce merchants, and making payments to government agencies and educational institutions," said MINDEF.
About 1 million eligible NSmen from the Singapore Armed Forces (SAF) and the Home Team will receive a notification letter from mid-June, with details on how to access the credits and register for the complimentary SAFRA or HomeTeamNS membership.
NSmen will be eligible for the package based on their national service status as of May 2022, said MINDEF. Full-time NSFs who enlist by Dec 31, 2022, will also qualify for the benefits after enlistment. 
Eligible NSmen will receive the NS55 credits from July. An SMS notification will be sent to their registered mobile number once the credits have been disbursed.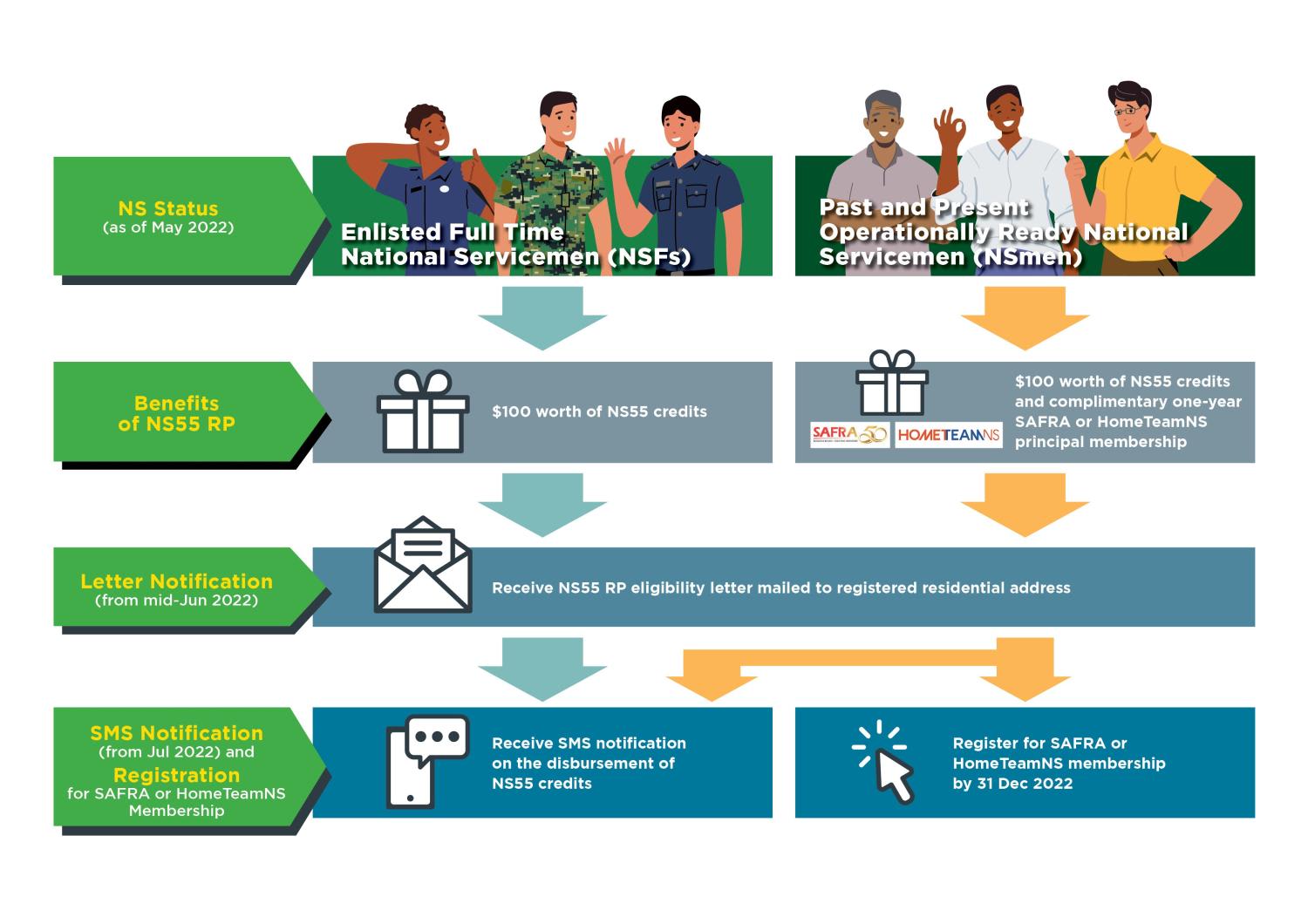 55 YEARS OF NATIONAL SERVICE
Saturday marks the start of a year-long NS55 campaign to commemorate the milestone.
"The theme of NS55, 'Generations of Strength', reflects the collective resolve and dedication of our national servicemen across generations who have contributed to the defence and security of Singapore, and inspires Singaporeans to continue building a stronger Singapore," said MINDEF. 
It noted the support of families, employers and the public for National Service. 
"This continued support for NS remains critical in enabling the duty of defending our home and future to be passed down from one generation to the next," the ministry said. 
"The NS system will also continue to evolve to meet the operational demands of the Next-Generation Singapore Armed Forces and the Home Team, as well as a new generation of national servicemen."
Announcing the start of the NS55 campaign during a visit to a mobilisation exercise at Maju Camp on Saturday, Senior Minister of State for Defence Zaqy Mohamad emphasised the importance of national service in safeguarding Singapore's sovereignty.
"We have stood up NS for 55 years, where more than a million Singaporeans have served, and we want to recognise them for their contributions. There is a critical need to defend Singapore to make sure we are prepared against any potential aggressors," he said.
"At the same time, we need to build up the confidence of the nation so that we can defend ourselves and defend our sovereignty."
Key events marking the anniversary include an NS55 showcase held in conjunction with the Army Open House in May and at various heartland locations in June, as well as an interactive trail comprising several discovery points that hold significance to National Service, said MINDEF.
A combined Basic Military Training Graduation Parade and MINDEF Reserve Parade will also be held in December. Additionally, the theme of NS55 will be incorporated into various events throughout the year, including SAF Day and National Day celebrations.