1 in 3 online customers opt for reusable packaging; retailers find option convenient: WWF-Singapore study
The pilot initiative by the independent conservation organisation showed that better consumer education could raise opt-in rates.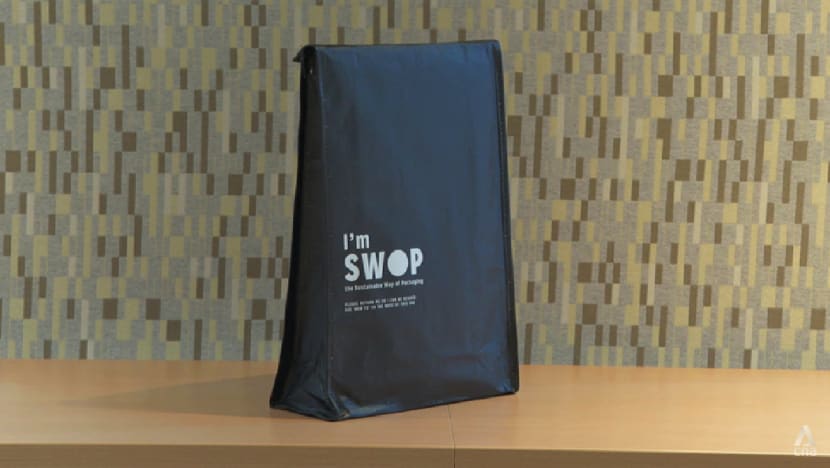 SINGAPORE: One in three online shoppers in Singapore chose reusable packaging for their purchases, a pilot study conducted by the World Wide Fund for Nature Singapore (WWF-Singapore) has found. 
The six-month pilot involved about 15,000 customer transactions. Under the initiative, shoppers who bought products from the retailers could opt for reusable bags to deliver their goods.
The packaging could then be returned at no cost directly to the courier or any Singapore Post (SingPost) mailing box.
Among consumers who chose to use reusable packaging, about eight in 10 attributed their actions to sustainability concerns. 
More than half of the customers who opted in also voluntarily returned the reusable packaging.
The 12 participating retailers are involved in selling a wide range of products such as healthcare items, groceries and pet care. 
PROMOTING REUSABLE PACKAGING IN SINGAPORE
The pilot aimed to assess the scalability of reusable e-commerce packaging in Singapore. 
WWF-Singapore chief executive R. Raghunathan said on Tuesday (Apr 11) that everyone has to play a part in order for more customers and retailers to adopt reusable packaging. 
"So, we will be playing a meaningful role in bringing together all these individuals and institutions, and getting them to work together, so that we can look forward to a more sustainable e-commerce industry in the future," he added. 
For the pilot initiative, WWF-Singapore partnered with UOB, DHL Consulting, SingPost and Better Packaging Co.
Dr Yvonne Lin, materials expert at WWF-Singapore, said the findings are promising, considering that "this is actually a very new concept for Singaporeans".
On whether it would cost consumers more to choose such packaging, she told CNA938 on Wednesday that "a lot of it boils down to the design". 
"So the design of packaging can help in some ways," she added. 
The survey found that with better consumer education and convenience, the rate of returning the reusable packaging could be boosted to more than 75 per cent.
SUPPORTING RETAILERS IN USE OF REUSABLE PACKAGING
WWF-Singapore urged logistic players, e-commerce platforms, retailers, and governmental institutions to take an active role to enable the ecosystem to grow beyond the pilot.
This comes as some online retailers hope for more support to help them raise opt-in and return rates for reusable e-commerce packaging.
"I think legislation would definitely help to encourage the adoption of reusable packaging," said Mr Terry Peh, CEO and founder of online pet store Good Dog People, one of the participating retailers.
"So with that, I also hope that there will be some support for the businesses, because we all have very competing priorities. Some sort of support will definitely help us relieve that operational pressure." 
Mr Rajbir Chopra, sales director at Sports Fashion, which also participated in the pilot programme, told CNA938 it is "a shared responsibility at the end of the day". 
While Singaporeans want to play their part, he highlighted various challenges, including how to protect the products without them getting damaged during delivery. 
Addressing cost concerns, he added: "If logistics companies increase the number of return points, we'll see higher return rates. We can also incentivise the consumers for returning the packaging, like a return voucher. 
"Over time, if we educate the consumers that this is better for the entire ecosystem or our sustainability, I'm sure that costs can be reduced significantly."