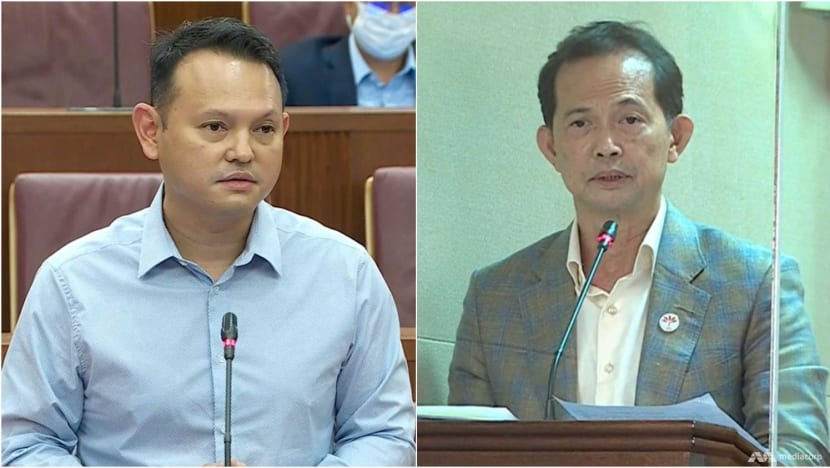 SINGAPORE: Comments posted on Facebook by Non-Constituency Member of Parliament Leong Mun Wai are in contempt of Parliament, said Deputy Leader of the House Zaqy Mohamad.
In Parliament on Tuesday (Mar 8), Mr Zaqy asked the Progress Singapore Party MP to formally apologise after he wrote in a Facebook post that the Speaker of Parliament had not allowed him to speak in Parliament using the debate cut-off time "as an excuse".
Mr Zaqy said the post, put up by Mr Leong on Monday, had suggested that Speaker Tan Chuan-Jin deliberately did not call on Mr Leong to speak during Monday's parliamentary debate "for improper reasons".
At the end of the Ministry of Manpower's (MOM) Committee of Supply (COS) session on Monday, Mr Leong had asked repeatedly to make a clarification following the ministry's presentation of its programmes, but was told that time was up.
Later that evening, he wrote a Facebook post and put up a video of the exchange in Parliament to complain about not being given the chance to speak.
"Mr Leong's post and his video have impugned the speaker and the process of Parliament, and it misrepresented how the COS proceedings for MOM were ended yesterday," said Mr Zaqy, who is also Senior Minister of State for Defence and for Manpower.
"And this is by suggesting that you could have called on Mr Leong, but deliberately did not do so for improper reasons.
"Now this is dishonourable and a contempt of Parliament. It breaches the Parliament (Privileges, Immunities and Powers) Act."
LEONG ASKED TO APOLOGISE
Mr Zaqy on Tuesday asked Mr Leong to "do the proper thing", and take down the video, Facebook post and earlier comments, as well as to apologise before the House and on Facebook.
He also specified the exact wording Mr Leong should use to apologise for his social media posts and requested that Mr Leong comply by the end of Tuesday's Parliament sitting.
"Thereafter Parliament can decide whether and if so, what further steps may be necessary, depending on how Mr Leong responds to my request," he said.
"I note that the Member is not in Chambers, we will formally notify him of this statement and my request to ensure that it is brought to his notice."
At the close of the Parliament sitting on Tuesday, Mr Leong apologised for his Facebook comments and confirmed that he had taken down the posts at 5.30pm.  
In the Facebook post, titled "This Is How The Speaker Prevents A Member From Speaking", Mr Leong had written: "Today I was deprived of the opportunity to respond to Tan See Leng's (TSL) 'red herring' statement made last Friday because the Speaker did not allow me to speak using the cut-off time as an excuse.
"The cut-off time is decided by the Speaker before the session but there is flexibility because the Parliament schedule is ahead of time this year. Many MPs were also allowed to speak before me. He should know that I had an outstanding issue from the previous Friday's sitting."
Mr Leong then detailed in his post the foreign manpower issues he had wanted to speak about in Parliament, which he has reiterated in the House a number of times.
Mr Leong's Facebook post follows a comment he made on his Facebook page on Monday afternoon, which claimed that the Speaker "didn't even give me the chance" to make clarifications. He had also written: "Completely ridiculous".
"GUILLOTINE" TIME
Mr Tan had responded to that in Parliament on Monday by reminding MPs that every COS debate has a "guillotine" or end time, and that Parliament needs to abide by that, and move on to other business when it is reached.
He had also said that a number of MPs from both sides of the aisle had their chance to speak, while a few, not just Mr Leong, did not get to ask their questions due to the time constraint.
Mr Tan repeated this message on Tuesday, saying: "The Members were all informed before the commencement of COS of the total time allocated to the debate for each ministry and the start and end times of the debates."
He added that thirty-and-a-half minutes were allotted for clarifications for the MOM COS debate, but he let the debate go on for 48 minutes until the guillotine time of 12.40pm.
Ten MPs made clarifications, including four opposition members, one Nominated MP and five People's Action Party MPs, said Mr Tan.
"Mr Leong was not the only MP who could not ask a clarification at the end of MOM's debate. There were other MPs who had raised their hands, and who had indicated that they wished to speak, and these included, Mr Edward Chia, Mr Louis Ng, Ms Janet Ang, Mr Melvin Yong, Mr Leon Perera, Ms Yeo Wan Ling," said Mr Tan.
"The Chair is under the duty to end the debate when the guillotine time for the ministry is reached. As the Chair of the Committee of Supply, I will continue to ensure that the proceedings in the COS is undertaken in a fair and orderly manner."