'Capable of so much more': People with disabilities taking up and redefining CrossFit
"The focus is on what athletes can do, not what they can't," says a CrossFit athlete with a neurological condition that affects her balance.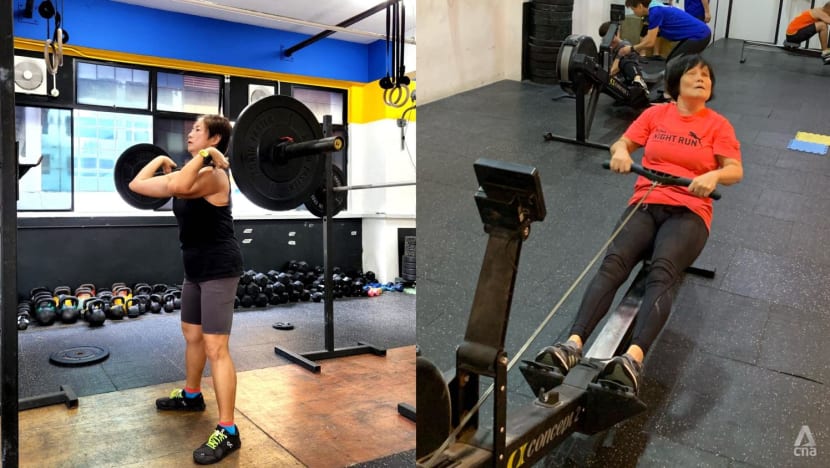 SINGAPORE: Janessa Yu was working up a sweat at the gym as usual, this time powering the assault bike with her arms.

For the 24-year-old, this was not just a workout, but a path to empowerment and self-discovery.

Yu has a neurological condition that impacts her balance and muscle tissues. But at this CrossFit class specially designed for people with disabilities, Janessa has learnt she could push her body to do things that she didn't think were possible.
"The perceived intensity of the sport excited rather than scared me – I like challenging myself as it's these kinds of experiences that help me to grow," she said.
Yu is one of the "adaptive athletes" at CrossFit gym Innervate Fitness, which it said is the only one in Singapore that has a programme specially tailored for people with disabilities.
Since the programme was launched in 2017, about 35 people with disabilities have joined. Six of them are currently active in the Adaptive Athletes Programme.
When CNA visited the adaptive class on a weekday, Yu was one of three people with disabilities present, along with a few other senior participants.
"They are regular members and most have been doing so for close to four to five years now," said Lionel Choong, owner of Innervate Fitness.
Their disabilities range from visual impairment to hearing impairment to muscular dystrophy.
CrossFit is a high-intensity fitness programme that includes a wide variety of exercises and movements, such as Olympic weightlifting, powerlifting, gymnastics, cardiovascular, plyometric, strongman, and kettlebell exercises.
The workouts are designed to improve overall fitness and physical performance by combining multiple exercises.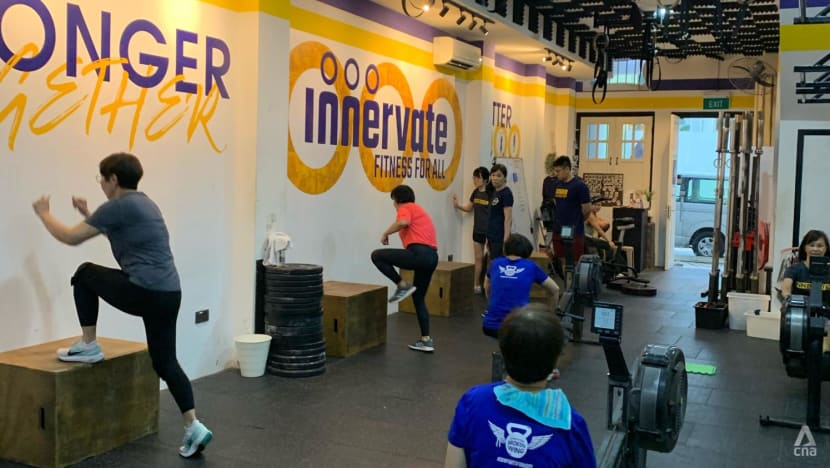 "WORKING TOGETHER TO ADAPT THE MOVEMENT"
For people with disabilities, CrossFit has to be scaled and adapted according to each individual's unique needs.
Joshua Alan Lee, a full-time coach with Innervate Fitness, said that participants with disabilities follow the same high-intensity workout format as other athletes, completing a range of exercises as part of the workout of the day. However, some modifications are made and the load is decreased to scale the workout to the "needs of the exact person".
"Once I'm confident that he can move this weight up, I'll push him to maybe lift a little bit more and get a little bit stronger. And then slowly we progress from there," said the 31-year-old Lee.
"Of course, safety is a big concern. With our adaptives we're always watching out for certain movements that may be deemed unsafe."
Yu finds it difficult to balance when she has to squat while holding a barbell. So she would do front squats while wearing a weighted vest instead. She would also deadlift with a kettlebell using a wall as support.
"Sometimes, the coach and athlete may need to be more creative in working together to adapt the movement," said Yu, who has been doing CrossFit at Innervate Fitness for more than five years.
"For athletes who use a wheelchair, the coach may disassemble a rowing machine to allow the athlete to simply pull the handle and engage in the movement from the wheelchair without the need for the use of legs," she said.
Delia Kang, who has been doing CrossFit for about four years, is visually impaired but she said she doesn't need any adaptations.
The 52-year-old massage therapist said she takes responsibility for making each session safe. For instance, she will ask someone to check her hand positions if she can't see the knurling on the barbell.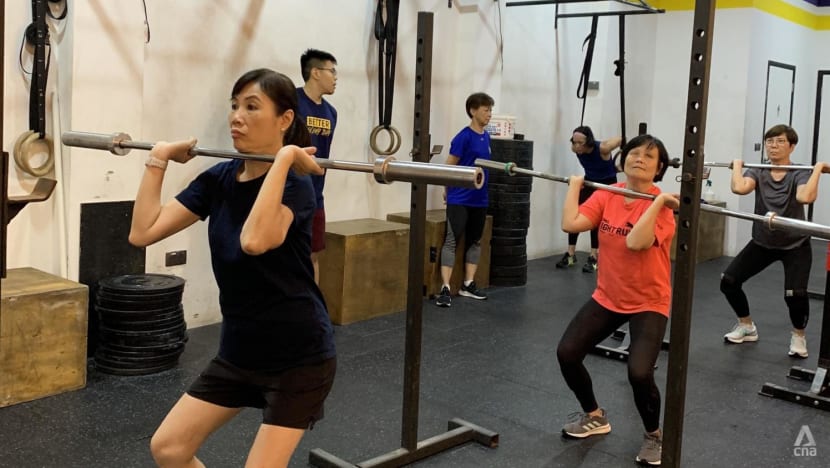 Another visually impaired CrossFit athlete, Wan Wai Yee, said she needs someone to guide her when she is running.
"This person will have to be faster than me, so that they will have time to look after themselves and after me, and also, I won't be able to outrun this person," the 50-year-old told CNA.
Other than that, she said she does not need many modifications in a CrossFit class as she just needs to know "where everything is".
"Sometimes I go to the main classes (for the abled people) … because I want to challenge myself," said Wan, who has been with Innervate Fitness for more than five years.
"Maybe running, they're faster, taking things, they're faster, but if left to our own devices, we can run and take things too. We will be a bit slower, but it's okay."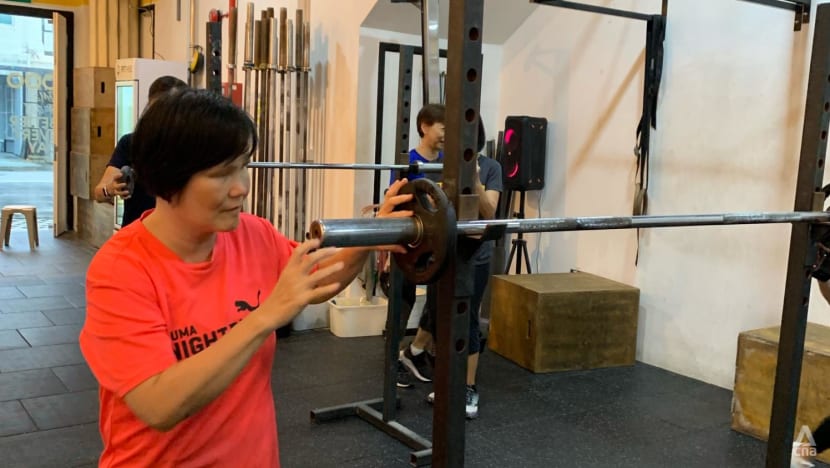 "CAPABLE OF SO MUCH MORE"
As CrossFit focuses on functional movements applicable in everyday life, there have been practical benefits, Yu said.
"After learning how to do a proper squat, I can now pick up things I've dropped on the floor with greater ease."
"After doing burpees, I'm no longer as apprehensive to go on the floor and be afraid that I cannot get up."
Beyond the physical benefits, Yu also pointed out the psychological and emotional aspects.
"With a new social identity as an adaptive athlete, I gained greater self-confidence. Importantly, I also gained community," she said.
"I think it is exciting for people with disabilities to have the opportunity to push beyond their perceived limitations to discover their full potential."
"There is a sense of achievement whenever I do a movement I never imagined I'd be able to do, movements I would have never known I was capable of if I didn't try."
CrossFit has also shown them that obstacles are only in the mind.
Kang ranks doing the clean and jerk in weightlifting as one of her biggest achievements.
"That has been on my bucket list for a while," she said.
Said Wan: "If you think you can, then, you know, you put your mind to it and learn, learn and do the skills.
"I think (CrossFit has) made me fitter … I'm getting to the wall walks. I still try, I can't get my belly up yet."
"A lot of things I want to achieve in CrossFit."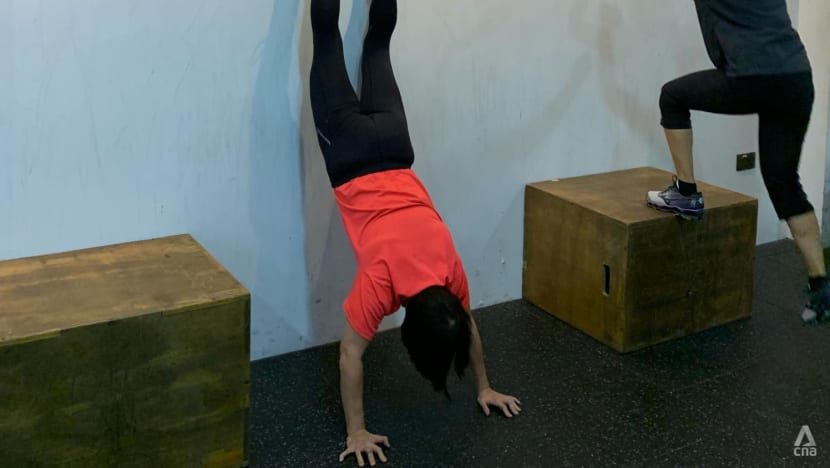 IS IT SAFE?
Some people may be afraid of trying out CrossFit due to how it is being portrayed in the media, said Innervate Fitness coach Lee.
On social media, it is common to see highly experienced CrossFit athletes attempting a muscle-up or executing a heavy clean and jerk, which involves lifting a loaded barbell from the ground to overhead in two explosive movements. 
The sport also came under the spotlight recently after popular South Korean extreme survival show Physical: 100 ended up being won by a CrossFitter. 
"It is then up to us to just ease them into (CrossFit) and show them that it's do-able and scaleable for them at their ability level," the coach added.
Dr Ian Wee, a specialist trainee in general surgery with SingHealth, warned that while CrossFit movements can be adapted to an individual's specific needs and abilities in theory, in practice, it ultimately depends on the trainer's ability to properly scale the movements.
Participants should also know their physical and exercise limits, he said, adding that it is advisable to speak to a doctor or physiotherapist to know which movements they should avoid.
"Speak to the trainer or the chief to find out how experienced and how well-equipped they are in engaging participants with disabilities", the 29-year-old doctor said.
"If not well practised, it can lead to some serious injuries."
But when done safely, CrossFit can provide a wide range of benefits - physical, mental, and social benefits - for people with disabilities, he added.
For Yu, the journey of self-discovery continues. 
"The focus is on what athletes can do, not what they can't," she said.
"Being called an adaptive athlete was the first such label for myself that emphasised my potential to engage in fitness rather than my physical limitations." 
Read this story in Bahasa Melayu here.