Budget 2023: New support scheme for platform workers as they make increased CPF contributions
Platform workers who are below the age of 30 will have to contribute to their CPF Ordinary and Special Accounts from late 2024.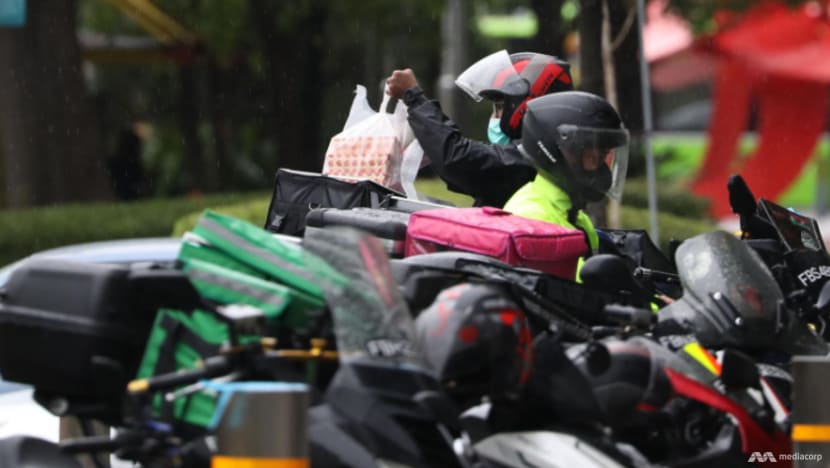 SINGAPORE: Lower-income platform workers will get help as they make increased Central Provident Fund (CPF) contributions, Deputy Prime Minister Lawrence Wong announced on Tuesday (Feb 14) in his Budget 2023 speech.
This will be in the form of the Platform Worker CPF Transition Support, which will offset part of the additional CPF contributions for these workers and cushion the impact on their take-home pay, Mr Wong said.
Singaporean platform workers who earn S$2,500 or less per month – including from platform work and other employment sources – will be eligible for the scheme if they are required to make CPF contributions or opt in to do so. 
Last year, the Government accepted a series of recommendations by the Advisory Committee on Platform Workers, one of which was to align the CPF contribution rates of platform workers and companies with those of employees and employers over a period of five years.
Platform workers who are below the age of 30 will have to contribute to their CPF Ordinary and Special Accounts from late 2024. Platform workers from older cohorts can opt in.
The transition support will be provided for the first four years after the implementation of these changes, said Mr Wong, who is also Finance Minister.
More details about the scheme will be announced at the Ministry of Manpower's Committee of Supply debate.
The advisory committee, which was formed in September 2021 to look into strengthening protections for those who work for online platforms, recommended a phased increase in CPF contributions over five years, unless major economic disruptions require a longer timeline. 
The committee previously said it was looking at an average of 2.5 per cent and 3.5 per cent increases in CPF contribution rates annually, for platform workers and platform companies respectively. These CPF contribution rates will apply to workers' total earnings, less expenses.
"These changes will help platform workers raise their total earnings and strengthen their housing and retirement adequacy," said Mr Wong. "But in the short term, they will affect the take-home pay of these workers."
A LONGSTANDING CONCERN
During his National Day Rally address in 2021, Prime Minister Lee Hsien Loong said he was "especially concerned" about delivery workers who work with online platforms like foodpanda, Grab or Deliveroo.
Delivery workers are just like employees "for all intents and purposes", but have no employment contracts with the online platforms, he noted.
"Therefore they lack the basic job protection that most employees enjoy, like workplace injury compensation, union representation and employer CPF," Mr Lee said. 
"Besides delivery workers, there are also some lower-wage workers in other jobs who also have an employee-like relationship with platforms. They too will find it harder to afford housing, healthcare and eventually, retirement." 
The cost of higher wages for lower-wage workers "will have to be shared", said Mr Lee. "We must address the issues to give these workers more secure futures," he added.
You may also be interested in: