China's rise needs to be met with 'give and take' on all sides, says Singapore's PM Lee
In an interview with broadcaster CCTV, Prime Minister Lee Hsien Loong says other countries must adjust to Beijing's bigger role on the global stage.
SINGAPORE: The rest of the world needs to recognise that the China of today is not what it was before, and accept that it now plays a bigger role on the global stage, said Singapore's Prime Minister Lee Hsien Loong on Friday (Mar 24). 
Cooperation and adjustment from both sides is essential because the world can ill afford conflict - especially between China and the United States, he added.
The Prime Minister spoke about relations between Beijing and other countries, including Singapore, in an interview with broadcaster China Central Television (CCTV) for its Leaders Talk programme, which aired at 9.30pm on Friday. 
In a full interview transcript issued by the Prime Minister's Office, Mr Lee said China must also reconsider arrangements that worked when it was a smaller economy, and recalibrate its own position.
CCTV's reporter had asked how China's rise could be better accommodated globally, given that some countries have reacted differently - with some perceiving a threat.
Noting China's growth from accounting for 2 to 3 per cent of global trade to a current 15 to 20 per cent, Mr Lee said: "From a dispassionate point of view, it is good that 1.4 billion people have much better lives now."
China is now much more prosperous, with a greater contribution to the world economy and a larger voice in international affairs, he added.
"But from an operationalising point of view, how do we make this transformation work without generating tensions and misunderstandings and difficulties which can create new problems which will be very hard to resolve?" Mr Lee asked. 
"That needs a lot of statesmanship, a lot of give and take."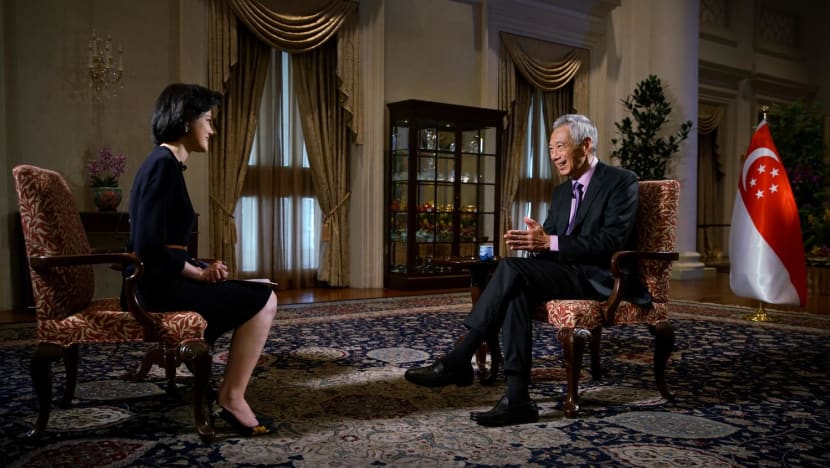 In the interview, Mr Lee was also asked about his vision for US-China relations. 
He replied that the two superpowers would have to stabilise ties, gradually build trust and move forward from there.
Tensions have risen in recent months after a suspected Chinese spy balloon was shot down over the US, causing US Secretary of State Anthony Blinken to cancel a visit to China. 
Washington described the incident as a "clear violation" of its sovereignty, while Beijing called the US reaction "hysterical and absurd". 
Mr Lee said: "I hope that their contacts will be able to build. And that the situation can be stable, and no mishaps will take place. And then gradually, you can improve things.
"But it will take time. It is not easy and there are political pressures on both sides," he added.
Asked about Singapore-China relations, the Prime Minister said they were "very good". The two countries are in the midst of another review of their free trade agreement, with negotiations ongoing.
Mr Lee last met China's President Xi Jinping in Bangkok last November, when the two leaders reaffirmed the countries' close ties. Singapore's Foreign Affairs Minister Vivian Balakrishnan also made an official visit to Beijing last month.
Mr Lee said that while diplomatic relations between Singapore and China were established in 1990, cooperation began years before.
"There is trust and mutual understanding. We have our different perspectives on issues, but we work with one another, and we have been able to get very substantive projects going," he added. 
Government-to-government projects such as Suzhou Industrial Park, Tianjin Eco-City and the Chongqing Connectivity Initiative were cited as examples of a successful working relationship. 
The latter fits in with China's Belt and Road Initiative, which Singapore sees as a way for Beijing to contribute to the development of the region and integrate into a regional network of cooperation and interdependence, said Mr Lee.
"The region needs infrastructure, the infrastructure needs financing. China is capable of doing that – of building infrastructure, it can also help to provide the financing, it can also develop the trade and economic links with the countries in the region."
The Belt and Road Initiative provides a framework where this can be done, he added. 
Singapore could contribute to the initiative by being the place where projects are evaluated and financing is obtained. As a centre for arbitration and mediation, Singapore, with its many international law firms, can also be where countries on Belt and Road schemes arbitrate issues or find legal expertise, the Prime Minister added. 
He was asked about the role Singapore could play in relations between China and the Association of Southeast Asian Nations (ASEAN), of which Singapore is a member. 
ASEAN and China have a free trade deal dating back to 2002, which is also in the process of being upgraded, and Singapore can show the way with its own agreement with Beijing, Mr Lee said. 
"ASEAN-China economic cooperation also depends on the overall relationship. Because between China and ASEAN, it is not just economic issues, but you also have discussions on political issues and security issues, and there are some problems which need to be worked upon. 
"The more progress we can make working on these problems, I think the easier it will be for us to make further progress on economic cooperation," he added.
One example would be the Code of Conduct on the South China Sea, which has not been easy to work out, said Mr Lee. 
"If we can make more progress on that and manage the South China Sea issue in a way which respects the interests of both sides and all countries big and small, I think it makes it much easier for economic cooperation to go much further." 
While ASEAN-China relations are good, they can prosper further on the economic front when non-economic issues are dealt with, he said.
"It works the other way round too - if we can have good economic ties, I think there is more incentive for us to resolve the other problems."