SINGAPORE: A fleet of 13 new vehicles that can drive through higher floodwaters and livestream flood conditions on the road in real time was unveiled by PUB on Friday (Nov 19).
The vehicles aim to quicken response time to potential flash floods by improving coordination in deployment, and have been progressively deployed since April.

They are equipped with features such as a GPS tracker and camera, so that information such as the vehicle's location and flood conditions can be sent back in real time and monitored at PUB's Joint Operations Centre (JOC).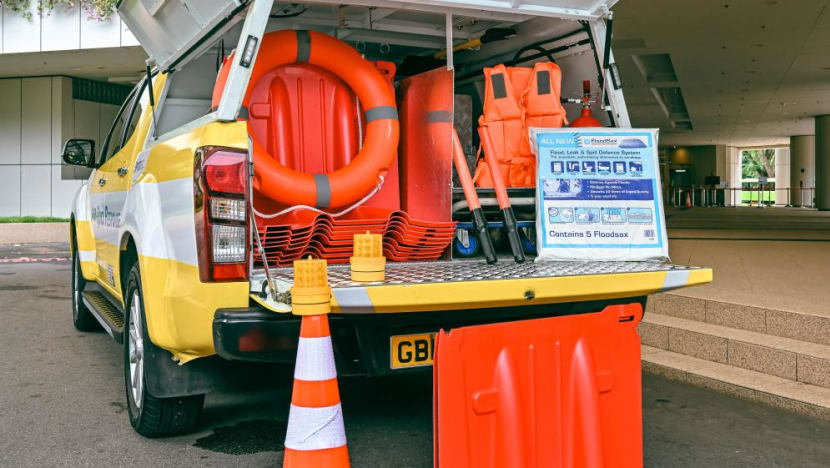 Senior assistant engineer Abdul Aziz Abdul Rahman, from PUB's catchment and waterways department, said the new fleet of vehicles enables officers at the operations centre to better monitor and coordinate the vehicles' deployment remotely.
They will also be able to direct the response teams and assign the vehicles more quickly to locations where heavy rain is expected, he said.
"This is important as quick response time is crucial before and during flash flood incidents. Officers at JOC are also able to monitor conditions during flood incidents and make decisions on whether to deploy more manpower/vehicles," he said.
The vehicles are able to drive through higher floodwaters of up to 70cm, and are stocked with portable flood barriers and inflatable flood bags.
DOUBLING NUMBER OF X-BAND RADARS
The new fleet was part of a slew of new initiatives announced by PUB on Friday, as it ramps up its flood response capabilities ahead of the northeast monsoon season, which typically occurs between December and early March.
Among the measures taken, PUB has also enhanced its rainfall forecasting and monitoring.
It recently doubled the number of X-band radars - sensors used for localised weather monitoring - to six.
This will create a more robust monitoring network with greater coverage, improving the accuracy of rainfall measurements and forecasts, said PUB.
"X-band radars provide precipitation data at high temporal and spatial resolution, which will enable PUB to issue public alerts and deploy resources to potential flood locations in a timelier manner," added PUB.
The agency has also expanded an existing monitoring system for real-time monitoring of reservoir and drainage operations.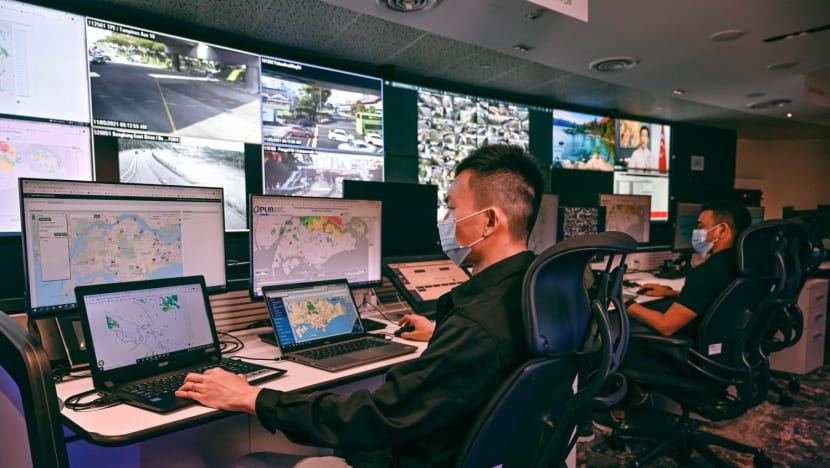 It will capture and include all flood-related data from across Singapore – data from water level sensors, flood response vehicle locations, CCTV cameras and rainfall forecast – on one platform.
"As climate change brings about more frequent and intense rainfall that could temporarily overwhelm our drainage capacity, the ability to forecast and monitor impending heavy storms becomes more important than ever," said PUB.
STRENGTHENING COMMUNITY RESILIENCE
A new Telegram channel launched last week by PUB can also help the community to adapt better to more intense rainfall. It provides updates on heavy rain, potential flood risk locations and flash floods areas.
When CNA checked the channel on Friday, it had more than 11,500 subscribers.
PUB's director of the catchment and waterways department Yeo Keng Soon said: "Over the years, PUB has been enhancing our capabilities in flood monitoring and response with new technologies and carrying out ongoing improvements to the drainage system for long-term resilience.
"However, we can never predict nature or cater to every extreme rainfall event to eliminate floods. 
"It is thus imperative for us to strengthen our resilience as a community to flood incidents."
Building owners must ensure that flood protection measures in their developments remain effective and consider suitable flood barriers to keep out storm waters, he said, adding that contractors must check that the drains and canals at their worksites are not clogged.
PUB said a trial of an automated flood barrier has shown it to be a "viable and cost-efficient" solution.
Trialled at a Fortune Park condominium, the barrier uses approaching floodwaters to buoy itself up and block flood water from entering the premises.

It lowers itself back underground when water levels subside, without the need for any human or mechanical activation.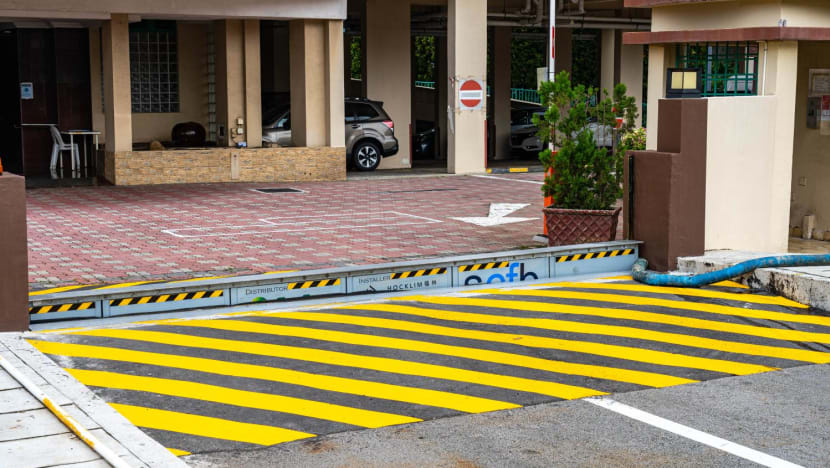 The condominium was identified for the trial as it had experienced flash floods on several occasions in the past, said the condominium's management.
It said that the estate has not experienced any flash floods since the upgrade of the Tampines Outlet Drain was completed in 2019.
"We encourage building owners to implement the automated flood barrier as part of the flood protection measures for existing developments situated in low-lying areas," said PUB.
"In recent years, PUB has introduced several new devices such as Dam Easy Flood Panels, Floodgate and Portable Flood Barriers to its suite of portable flood protection devices, which can be deployed by home and building owners quickly during heavy rain."
To date, it has loaned out 511 of such flood protection devices and distributed about 10,000 inflatable flood bags to residents and businesses in locations that experience frequent flooding.