All stares and no offers to sit: Travelling on public transport with a 'May I have a seat please?' lanyard
Seen people with a "May I have a seat please?" sticker or lanyard on buses and MRT trains - or used it yourself? CNA's Grace Yeoh puts one on to see how receptive other commuters are to "invisible" conditions or disabilities.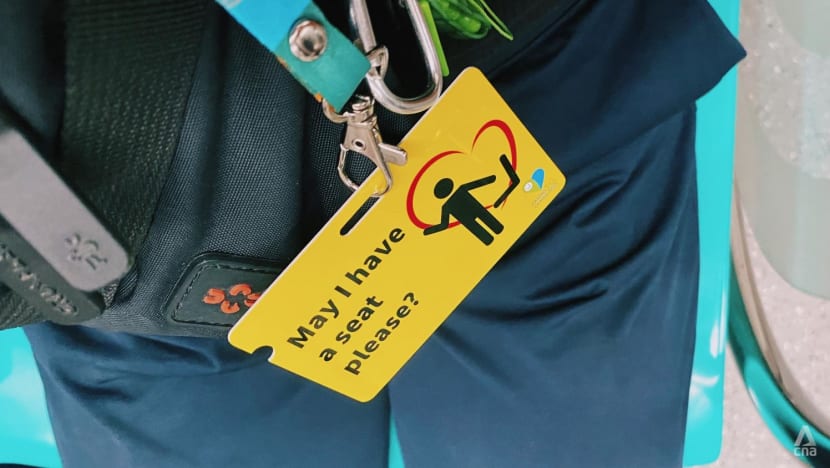 SINGAPORE: I needed a seat on the MRT – at least according to the lanyard around my neck. 
But all I received were furtive glances from commuters who spotted the bright yellow "May I have a seat please?" card attached, only to quickly look down at their phones.
Some continued to stare at me suspiciously throughout my train ride, perhaps wondering why someone who appeared fit and young would need a seat. 
To make my need for a seat obvious, I wore dark colours on that day in February so the lanyard would stand out against my attire, and ensured the card always faced outwards. I even stood in the middle of the carriage. 
But short of asking commuters to give up their seats, my best efforts were unsuccessful. 
After spending the day boarding several relatively packed trains, no one had offered me a seat. When I did get to sit, it was solely because someone alighted and no one claimed their seat. 
Launched by the Land Transport Authority (LTA) in 2019, the "May I have a seat please?" initiative aims to help commuters with less visible health conditions or disabilities alert others that they would appreciate a seat on public transport. 
While the initiative started out with stickers issued to commuters in need, reusable lanyards were rolled out in 2021. Commuters who need a sticker or lanyard can collect them from passenger service centres at MRT stations, bus interchanges or TransitLink ticket offices. 
As of end-2022, about 8,500 stickers and 5,500 lanyards had been distributed, LTA told CNA.
GETTING A LANYARD  
In line with a national push for greater inclusivity in public transport - as well as better accessibility for people with disabilities, as set out in the Enabling Masterplan 2030 – the "May I have a seat please?" initiative seemed straightforward enough: Get a sticker or lanyard, and get a seat.
The initiative acts as an "identifier" of commuters in need, Transport Minister S Iswaran said on Feb 6 in response to a parliamentary question about the training that public transport operators receive to accommodate commuters with various disabilities.
"All public transport operators have training programmes, developed in consultation with various social service agencies, to equip their staff with the skills to look out for and assist commuters with disabilities, including those with invisible conditions," said the minister.
These range from dementia and autism to heart and limb conditions.
Commuters are encouraged to exercise graciousness and give up "not just priority seats" to fellow commuters who need them more, added Senior Parliamentary Secretary Baey Yam Keng on Mar 3 about the initiative.
He noted that posters will be put up at "prominent locations" as visual reminders.
More messages will be progressively rolled out under the "Helping Hand" scheme from April, starting with the bus network, to assist the special needs of other commuters, he said. 
In the meantime, I wanted to experience firsthand whether the initiative was truly as effective as intended.
Before I approached the passenger service centre at Tiong Bahru MRT, I had been trying to cook up a story about why I needed the "May I have a seat please?" lanyard.
Would I have to prove my "invisible" condition or disability? Would I need to explain why the condition or disability required me to sit? What if they called my bluff?
But the customer service officer didn't bat an eyelid when I asked if I could have the lanyard. She handed it to me, no questions asked. No doctor's letter or medical certificate was needed.
This fuss-free process significantly reduces the first hurdle that I imagine many with genuine invisible conditions or disabilities might face: Self-consciousness. 
I was personally relieved by the lack of questions as it meant I could be discreet about my "condition".
Still, staff of public transport operators are trained to look out for and assist commuters with the "May I have a seat please?" sticker or lanyard, should they need more help.
At Tower Transit Singapore, seven out of nine cards issued in 2022 were to participants of a Public Bus Confidence Course that the bus operator runs for people with disabilities. 
"We continue to raise awareness of the card and what it does, amongst our staff through our staff app. We've also provided them with guidelines on assisting card holders. This includes openly asking if any passenger would like to give up their seat for the card holder," a spokesperson told CNA. 
"As invisible conditions and/or disabilities can be quite varied, our staff are advised to always ask if and how they can be of assistance." 
No doctor's letter is required to obtain the card, Tower Transit confirmed. 
SMRT's group chief communications officer, Ms Margaret Teo, said train station staff and bus captains are taught to spot commuters wearing the lanyard and "assist them to a convenient seat". 
"If necessary, our staff will seek the understanding of other commuters to give up their seats for the lanyard holders," she added.
"We engage community groups about the many different service initiatives that are available for commuters with special needs."
Having attended Tower Transit's Public Bus Confidence Course and SMRT's inclusivity training, as well as observed many instances where MRT station staff and bus captains helped the visually impaired, I had no doubt that public transport personnel were well-trained to help commuters who need more assistance on their journeys. 
But as someone with a supposed invisible condition that day, I felt more excluded than ever throughout mine.
NO SEATS FOR ME
The moment I boarded the train at Tiong Bahru station, I received several stares from commuters. 
Two seated commuters glanced at my "May I have a seat please?" card multiple times with a puzzled look, as though unsure whether it was legitimate or whether to vacate their seats. Many others were less obvious, occasionally peering out from behind their phones to see if I had gotten a seat yet. 
When a seat was freed up about two stops later, an elderly, seated commuter darted his eyes in the direction of the seat, indicating that I should grab it. But that seat was quickly snapped up by another commuter. A few other commuters who witnessed this avoided my gaze when I looked their way.
Eventually, the carriage emptied out at Raffles Place MRT station and I took a seat. I then alighted at Bugis to transfer to the Downtown Line.
On that train, I immediately got a seat – even though I couldn't be sure it was explicitly offered to me. I had entered the carriage with a woman pushing a wheelchair user, and the commuter in the reserved seat stood up when he saw us. 
Later, I transferred to the Circle Line and North-East Line. At one point, I stood next to an elderly commuter who also had a trolley with her. 
One commuter noticed that the two of us "needed" a seat and immediately offered hers to the elderly woman. 
I then boarded a few relatively crowded buses around the Dakota and City Hall areas, hoping to be offered a seat. It was not to be, and I only got to sit when commuters alighted. 
To be fair, a one-day experiment is not representative of Singapore commuters.
I, too, had not asked for a seat; having reasoned that the point of the initiative was that one shouldn't have to ask - the message on the card was obvious enough, even if in English only.
Plus, many commuters in Singapore are gracious: They help the visually impaired by warning them of the platform gap, or holding their arms as they step off escalators. They often stand up to offer their seats to the elderly or pregnant women. 
But these are noticeable conditions or disabilities: You can see a wheelchair or a cane. You can see someone's old age. You can see a pregnant woman struggling to stand. 
On the other hand, my yellow card indicated nothing about my condition or disability, only that I needed a seat - not that it meant I was entitled to one.
For the "May I have a seat please?" initiative to work, it requires more than commuters giving up their seat. It also needs commuters to give those with the lanyard or sticker the benefit of doubt.
"HIDING" CONDITIONS AND DISABILITIES
I don't have an invisible condition or disability (that I know of) which requires me to sit on public transport.
So I can only imagine how much more demoralising it must feel for someone to "speak up" and be open about their condition, only to be denied the help they hope for.
After all, individuals with an invisible condition or disability are used to "hiding" it. Rather than disclosing it to request help, many have devised their own coping mechanisms, such as perhaps taking shorter public transport commutes or planning their journeys during off-peak hours to ensure a greater chance of getting a seat. 
For a start, staff at public transport operators are being trained to spot invisible conditions, along with the acknowledgement that "more can be done". 
SBS Transit educates its staff about commuters with conditions like dementia or autism, its vice-president (special grade) of customer experience and communications, Mrs Grace Wu, told CNA. 
To help commuters with dementia, 17 bus interchanges, seven bus terminals and 50 MRT stations are designated as "Go-To-Points", which are "essentially 'safe return' points within the community", said Mrs Wu. 
"(These are) where members of the public can bring people with dementia who may appear lost and are unable to identify themselves or their way home. Our trained staff will assist in reuniting them with their caregivers." 
But as my experience showed, even with a "May I have a seat please?" lanyard, getting help from fellow commuters can be harder than expected, especially if you don't fit the conventional perception of a commuter who needs a seat. 
The longer I stood without getting offered one, the more I assumed my experience would have been different if I appeared more "convincing". Perhaps I looked too sporty. Perhaps I didn't look frail enough. Perhaps I looked too young to have a debilitating condition that required me to sit.
It was only when I alighted at my final stop for the day that I realised: For all my judgment of seemingly ignorant commuters, I was no different. 
I started my day thinking the "May I have a seat please?" initiative was simply about giving someone a seat because their sticker or lanyard implores you to do so.
Instead it revealed my internalised bias, and served as a poignant reminder - that a condition or disability doesn't have to be visible to be valid, on or off public transport.