Workers' Party leaders did not ask Raeesah Khan to take lie 'to the grave': Faisal Manap testifies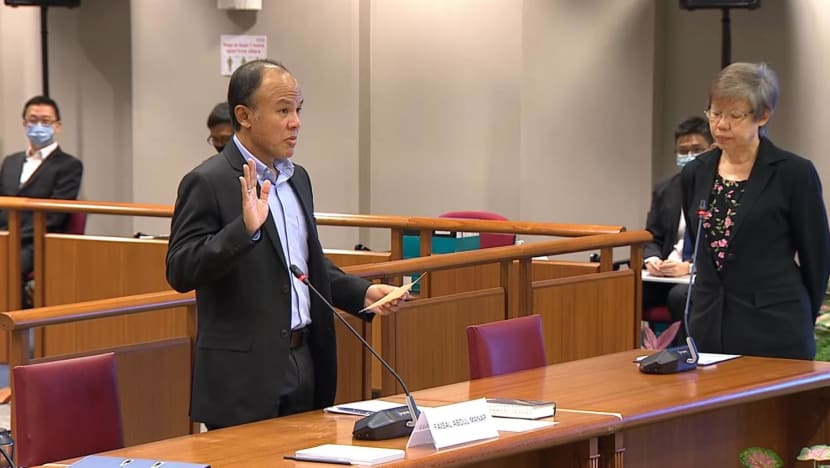 SINGAPORE: Workers' Party (WP) leaders did not tell Ms Raeesah Khan to continue lying in Parliament, contrary to a WhatsApp message she had sent to two other party members, said WP vice chair Faisal Manap in his testimony to the Committee of Privileges.
The message in question was sent by Ms Khan to her assistants Ms Loh Pei Ying and Mr Yudhishthra Nathan on Aug 8. It said: "Hey guys, I just met pritam, Sylvia and Faisal. And we spoke about the Muslim issue and the police accusation. I told them what I told you guys, and they've agreed that the best thing to do is to take the information to the grave. They also suggested that I write a statement to send out this evening."
She was referring to an anecdote she had told in Parliament on Aug 3 about accompanying a sexual assault victim to a police station, which she later said was untrue.
Ms Khan shared in Parliament on Nov 1 that she had heard the story from a support group, and had lied because she did not want to reveal publicly that she had been sexually assaulted at 18.
Ms Khan, a former Sengkang GRC Member of Parliament (MP), has since resigned from WP and as an MP.
The Aug 8 message was one of the key points of evidence raised in hearings on Dec 2 and Dec 3 where she was examined by the Committee of Privileges for breaching parliamentary privilege by lying.
In testimony given on Thursday (Dec 9), Mr Faisal said that everything in the WhatsApp message was true, except for the claim that they had spoken about Ms Khan's lie in Parliament, and that WP secretary-general Pritam Singh, WP chair Sylvia Lim and Mr Faisal had asked her to take it "to the grave".
Mr Faisal, who is also MP for Aljunied GRC, said that Ms Khan was lying about this, but he could not explain why she would do so.
FAISAL MANAP, PRITAM SINGH CALLED BEFORE COP
Ms Khan had also said that, just before another parliamentary sitting in October, Mr Singh had told her that if she "kept to her existing narrative on the untruths which she had said on 3 Aug, there would be no judgement by him".
At that sitting on Oct 4, she told Home Affairs and Law Minister Shanmugam that the anecdote was true, lying a second time in Parliament. She said this was because she had interpreted Mr Singh's words to mean that she should continue lying.
Her account contradicted what Mr Singh had said in a press conference on Dec 2. He had claimed that it was "made known to her before the parliamentary sitting in October, that any parliamentary clarification on this matter was hers to make in her capacity as an elected Member of Parliament".
He also said: "Almost immediately after Parliament adjourned in October, Raeesah agreed with the party leadership that she had to set the record right forthwith. I shared with her that it was the correct thing to do."
A day later, the Office of the Clerk of Parliament issued a special report on Dec 3 making public the testimonies of Ms Khan, Ms Loh and Mr Nathan.
The Committee then called Mr Singh, Mr Faisal and Ms Lim to give evidence. Mr Faisal attended a hearing on Thursday, while Mr Singh appeared before the Committee on Friday and Saturday.
The main points of Mr Faisal's evidence was issued as a special report on Saturday night, along with a video of his hearing.
The report said that Mr Faisal accepted that it was "bad to lie to Parliament".
"He agreed that it was equally wrong to allow a lie to carry on in Parliament. He also agreed that if one knew of a true fact which would correct a deception on Parliament, keeping quiet would also be a problem, and could possibly amount to an offence," the report said.
He also agreed that after he became aware of Ms Khan's lie, it would have been logical for him to have asked questions about Ms Khan's intention to clarify the lie, at various points in the events that transpired.
Mr Faisal said that he had left Mr Singh to handle the matter because he trusted Mr Singh, having worked with him for more than 10 years as a fellow Workers' Party MP.
He believed that Mr Singh had the information to make the judgment call on the matter and he also trusted Ms Khan to do the right thing, the report said.
REST OF WP CEC UNAWARE LEADERS KNEW RAEESAH LIED
Mr Faisal also revealed that the rest of the WP Central Executive Committee (CEC) did not know that Ms Khan had confessed her lie to him, Ms Lim and Mr Singh much earlier.
This was the case on Nov 2, when a Disciplinary Panel (DP) was formally established by the WP. And when the CEC met on Nov 30 to deliberate the panel's recommendations on actions to be taken against Ms Khan, the other members were still unaware.
The panel - made up of Mr Faisal, Ms Lim and Mr Singh - recommended that Ms Khan should resign or, failing which, she should be expelled from the WP.
When the panel briefed the CEC about its recommendations, it did not disclose to the members that Mr Singh, Ms Lim and Mr Faisal had met Ms Khan on Aug 8, where she confessed to them she had lied to Parliament.
"The DP also did not disclose to the CEC that Ms Loh and Mr Nathan, senior cadre members who had worked closely with Ms Khan, had made very strong statements to the DP for the DP members to disclose their own involvement and knowledge, and come clean with WP members and the public," the special report said.
Thus, the CEC voted in favour of Ms Khan's expulsion "without knowledge of the full facts", said the report.
Mr Faisal also said that he had had discussions with Mr Singh and Ms Lim on Tuesday and Wednesday before his hearing, and they met for about two to three hours on each day.
"When asked about these meetings, and the material which Mr Singh and Ms Lim brought along to the meetings, Mr Faisal informed the COP four times, that he would not answer the question. He refused to answer, despite being reminded that he had been called before the COP to assist with its investigations, which the documents may shed light on," said the special report. 
It was explained to Mr Faisal that a refusal to answer the Committee of Privileges' questions would amount to an offence and constitute a contempt of Parliament.
He was invited to reconsider his refusal to answer the question, but Mr Faisal said that the Committee should place on record that he was refusing to answer that question, and repeated four more times that he would not be answering the question.
Mr Faisal said that Ms Lim and Mr Singh had brought documents to their meetings with him, but he also refused to answer if he knew what those documents were.
DID NOT RAISE MATTER WITH RAEESAH KHAN
Mr Faisal said that between Aug 8 and Oct 29, he did not communicate with Ms Khan, Mr Singh or Ms Lim about the untruth Ms Khan told in Parliament, and was unaware of any discussions on this issue among others.
The special report said Mr Faisal was "very sure" that no draft statement or media post had been prepared to clarify Ms Khan's untruth during the Sep 13 sitting of Parliament, and he did not pursue the issue.
He was not in Parliament on Oct 4, but when he learned that Ms Khan had lied again, he was "shocked and worried".
"He appreciated that this was a serious problem for Ms Khan, and that the WP was in trouble. This put him and the WP in a 'more difficult position', as Ms Khan had now lied twice in Parliament. Mr Faisal agreed that he would have been concerned that by that point, the WP had to do something about it," said the report.
On Oct 5, Mr Faisal sent a message to Ms Khan to encourage her and tell her to "stay strong" and offer his advice if she needed it. 
He told the Committee that since he was in direct communication with Ms Khan, he could have asked her about clarifying the untruth in Parliament, but he did not.
The report said: "He agreed that his behaviour did not make sense nor were they logically acceptable. He admitted that it was illogical that even after Ms Khan had repeated the untruth on 4 Oct, he (Mr Faisal) had not raised it with Ms Khan, when Mr Faisal met Ms Khan three days later, on 7 Oct."
He said that he did not raise the matter with Ms Khan because she neither raised the issue nor sought his guidance on it.
Mr Faisal agreed that as an MP, he also had a duty to ensure that no untruth remained on the record in Parliament and that it was important to clarify Ms Khan's lie as soon as possible, but he did not do anything, nor did he speak with anyone about it.
"To his mind, this was a matter for Mr Singh to deal with. The timing of when to have Ms Khan correct the record in Parliament would depend on Mr Singh's judgment," the report said.
Proceedings were adjourned to Sunday and the Committee of Privileges will also call on Sengkang MP Associate Professor Jamus Lim to give evidence.
It has heard from six people so far over seven meetings.