Home Team's robotic dog could respond to chemical incidents, support police patrols when it joins frontline operations
SINGAPORE: A dog walks through a chemical plant, but it is not a stray one. It is a robot, capable of detecting poisonous gas in the air after a leak.
The four-legged Rover-X, jointly developed by the Home Team Science and Technology Agency (HTX), moves autonomously through the plant with a soft whir, its "paws" made of sturdy rubber.
A 3D laser scanner, inside a blue cylinder near its "head", helps it map the surroundings and navigate around obstacles towards a pre-programmed location, like a series of gas pipes.
The robot's electronics and depth cameras calculate and adjust its motor commands up to thousands of times per second, enabling it to plan its footsteps and handle different terrain, including stairs and kerbs.
A little black case on its body is responsible for "smelling" different concentrations of gases in the air. The amount of gas detected is piped back to the operator's computer screen at a remote command and control station.
A removable front camera, capable of zooming up to 32 times, sends back a high-definition live feed. The robot also carries a thermal imager to see in the dark and detect flames that might not be visible to the naked eye.
Through this gas leak scenario, the media was given a demonstration of Rover-X's capabilities on Thursday (Jan 20) at the Home Team Tactical Centre in Mandai.
Rover-X was first announced during the launch of HTX in December 2019, when the agency said it could be used as first responders to support disaster rescue efforts and save lives.
This comes as urban search and rescue scenarios could be extremely dangerous for human responders, particularly when entering buildings they do not know much about.
Rover-X, on the other hand, could be deployed on unstructured, hazardous terrain and places deemed unsafe for humans.
Its initial uses could include responding to hazardous material incidents with the Singapore Civil Defence Force (SCDF) and supporting police patrols.
There is no timeline yet on when Rover-X could be operationally deployed with either agency as their trials are still in the early stages.
HAZARDOUS MATERIAL INCIDENTS
Going back to the gas leak scenario, SCDF hazardous material specialists would typically have to enter the chemical plant wearing bulky personal protective equipment (PPE) while carrying handheld detectors.
"This involves some kind of risk even though the PPE is safe for us," said SCDF's principal hazmat development officer Lieutenant-Colonel Kenneth Mak.
"So by using the technology, I think it's good to actually have the force multiplier in terms of our efficiency and also safety."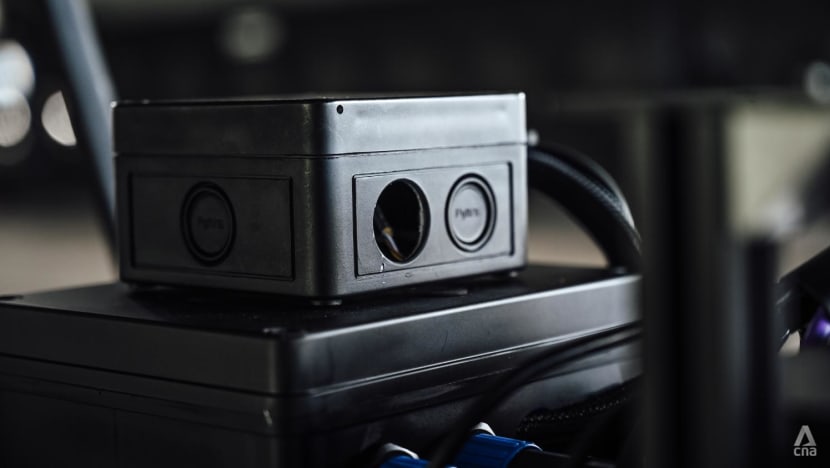 SCDF has been testing Rover-X for different types of operations and the feedback has been "good," Lt Col Mak said.
For instance, it could conduct routine chemical plant inspections by capturing images of the plant and visual anomalies indicating a gas leak, such as an abnormal reading on a pressure gauge. The robot could also use its camera to check on fire safety equipment like fire extinguishers.
POLICE PATROLS
The police plans to use Rover-X to support patrols and sense threats early. The robot has video analytics capabilities that can detect people in unauthorised areas and unattended bags in crowded locations, for instance, although facial recognition is not in the works.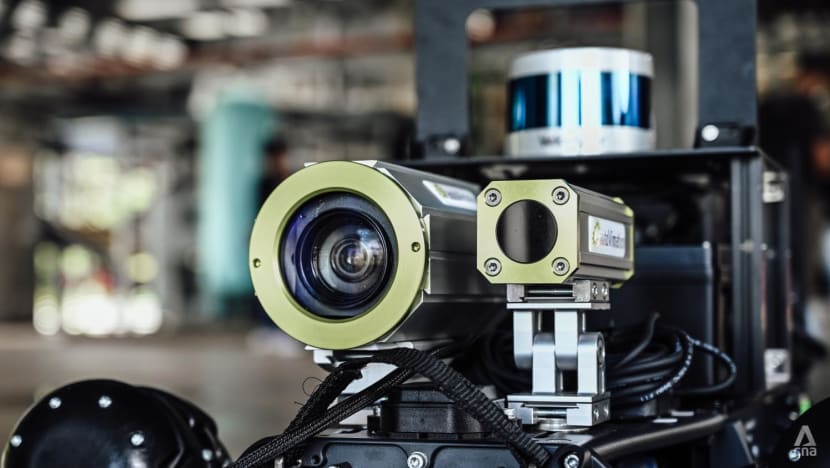 Deputy Superintendent of Police Lim Jim Kai, from the future operations and planning department, said Rover-X can patrol areas independently and will allow officers to be better prepared against aggression and violence.
"This will allow police officers to focus on more critical tasks and be more effective in our security duties," he said.
DSP Lim said it is too early to say where Rover-X could be used for patrols, adding that the police are still "exploring" different operational concepts.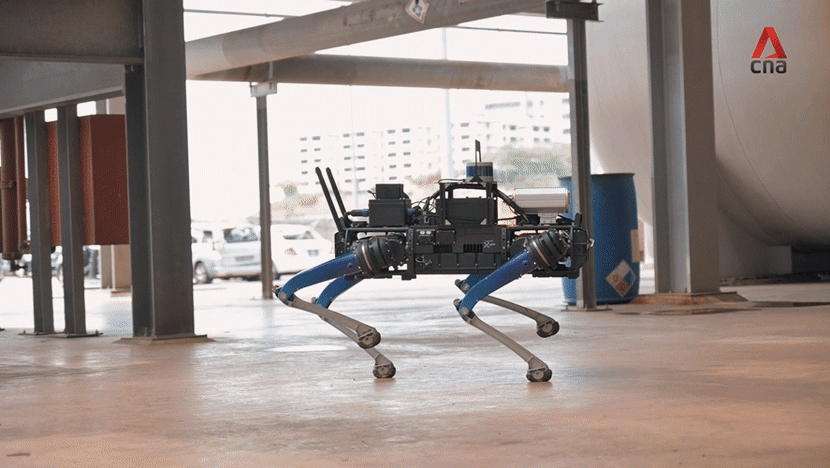 VERSATILE AND FLEXIBLE
HTX expects to conclude trials by the middle of this year, including tests on the robot's "exploration mode", where it automatically heads to a pre-programmed location without an operator first guiding it through the space.
Rover-X's four legs each has three degrees of freedom, meaning it can swivel, tilt and move sideways. It can walk at speeds of up to 3.6kmh or trot at a maximum of 7.2kmh.
Its on-board lithium ion battery provides up to four hours or 12.8km of continuous movement, depending on the terrain.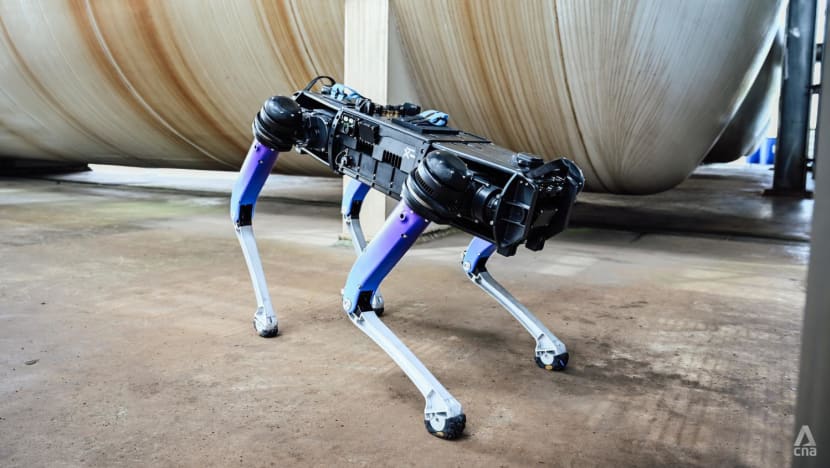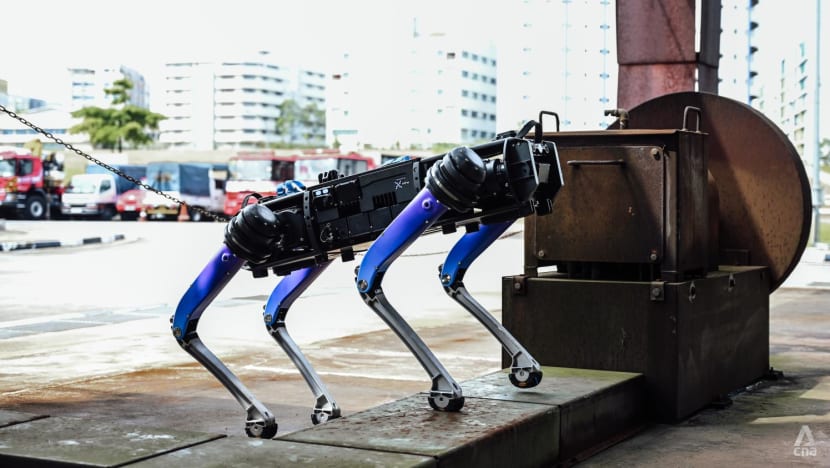 Moving forward, HTX engineer Goh Boon Kiat expects Rover-X to be used for a variety of missions, given that it is water-resistant and can carry up to 10kg of payload, including different types of cameras and sensors.
"We are still doing ongoing development of Rover-X, trying to push the autonomous capabilities and make it even smarter," said Mr Goh, who worked on the project.
Mr Cheng Wee Kiang, director of HTX's robotics, automation & unmanned systems centre of expertise, believes the robot will transform the way homeland security operations are carried out in the future.
"Rover-X adds to HTX's array of ground robots and offers different mobility options and payloads to support diverse homeland security operations. Its deployment will enable the Home Team to achieve enhanced efficiency and effectiveness," he said.