FAQ: What you need to know before crossing the Singapore-Malaysia land border from Apr 1
From verifying your COVID-19 vaccination status to applying for a Vehicle Entry Permit - here's a list of things to do before you start your trip.
SINGAPORE: For the first time in two years, fully vaccinated people in Singapore and Malaysia will be able to cross the land border by private transport.
Both countries will ease their travel restrictions from Friday (Apr 1), allowing travellers to drive their cars or ride their motorcycles across the Causeway and Second Link. 
They can also choose to use designated vaccinated travel bus services while Singapore and Malaysia work to restore cross-border public bus services. 
Here's what travellers need to have on hand before making their trips: 
Q: What documents, mobile apps do I need?
While you dust off your passport, ensure that it is valid for at least six months.
If you're travelling to Malaysia, you'll need to download, register and activate the MySejahtera application on your mobile phone. This is what Malaysia uses to check your vaccination status and facilitate contact tracing.
The equivalent in Singapore is the TraceTogether app.
For non-Singapore residents who don't already have TraceTogether, note that your profile on the app has to contain the same identification number, nationality and date of birth as shown in the passport you are using to enter Singapore.
Q: Why do I need the apps?
The apps contain proof of one's COVID-19 vaccination status, which is required at immigration to enter the country.
It is also needed for people to check in to places such as malls, restaurants and hotels.
Q: Do I need entry cards?
Yes. For entry to Singapore, all travellers - including Singapore citizens, permanent residents and long-term pass holders - are required to complete their SG arrival card within three days before arriving at the checkpoints, according to the SafeTravel website.
 
The SG arrival card, along with its electronic health declaration, will facilitate the submission of personal information, trip details and health declaration by all travellers seeking entry to Singapore.
On Malaysia's side, there are no entry cards required at the land border.
Q: How do I verify my vaccination status?
For travellers to Malaysia with digital vaccination certificates issued overseas, ensure that you have verified your digital COVID-19 vaccination certificate on Malaysia's MySafeTravel portal before departure.
(Tip: After receiving a confirmation email, it will be useful to print a hard copy should you be required to produce it at the checkpoint.)
Once you have verified your vaccination status on the MySafeTravel portal, check that the details have been reflected on the MySejahtera app.
Alternatively, travellers can update their vaccination status on the MySejahtera app via the "traveller" icon.
Just in case - it may be useful to bring along a hard copy of your Singapore vaccination certificate, generated via notarise.
The requirements are similar for Singapore - travellers should upload their digitally verifiable vaccination certificates as part of their SG arrival card. 
Travellers will then be granted temporary vaccinated status lasting about 30 days. This will be reflected in their TraceTogether app.
Q: What are the COVID-19 vaccinations and certificates accepted by Malaysia?
Travellers must have completed a full regimen of a COVID-19 vaccine recognised by the World Health Organization (WHO) to be allowed entry to Malaysia.
Children aged 12 and below will be allowed to enter Malaysia without the need to show proof of vaccination, said the country's Ministry of Trade and Industry.
Note that travellers who received either the Sinovac or Sinopharm COVID-19 vaccines are considered fully vaccinated only if they got three doses.
Details of the accepted COVID-19 vaccines and doses recognised by Malaysia's Ministry of Health are as follows:
In Malaysia, those who are 18 years old and above are considered fully vaccinated with two doses of the Pfizer, Moderna or AstraZeneca vaccines - even without a booster.
Those who are aged 60 and above, however, are required to get a third dose of the vaccine (booster) to keep their fully vaccinated status. 
Q: What are the COVID-19 vaccinations and certificates accepted by Singapore?
Similarly, travellers must have completed a full regimen of a COVID-19 vaccine recognised by WHO to be able to enter Singapore. They also have to meet the minimum dose interval period at least two weeks before arriving in the country.
For travellers who want to have their vaccination records ingested into the National Immunisation Registry (NIR) beyond their temporary vaccinated status period, they can do so, depending on what vaccination they had taken.
"Travellers who entered Singapore with Sinovac/Sinopharm as part of their vaccination will be required to have a minimum number of three vaccination doses if they want to be eligible for vaccination-differentiated measures beyond four months from the date of their second dose," said the Immigration and Checkpoints Authority (ICA) on its website.
A full list of accepted three-dose combinations involving Sinovac/Sinopharm and other WHO-EUL vaccines can be found here.
If a traveller had contracted COVID-19 before being vaccinated, he or she must have received at least one dose of any WHO-EUL vaccine at least 28 days from their first COVID-19 infection.
They must also be able to produce proof of their positive COVID-19 diagnosis.
Q: Road Charge - how much will travellers pay to enter Malaysia?
Malaysia's Road Charge is a levy imposed on all non-Malaysian-registered cars entering Malaysia on road via Johor. 
Malaysia's Ministry of Transport has confirmed that drivers of Singapore-registered vehicles are required to pay a Road Charge (RC) of RM20 (S$6.40) for entry at Malaysia's land checkpoints - either at the Woodlands Causeway or Tuas Second Link. 
However, this fee will be waived between Apr 1 and Apr 7, given that the land borders have been closed for more than two years so Singaporeans have not been able to enter Malaysia to top up their Touch 'n Go cards. 
Travellers from Singapore may also consider buying the EZ-Link x Touch 'n Go card, which is a dual-currency card designed for Singapore motorists travelling to Malaysia. The card holds two electronic purses in each currency and has to be topped up in the respective countries.
Do note that from Apr 8, travellers must ensure that their Touch 'n Go cards are valid with enough money in them to make payment, in order to prevent congestion and delays at the checkpoints. 
Q: Do I need to apply for Malaysia's Vehicle Entry Permit?
It is currently not yet mandatory to apply for a Vehicle Entry Permit (VEP), although Malaysia's Ministry of Transport has reminded motorists with Singapore-registered vehicles to register for the VEP on this website. 
Vehicles that have been registered will then be fitted with a radio frequency identification (RFID) tag, tied to an e-wallet Touch 'n Go application. 
Singapore vehicles that have been fitted with the RFID-VEP must ensure that there is enough balance in their e-wallets to pay for the Road Charge.
Q: What about Singapore's VEP?
Those driving foreign-registered vehicles into Singapore must ensure they have a valid VEP/Autopass card and the Land Transport Authority's (LTA) approval email.
Applications can be done online, on LTA's OneMotoring website.
Drivers must also have a valid road tax and certificate of insurance for the vehicle. 
The Autopass Card, which has a validity period of 14 days, serves as an electronic VEP for foreign cars and motorcycles. It is used to record a vehicle's entry to Singapore and to pay for all entry and exit fees.
Drivers of foreign-registered vehicles must receive LTA's VEP approval email before they travel.
Those without Autopass cards must collect theirs at LTA's Johor Bahru Service Centre (34, Jalan Tun Abdul Razak Susur 1, 80000 Johor Bahru, Johor) before entering Singapore.
"They will not be allowed to apply for VEP/Autopass cards or update their road tax and motor insurance for their existing Autopass cards at Singapore's land checkpoints," said LTA.
Travellers are encouraged to plan their trips at least two weeks ahead to allow enough time for the VEP application and approval process.  
An Autopass Card is sold at S$10, with a pre-loaded cash value of S$4 and a non-refundable card cost of S$6, said LTA on its website. 
The entry and exit toll charges, VEP fees and reciprocal road charges are in the tables below: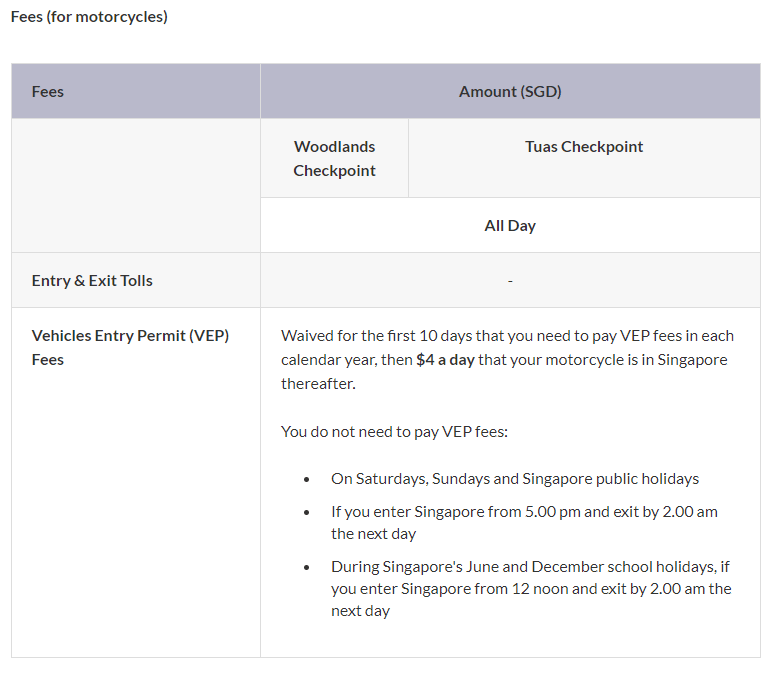 Q: Do I need to buy travel insurance?
According to information on Malaysia's MySafeTravel website, short-term visitors from Singapore who are partially vaccinated or not vaccinated will need to have COVID-19 travel insurance. There must be a minimum coverage of US$20,000.
For entry to Singapore, fully vaccinated short-term visitors are not required to have travel insurance for their COVID-19-related medical treatment and hospitalisation costs in the country from Apr 1, said ICA in an update.
Before Apr 1, such insurance was needed, with a minimum coverage of S$30,000 (US$22,000).
Editor's note: This story has been amended to correct information about whether travellers from Singapore to Malaysia need insurance. While Malaysia's MySafeTravel website says that all short-term visitors require insurance for COVID 19-related medical expenses, it also says that this requirement only applies to those who are partially vaccinated or not vaccinated. The information on travel insurance for people coming into Singapore was also previously amended following an update on ICA's website.