He loved numbers so much, this Singapore student became a finalist in an e-sports competition – on Microsoft Excel
Mathematics undergraduate Danendra Lohanata beat more than 2,000 students from around the world to enter the final rounds of the Microsoft Excel Collegiate Challenge.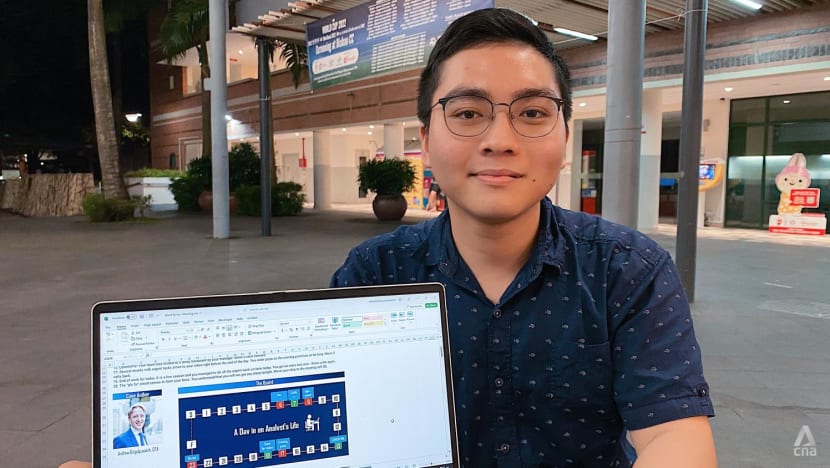 SINGAPORE: More than 13,000km away from Doha, where some of the world's best football players are currently vying for the World Cup, a lesser-known World Cup player tends to his own fields in Tucson, Arizona in the US. 
Danendra Lohanata, a 21-year-old student from Singapore, must run through hundreds of fields during his match that starts on Saturday (Dec 3) at 8am Arizona time. But he is prepared, having clocked in full-day training sessions before flying to the US. 
He spent his last few weekends combing through the fields of Microsoft Excel spreadsheets to solve complex case studies – all in preparation for the final rounds of the Microsoft Excel Collegiate Challenge, an e-sports competition co-organised by the Financial Modeling World Cup. 
It is an unlikely pairing: A billion-dollar industry with gaming tournaments for the likes of Dota 2 and League of Legends now has players competing to solve puzzles with a Microsoft Office tool often used for data entry.
Yet, Excel as an e-sport has gained traction precisely for being unusual.
TikTok user @LewisMenelaws expressed fascination at a "competitive community in Excel" in a video that has garnered more than 500,000 views, and said he was removing "proficient in Excel" from his resume.
And Windows Central, a site dedicated to all things Windows, noted in an article from August that the e-sport is "snowballing in popularity" that it has even been listed in the line-up on American cable sports channel ESPN. 
SOLVING EVERYDAY SCENARIOS WITH EXCEL
He only knew about it in August.
But Mr Lohanata, who studies mathematical sciences at Nanyang Technological University (NTU), immediately signed up for the competition after stumbling upon online articles about the weird and wacky world of Excel e-sports.
"I was curious and I wanted to see what they're actually doing. So I watched some recordings on YouTube (of the Microsoft Excel World Championship) that show what they are doing with Excel. It's quite interesting for me," he told CNA.
The goal was simple: Participants are given case studies and asked to use Excel to solve a list of questions within a timeframe. They get points based on the questions they answer correctly.
These case studies are available on the Financial Modeling World Cup's online shop for players to purchase and practise, and usually come with an Excel file with initial data and case assumptions.
One of them, titled Music to My Ears, paints a scenario where one is an analyst at a music publishing company. Using Excel, participants have to organise the data provided and calculate monthly revenue per songwriter, analyse which songwriters have repaid their advances and calculate the publisher's rate of return on its investment with these songwriters. 
Another, titled Vacation Fun, asks participants to create a 12-month projection model for their personal cash inflows and outflows based on the provided data and assumptions in a scenario about one's holiday funds. 
"I checked out the organiser's (Financial Modeling World Cup) website and I realised they're also organising the same event for university students only. And it's free. So without a second thought, I signed up," added Mr Lohanata. 
With "no expectations at all", except "just to do it for fun", he beat more than 2,000 students in his category to land himself a spot in the finals. 
A LOVE FOR NUMBERS 
More than 2,800 students, comprising individual and team sign-ups, from 93 countries registered for the competition this year, which was also co-organised by the Eller College of Management at the University of Arizona. 
During a three-week training period at the start, students had to complete a series of Excel exercises, covering Excel functions and techniques, budgeting and the cost of credit card debt. 
Then through two competitive online rounds of Excel modelling tasks over subsequent weekends, each round lasting two hours, the top 30 individuals and top five teams were selected to participate in the finals in Arizona. 
In the end, Mr Lohanata placed 12th out of 30 in the individuals category, making him one of two students from Singapore among the finalists. The other, from the National University of Singapore, declined to be interviewed. 
Even though Mr Lohanata hasn't yet won, the boy who grew up in Tangerang, Indonesia, has already come a long way from home.
His love for numbers began in primary school – and grew at home. When he wanted to practise his mathematics problem sums after school, his father, who holds an engineering degree, would help him. 
"But after going into my junior high school and senior high school, the questions were very hard, especially in the Olympiads," he recalled with a laugh, referring to the Indonesia National Science Olympiad which contains mathematics questions. 
"It was way beyond what they're teaching in schools, so I went for tuition that trained me for math Olympiads, math competitions." 
After his first exposure to Excel in primary school, he was taught more advanced skills in his junior high school. He realised that he "did pretty well" compared to his schoolmates. 
"It's also something that I love. … I think it's because it's all about numbers and using formulas, so that's why it seems quite interesting to me," he said. 
Over time, Excel became a trusted companion that helped him to organise his life, such as with his budgeting.
"I also use it to arrange my study plan. So every semester, I usually list down all the materials for each subject. Then during the review week, I list down which materials I have done reviewing and which topics I need further time to explore deeper," he added. 
In senior high school, Mr Lohanata harboured a dream to study in one of Singapore's local universities, but he did not want to "burden my dad too much" as he has three younger siblings, he added. 
So, when he landed the NTU ASEAN Undergraduate Scholarship, which covered his full tuition fees, he packed his bags and moved to Singapore by himself at 17. 
It is a similar attitude that would make him apply for the Microsoft Excel Collegiate Challenge four years later. 
"I learnt that while I have the opportunity, I should just take it up," he said. 
"I didn't check what's the criteria, what's the prize … I didn't think that I hadn't prepared enough, that this is my first time … I didn't even know the final round would be in the US. Eventually I was lucky enough to qualify for the final round."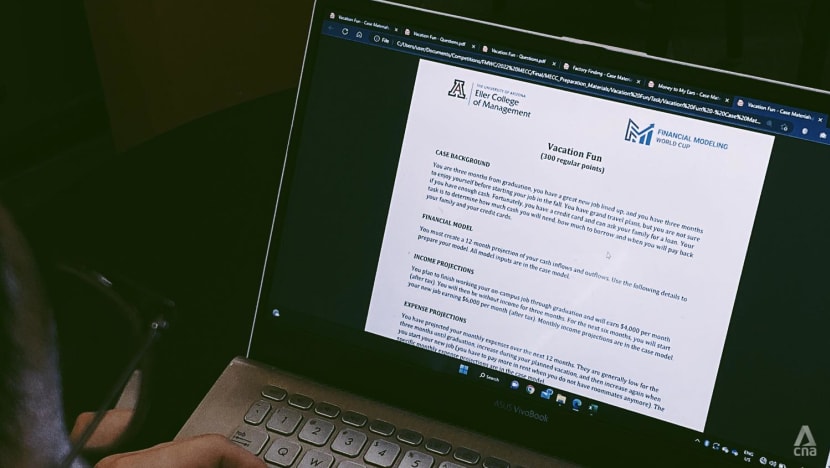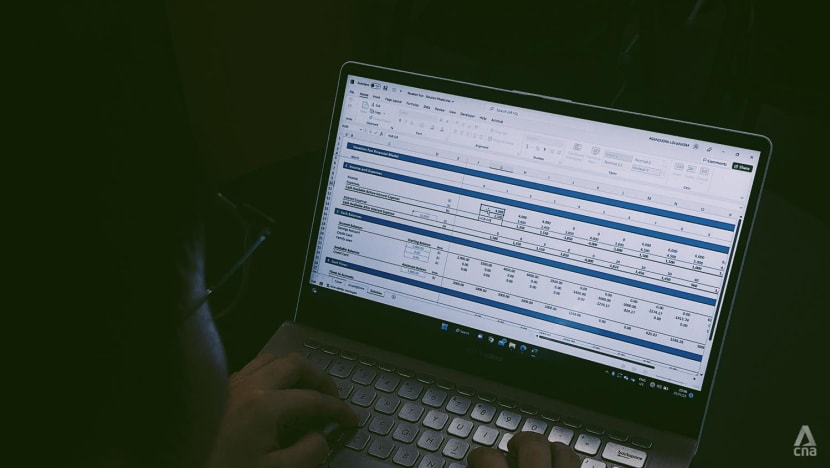 EASY TASKS FIRST  
Now in his final year at NTU, Mr Lohanata's mathematical sciences degree and his minor in finance have come in handy in the competition, even though he noted that most of the key skills on Excel that he requires were self-taught. 
"However, if we're talking about my degree, math has taught me indirectly more about problem-solving and analytical thinking skills. And I believe these kinds of transferable skills are also somewhat applicable to this competition," he said.  
"If I need to get solutions, it might require a few steps. Without even doing the first step, I need to think what's going to be my second step, third step, until I get the final answer. Because if I get the first step, but I can't get the second step, then it's not worth it to do the first step." 
As such, his strategy for the competition and his school examinations are the same: Tackle the easy tasks first. 
"In math, most of the questions asked in the exams need you to prove certain formulas or find some approach to get the solution. So when I'm stuck on a question, I'll move on to another question that I feel is easier, then if I have enough time, I'll go back to this question. The same thing applies to this competition," he said. 
In the competition, the first task is "usually very easy", but the second and third tasks are "a bit harder", he added. 
"Usually, after I finish my first task, I move on to do the first half of the second task, then I do the first half of the third task. Because they are usually easier than the second half of each of the tasks. If I have enough time, then I do the rest." 
But while Mr Lohanata sailed through the two prior rounds, the live finals on Saturday may prove more stressful, especially if he makes it to the last two stages. 
In the morning itself, finalists will compete in two elimination stages. Only the top eight will progress to the 30-minute semi-final stage, from which the best four will move on to the final 30-minute stage. 
Both the semi-final and final stages will be livestreamed on Financial Modeling World Cup's YouTube channel, where "everyone in the world, if they want, can watch what we're doing on the screen itself", he pointed out. 
"In the first two rounds (before the finals), because I had no expectations, I didn't really feel any stress, even when doing the problem itself. And because it's online, then nobody could really see what I'm doing. To help myself relax, I could just play some music," he recalled. 
"But I expect that in the final round, there will be a lot more pressure because it's a different atmosphere. I can see all the other competitors (in the room) … and especially if (a task is) supposed to be easy, but for some reason, my mind goes blank. I guess I'll just try my best to be as relaxed as possible."
WHAT'S THE ATTRACTION? 
On the other side of the screen, viewers seem just as riveted as players, judging by the number of views for previous competition livestreams. 
Watching others perform Excel wizardry appears to be a sport in itself, complete with commentators remarking on players' moves. 
"If you'd have told me 20 years ago that we'd be watching Excel competitions, I'd have thought you were crazy. But it's fascinating to watch these people who are really good at Excel come up with their own ways to solve problems and solve them very, very quickly. Fascinating in a very nerdy sense," said Bill Jelen, when he co-hosted the Excel Esports all-star battle online in May this year.
The video of the livestream has racked up almost 740,000 views to date. 
"This same kind of logic, these same formulas, can be used to solve everyday business problems. It's just funnier in the e-sports version where we have some fun things, rather than just try and figure out the next amortisation table," added Mr Jelen during the livestream. 
Several YouTube commenters, upon stumbling onto a video of Excel e-sports, say they have no idea what participants are doing but they can't look away.
One Twitter user wrote: "This is my Olympics."  
Financial Modeling World Cup's founder and CEO Andrew Grigolyunovich boils down the "excitement" to a sense of competition first and foremost.
"There is a scoreboard attached to the game task. It's not just solving some problems in Excel, but scoring points for doing this correctly. The scores change frequently and there is a great feeling of competition between the players. Some matches are very close and only the last (few) seconds decide the winner," he told CNA over email. 
The game's educational aspect also appeals to "typical" viewers, whom Mr Grigolyunovich figures use Excel "at least to some extent". 
"This means that these people can learn a lot of new tricks – the show is a great demonstration of Excel's less-known features that could be very powerful if discovered by a user," he said. 
"For example, in our livestreams, the scoreboard is created in Excel – but it looks like a part of the livestream package. Our games help people expand their imagination of Excel's possible applications."
And if Mr Grigolyunovich's own imagination comes true, the live finals would one day be held in a big e-sports arena, such as in Las Vegas, and the winner's cheque would exceed US$1 million. 
The top prize for the individual category in the Microsoft Excel Collegiate Challenge is currently US$10,000. 
"I also hope that our competition could serve for talented young analysts from all over the world to get on the radar for the larger companies and that would allow them to work on larger and more interesting projects," he said.
Upon graduation, Mr Lohanata will have to work in Singapore for three years. While he is currently an artificial intelligence intern, the sky is the limit with his mathematics degree.  
"One of the misconceptions I often hear is that having a math degree means you're going to be a teacher. I mean, a teacher is a very noble profession. But math skills are applicable in most other fields; it can be applied in engineering, in tech companies, finance, research, consulting and even in insurance companies," he said. 
But one career is out of the question. Ironically, he wouldn't cut it in "mainstream" e-sports. 
"During the circuit breaker period in 2020, because we're just stuck at home, I did try playing some online games for only two weeks. But I really suck at those so I didn't continue further," he said.
"I realised I'm very bad at this."