Singaporeans help Türkiye-Syria quake survivors with donations of tents, warm clothes
These Singaporeans are doing what they can to help victims of the recent quakes in Türkiye and Syria, from raising funds to packing and transporting essential items like tents and warm clothes.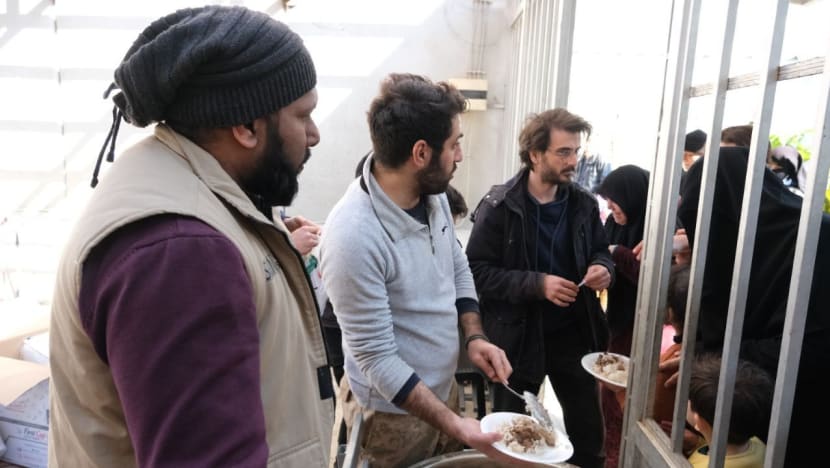 SINGAPORE: All it took to convince Mr Nuzulul Qadar that he needed to get involved in humanitarian efforts after a massive earthquake shook Türkiye and Syria was a call. 
A friend who works with a non-governmental organisation (NGO) asked if he was free to volunteer at the site of the Feb 6 disaster, said the Singaporean, who is studying in Istanbul.
"He said: 'The volunteers are so exhausted. They'd been there for almost three days. They cannot get proper sleep, there's no proper accommodation. They hadn't showered for the whole three days. So if you can lend an extra hand that will definitely be useful'," Mr Nuzulul said.
The 33-year-old PhD student decided to set aside his studies for a while and help.
He and his friend drove 17 hours from Istanbul to Antakya, mainly because there were no flights at the time. 
"It was totally like a war-torn city," Mr Nuzulul said, recalling his first impression upon reaching Antakya, one of the worst-hit areas of the quake. 
"Imagine you're walking down Orchard Road (in Singapore), and you see bodies everywhere (and) collapsed buildings. The morale then was very low. It was the sixth day after the quakes." 
But Mr Nuzulul kept his emotions in check and focused on the task ahead. 
He soon realised that much of the aid supplies were stuck in the city centres, and many residents were no longer living there. 
CHANNELLING AID
Reaching victims beyond the city centre was another problem as the roads have been destroyed, and transportation was lacking. 
"So I thought that since we have a vehicle, why don't we take all these items, this aid, in the city centre to the villages? We managed to do a maximum of three trips per day, but that's the best we could do," he said.  
Mr Nuzulul recalled witnessing the warmth of the Turkish communities during his five-day volunteer trip.
"We saw so many people leaving everything behind and just going down to help – like shop owners, they closed their shops and whatever they had, they took it with them and brought it to people. Those selling kebabs by the street gave them out for free," he said.
Despite the community coming together, Mr Nuzulul realised that there was still a need for tents. 
Adding to the demand for tents were the people who had abandoned their homes, even though they were not destroyed in the quakes.
"There are many buildings with minor cracks, but people are so afraid to stay there," Mr Nuzulul said. 
When he got back to Istanbul, he approached a few shops in the hope of buying items at wholesale prices. He managed to persuade a shop owner who gave them a discount for 2,000 sets of thermal wear and tents.
However, the owner made a deal stipulating that he would send the supplies directly to the victims.
Mr Nuzulul said this was a better option as it would be faster. It will also ease the load of collection points and aid workers, he added.
TURKIYE RELIEF INITIATIVE
Another Singaporean based in Istanbul, Ms Jacintha Phua, wanted to find solutions for the millions left homeless on the wintry streets.
The 36-year-old tech entrepreneur initially sourced tents in Istanbul, but quickly realised she needed to do more. 
"While there are tentmakers in Türkiye, the demand is enormous," she said. "So anything from overseas, ready supplies is a benefit."
She set up the Türkiye Relief Initiative with several friends, to raise funds to buy bulk-discounted tents directly from China and have them sent to Türkiye.  
She sorted out the logistics - the most expensive part of the delivery process - by working with a friend who is a Singapore Airlines employee. 
She also managed to get the tents at a low price with the help of her mother Madam Loke Mui Wan, who lived in China for 20 years and whose business involves import-export. 
Speaking to CNA in Singapore, Mdm Loke said she readily accepted her daughter's call for help. 
Using her network in China and sharp negotiation skills, Mdm Loke managed to find tent suppliers and slash the cost of the items by half in just days.
"The Turkish Red Crescent will clear customs quickly because they need the tents urgently," Ms Phua said. 
The tents will then be picked up from Istanbul Airport before being loaded on a plane to be delivered to affected areas, where they will be set up.
HELPING WITH SUPPLIES
Ms Juay Blythe is another Singaporean who scrambled to help in any way possible.
Ms Juay, who has been living in Türkiye with her husband Jonathan since 1991, helped pack and transport essential items like warm clothes, milk and medicine for the victims. She then drove about 5km from her church to a collection centre in Istanbul, where aid workers would then channel into Syria. 
She also reached out to a WhatsApp group consisting of friends in Singapore – some of whom she had known for about 50 years – and asked for donations.
"I was just overwhelmed. My friends all started giving. It got to a point where, because we sent (the money) from our savings here first, our savings were totally depleted," she said via a video call with CNA. 
Unofficial initiatives started by those based in Türkiye - such as Ms Phua, Ms Juay and Mr Nuzulul - are just some of many ground-up efforts Singaporeans near and far have come up with. 
Despite being physically far from the crisis in Türkiye and Syria, many people living in Singapore also responded to calls for help by the Turkish embassy in the early days of the quakes by flooding donation centres with essential items such as winter clothes, diapers and baby food. 
Singapore also sent a rescue team from the Singapore Civil Defence Force to Türkiye for a 10-day operation.