Singaporeans flood donation centre with supplies in outpouring of support for Türkiye-Syria quake victims
The Turkish Embassy in Singapore said they have temporarily suspended the collection of donated items until further notice due to the "large in-flow" of donations.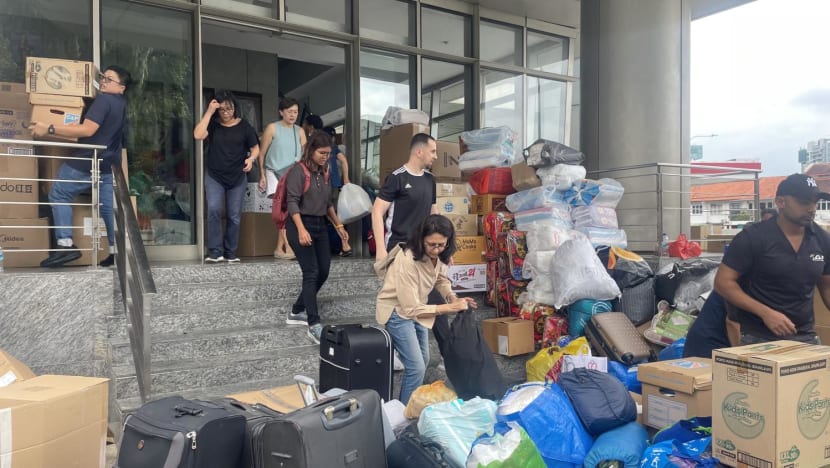 SINGAPORE: At an industrial building in the MacPherson area on Thursday (Feb 9), members of the public steadily turned up with winter clothing, blankets, diapers, baby food, sanitary products and other supplies in tow.
Some started to help collect and sort through the items, which soon occupied the building entrance. Many also arrived in cars with boxes of supplies - all for the victims of the deadly earthquakes that struck Türkiye and Syria on Monday.
The quakes have claimed more than 17,000 lives so far, surpassing the death toll from a similar earthquake in 1999. Thousands more are still feared to be injured and trapped under the rubble.
Rescue efforts have been hampered by freezing temperatures and the destruction of transport routes.
The Turkish embassy in Singapore first sought in-kind donations of items like winter clothes, tents, mattresses and food parcels to be dropped off at their premises along Shenton Way on Tuesday evening.
When Singaporeans responded in overwhelming fashion within a day, the embassy redirected donations to the Jay Gee Melwani House at 10 Genting Lane, where hospitality group The Black Hole Group is headquartered.
The company had opened its space to receive donations around noon on Thursday after the embassy became too packed.
When CNA was there around 4pm, crowds of donors and volunteers had formed at the entrance of the building. Boxes and packages lined the stairs leading up to the foyer, which was also jam-packed with items.
Volunteers then moved the donations to The Black Hole Group's office space on the 6th floor, where they were sorted into different categories for their eventual transport to the airport. 
Transport trucks streamed in and out, while others parked their vehicles at a nearby open-air space or the petrol station next door before walking over with their items. 
CNA spotted two police officers helping to direct traffic flow outside the building.
A first-hand account of the Turkey quake: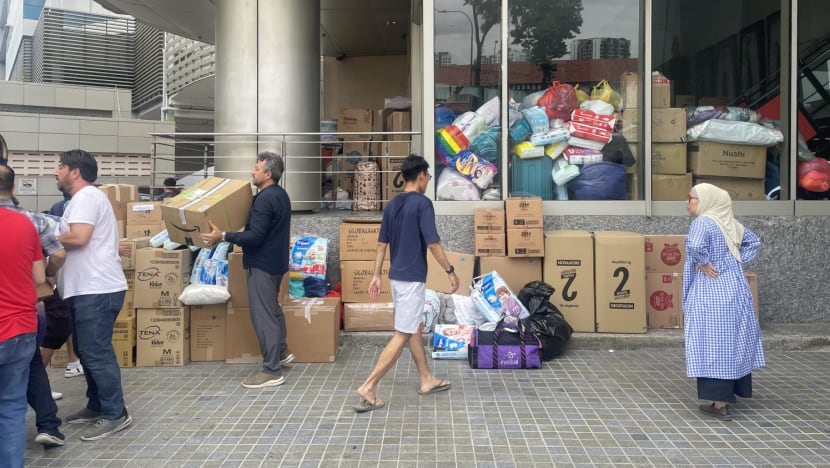 MANY CHIPPING IN
Mr Ramani Anantharaman, 42, had taken time off work to help out with the donation drive. He turned up with bags of winter clothing and a "huge Redmart order" of diapers and baby food from his wife, friends and colleagues.
"I learned about this from social media and thought I could do my part," added the scientist from the Health Sciences Authority.
A lawyer who only wanted to be known as Mr Tay, 60, said he was about to go to the SGX Centre 1 Building where the Turkish embassy is located when he learned of the new donation space.
"The outpouring of support is fantastic," he added, saying his neighbours had given him some winter clothing to donate as well.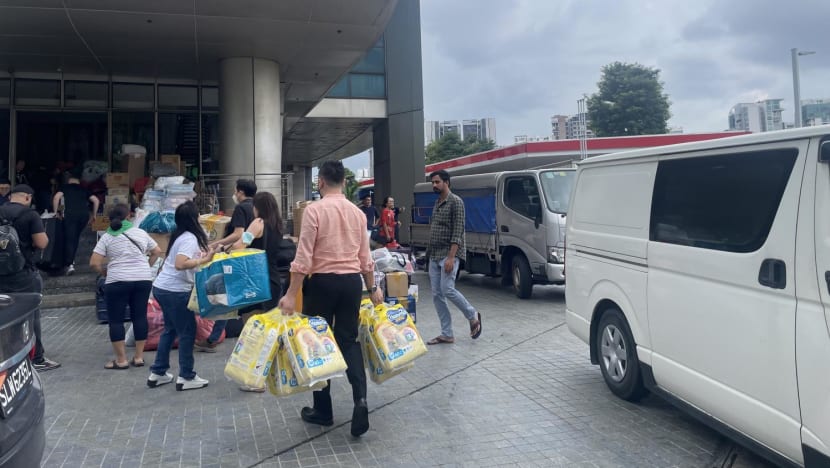 Ms Nadia Ng, 34, pooled together some money with a group of fellow mothers to buy fleece jackets at sporting goods retailer Decathlon on Wednesday evening.
The mother-of-two told CNA she had seen videos online of children being pulled from the rubble in Turkiye.
"This is really nice and not unexpected to me. Singaporeans, they have really big hearts," she said, gesturing to the stacks of supplies.
But for Mr Calvin Seah, the co-founder of The Black Hole Group, the outpouring of support was something out of the blue.
The 38-year-old said his firm had expected perhaps a table full of donations. But when they opened their space, it quickly became packed with people and cars. Staff members also stopped their work and helped to collect donations.
Police officers who turned up to manage the traffic situation also started to help carry things, Mr Seah added.
"This probably looks like a lot but it's barely enough for the people (in Turkiye)," he said. "We've been getting calls from people asking how they can help, asking if they can volunteer, what time they can come over."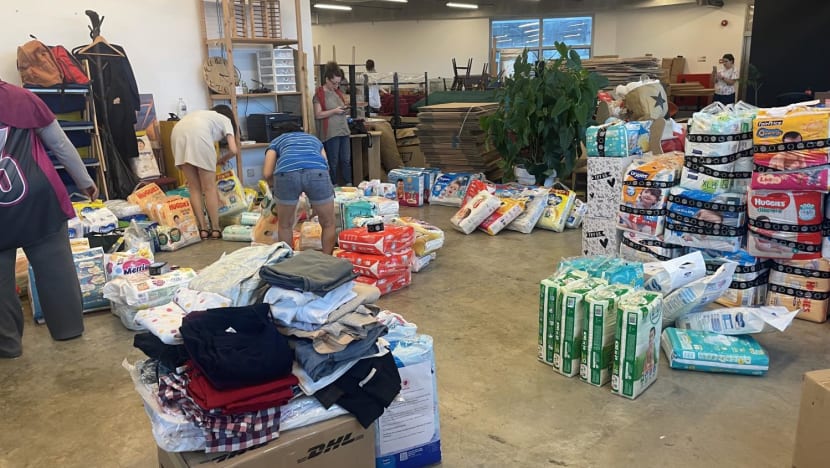 But on Thursday evening, the Turkish embassy said in a Facebook post that it has "decided to temporarily suspend accepting individual in-kind donations until further notice" due to the "large inflow".
"This decision aims to reflect our determination to make full use of the incoming donations, and our sensitivity to fully respect the generosity extended by our Singaporean friends," the embassy added.
"We are deeply grateful for your support to Türkiye at this difficult time."
MONETARY DONATIONS ALSO WELCOME
His Excellency Mehmet Burçin Gönenli, the Turkish Ambassador to Singapore, told CNA that he was "deeply touched" by the outpouring of support from Singaporeans.
He said the embassy had received "lots of items" on Wednesday and Thursday, and embassy staff and volunteers are sorting through them.
The Turkish embassy is encouraging Singaporeans to make monetary donations instead due to the manpower and logistical challenges in processing and sending items to Türkiye.
Mr Gönenli said that the collection of donated items has been suspended at all collections and will resume once they sort through the items and send them to Türkiye.
Türkiye currently gives priority to tents, sleeping bags and winter clothing, and the authorities only accept new or unused items, he added.