Some customers take plastic bags without paying at supermarkets based on honour system
An NTUC FairPrice employee says he has asked to see customers' receipts to verify payment but they often claimed not to have receipts.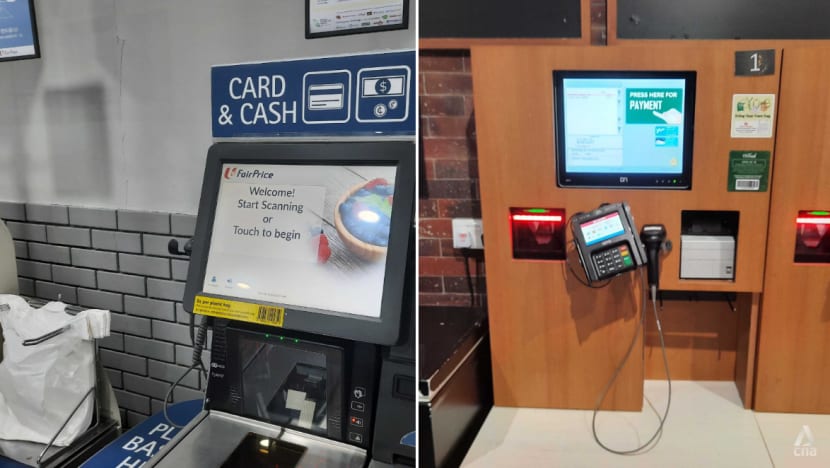 SINGAPORE: Two months have passed since the plastic bag charge became compulsory at large supermarkets, but the actions of some customers have cast doubt on the method one supermarket chain uses to dispense plastic bags. 
A handful of shoppers take advantage of NTUC FairPrice's honour system to make away with plastic bags, according to accounts by customers and staff. 
Supermarket operators with an annual turnover of more than S$100 million (US$74 million) have been required since Jul 3 to charge at least 5 cents for each disposable carrier bag. The law does not apply to smaller supermarkets or other retailers.
FairPrice is the largest supermarket chain in Singapore with more than 100 outlets.
Prior to Jul 3, FairPrice was one of the few chains that said it would use an honour system to charge for plastic bags at self-checkout kiosks – the bags would be left there for customers to scan and pay for as needed. 
Two others, Cold Storage and Giant also said they would use an honour system. 
All three supermarket chains require customers to scan an external barcode fixed to the screen of the self-checkout kiosk to pay for each plastic bag. 
DIFFICULT TO CHECK, FAIRPRICE EMPLOYEES SAY
CNA visited 10 FairPrice outlets in August and found that all except one used the honour system at self-checkout counters.
Only one outlet had staff manually dispense plastic bags to customers to ensure that they were paid for. The Bukit Ho Swee outlet along Havelock Road had four self-checkout kiosks.
An employee manning the area said that plastic bags were removed from the kiosks after some customers took them without paying. 
Other FairPrice outlets stocked plastic bags at each self-checkout as they had too many kiosks for staff to hand out plastic bags to each customer, the employee said. 
At the Seletar Mall FairPrice outlet, which had twice the number of self-checkout counters, a staff member said some customers did not pay for plastic bags but insisted they did.
When the employee asked to check their receipt, these customers claimed they did not have one as they selected the onscreen option not to get a receipt when paying. 
Checks were more difficult at branches that had more self-checkout counters or heavy customer traffic, as staff members were usually preoccupied with helping customers during the self-checkout process. 
When CNA visited the FairPrice outlet at NEX shopping mall, which had 12 self-checkout counters, a few customers appeared not to have paid for their plastic bags or paid for fewer than they had taken.
One customer, who declined to be named, told CNA she saw the same thing happening at the FairPrice outlet in Tiong Bahru Plaza when she visited in late July. 
"As I was checking out, there were so many people taking so many bags," she said. 
Staff told her they initially checked receipts to ensure plastic bags were paid for but these were met with complaints, she said.
MOST CUSTOMERS PAY FOR BAGS
At FairPrice outlets with fewer self-checkout counters, this reporter observed that staff members usually kept a close eye on the kiosks and some approached customers to ask if they needed plastic bags. 
Most customers were also seen voluntarily scanning the barcode for plastic bags they took, or asking staff for help in adding the plastic bag charge. 
At the Valley Point mall outlet, one customer scanned the barcode for a few plastic bags even before scanning his purchases.
"I usually try to take less, so I try to put more (into each bag). But sometimes if I cannot, then I have to take more bags," he told CNA.
The 43-year-old marketing manager, who declined to give his name, said he has not noticed anyone abusing the system. "We're doing this for our own good, right? Reducing plastic is ... important." 
Over at Square 2's FairPrice, which has four self-checkout counters, one customer had already paid for her purchases but forgot to pay for the plastic bag she took. She approached a staff member, who directed her to another counter to pay for the bag. 
Student Aaron Ong, who was shopping at Valley Point, thinks it would be easier if the system could automatically incorporate the plastic bag charge based on calculating the weight of the items bought. 
"I feel like it's a good system, but obviously some people may not be honest," the 18-year-old said.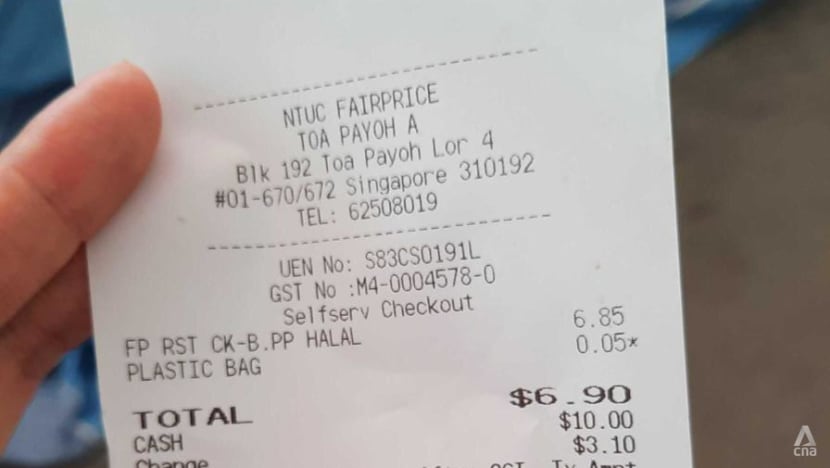 In response to CNA's queries, a FairPrice Group spokesperson said self-checkout areas are monitored by staff and closed-circuit television cameras. 
"Our staff are also trained to better understand the environmental angle and explain it to customers. We will continue monitoring the ground situation to ascertain the need for changes to our current processes," the spokesperson said.
To encourage sustainable behaviour, the supermarket has reusable bag racks at more than 30 outlets where customers can donate bags to other shoppers. 
FairPrice Group did not answer questions on estimated losses from customers who did not pay for their plastic bags.
Do you pay for plastic bags at supermarkets? Listen to the Daily Cuts: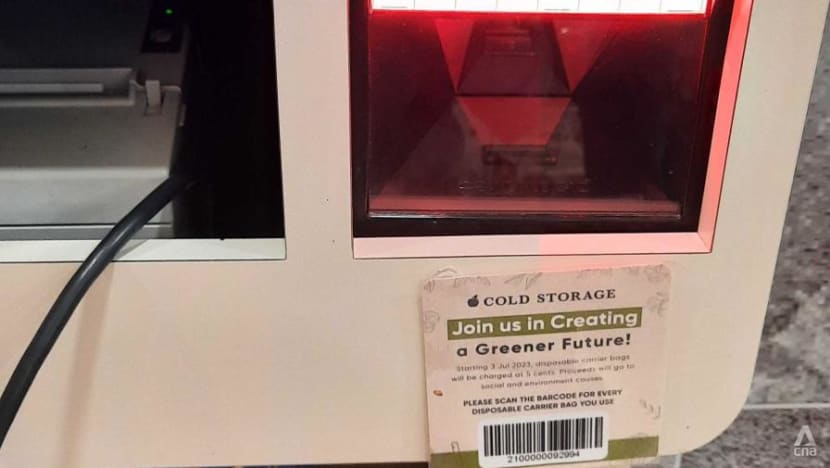 COLD STORAGE, GIANT "PHASING OUT" HONOUR SYSTEM
CNA also visited six Cold Storage and Giant supermarket outlets in the northeast and central parts of Singapore. None of them had plastic bags at self-checkout kiosks and customers had to approach staff members if they wanted a bag. 
DFI Retail Group, which runs both supermarket chains, said it was "phasing out" plastic bags at self-checkout counters. 
But it said this was because most customers now choose to bring their own reusable bags.
"In response to the diminished demand for plastic bags, they are now being phased out at our self-checkout counters on a store-by-store basis," a DFI spokesperson said.
An expert from Singapore Management University said having a differentiated approach to the plastic bag honour system makes sense, especially if the stores see different types of customers.
"Losses from shoplifting incidence for example may vary across stores," said Dr Seshan Ramaswami, an associate professor of marketing. "Also, the availability of supervisors at the checkout area may vary across locations."
HONOUR SYSTEM PROS AND CONS 
The main drawback to an honour system is the lack of social interaction, Dr Ramaswami said. 
Some consumers may choose to be honest, some may forget to scan the barcode and others may deliberately not pay.
"In all three cases, the basic cause of heightening sensitivity to how our personal choices affect the environment may be buried. When an attendant is around to enforce this process, that small human interaction may better serve the basic purpose of raising consciousness and prompting shoppers to consider getting their own bag on the next trip," he said. 
On the other hand, the honour system reduces the staff time needed to enforce the disposable carrier bag charge, and may improve the customer service experience for shoppers who do not have to look for available assistants, the associate professor said. 
He suggested a separate or connected vending machine that could automate the process of issuing bags. 
"Alternatively, a default standard charge for shopping bags could be added to the bill, with a prompt to cancel it if the shopper has their own bag," Dr Ramaswami added.
Other measures, like a sharp electronic beep to signal that the customer has declared they do not need bags, or surveillance cameras and notices, could also be applied. 
"But these sorts of measures which imply lack of trust in the consumer may hurt the supermarket's brand image," he said. 
"So the honour system, with a roving supervisor who reminds consumers who enter the checkout area without bags, about how to pay for the bags, with signage around the store that highlights the process, may be more helpful in the long term in achieving the underlying goal of heightening consciousness."