SPH Media's inflated circulation numbers could erode trust of readers and business partners: Marketing experts
Misleading data could result in ineffective advertising spending and lower business sales, says one senior marketing lecturer.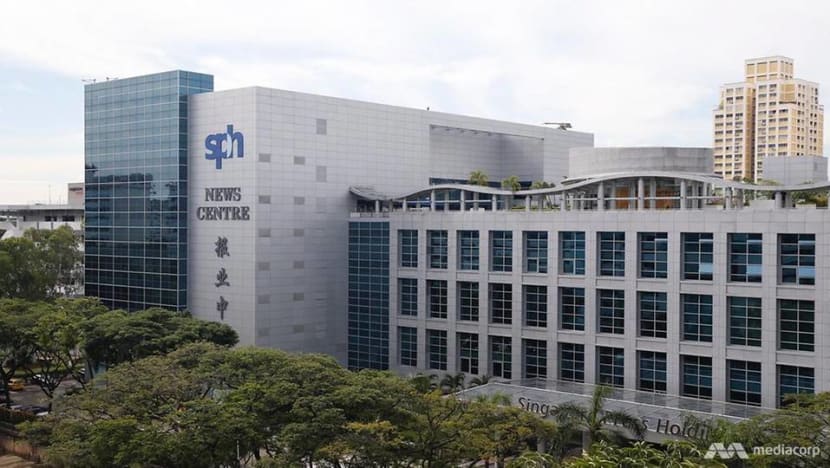 SINGAPORE: Recent news of SPH Media's inflated circulation numbers could potentially erode the trust of its readers and business partners, according to marketing experts CNA spoke to.
On Monday (Jan 9), The Straits Times (ST) reported that the circulation numbers of titles published by SPH Media - which include ST and Lianhe Zaobao - had been inflated by between 85,000 and 95,000, or about 10 to 12 per cent, of the reported daily average circulation. 
There were instances where copies were printed, counted for circulation and then destroyed, as well as double-counting of subscriptions.
Dr Dianna Chang, a senior marketing lecturer at the Singapore University of Social Sciences, said advertising agencies as well as the clients they serve depend on media performance data to budget and allocate advertising expenses, so as to optimise the return of advertising spending.
She added that misleading data could result in ineffective advertising spending and lower business sales.
"Under the current challenging business environment, many businesses struggle with sales numbers and advertising budgets," she said. "Any disturbance can be significant to an already crumbling business."
"Businesses need data to support their business, not misled by inaccurate or fake data, especially from supposedly trustworthy sources."
According to an ST report, SPH Media CEO Teo Lay Lim said in an e-mail sent on Tuesday evening that circulation data was not used as a basis for its advertising packages.
"Our media rates and advertising packages are based on reach and readership of individual titles, and our SPH Media solutions as a whole," she wrote.
While SPH advertisers have remain tight-lipped in the wake of the incident, experts say some might take this opportunity to renegotiate a better deal.
"The immediate implication for agencies is that many clients will be questioning whether their investments with SPH have really delivered as promised," said managing partner of creative agency Blak Labs Charlie Blower.
In some cases, advertisers might even pull campaigns, he added.
CNA approached several major advertisers, including banks, and at least two declined to comment.
A FairPrice spokesman said while the group was not "able to provide further comment at the moment, we are in touch with SPH Media on this matter to establish the facts". 
Another, budget airline Scoot, said: "We do not comment on confidential agreements, including our media strategies and investments, and will address them offline with the respective parties." 
On Monday, the Ministry of Communications and Information (MCI) said that it was conducting its own review to determine if the inconsistencies in circulation data affect the decision to fund, and the amount the Government has committed to fund SPH Media.
In February last year, Communications and Information Minister Josephine Teo said the Government would provide the trust with a funding of up to S$180 million annually for the next five years.
Responding to queries from CNA, the Advertising Standards Authority of Singapore (ASAS) - which oversees the content of advertisements and in particular, ethical standards - said it has not received any feedback on advertisements associated with SPH Media's circulation figures. 
ASAS chairman Professor Ang Peng Hwa added that the matter was outside of the authority's mandate.
CNA has also reached out to the Association of Advertising and Marketing Singapore for comments.
With investigations under way, experts say it is unclear how much the incident will impact advertisers. 
Elaine Poh, the managing director and head of domestic business at Publicis Media, said circulation and print run data are less commonly used in media evaluations.
Instead, advertisers and agencies might consider other factors such as the strength of the editorial content, the composition of readers against the target audience as well as the media environment that brings out the best in an ad message, she said.
Associate Professor Li Xiuping from the National University of Singapore's Business School also noted that the key performance indicators for each contract between a newspaper company and brand managers might be different. 
"For instance, they might monitor the efficiency of their advertisements by looking at the revenue increase, instead of just looking at only reach," she said.
However, experts agreed that a 10-12 per cent discrepancy is enough to create significant implications for advertisers.
"If investigations show that someone manipulated the numbers, it could have a significant impact on business partners and readers because for advertisers or companies who want to advertise their business, it's very important to them that people trust what they are putting out," said Assoc Prof Li.
But given Singapore's thin media landscape, some say it remains to be seen whether any will tear up their master contracts with SPH Media. 
"As Singapore's national print, SPH will still play a role in the media strategy and mix," said Ms Poh, noting that it has a reach of 2.1 million readers across all its hard copy and PDF titles.
"Although there will be greater scrutiny of numbers from SPH to justify an ad placement, advertisers can work closely with their media agencies to determine which metrics to measure and tie back to campaign objectives and intended outcomes."