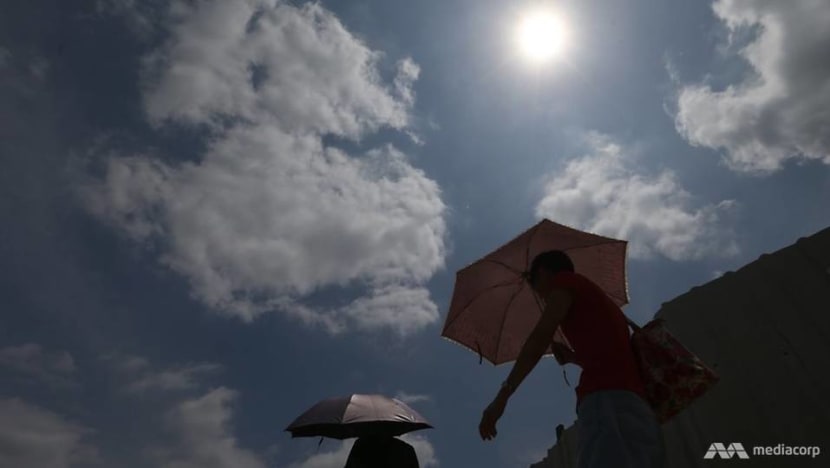 SINGAPORE: While the combination of scorching temperatures and high humidity would send most people running indoors, it is not an option for Mr Goh Sia Hock.
With just a towel around his neck to soak up his sweat, the 54-year-old landscape worker continues to toil outdoors under the midday sun.
For five-and-a-half days each week, he spends hours outdoors, pruning trees and pulling weeds at the condominium estate he works at.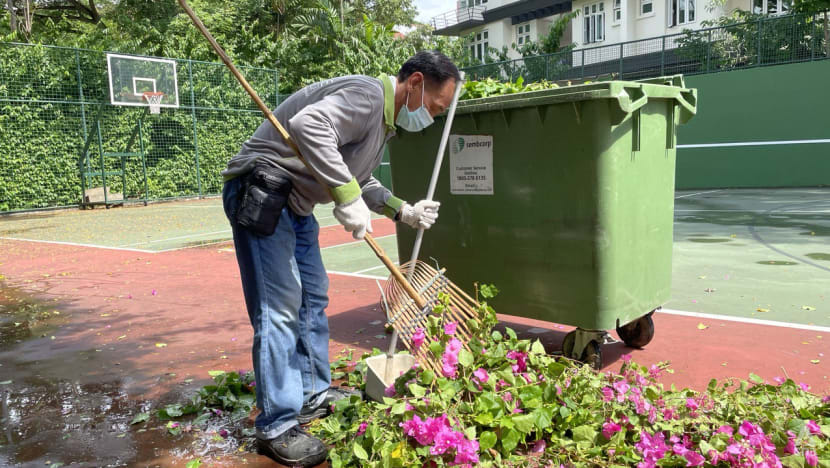 "The hardest part of the job is really having to work in the hot sun. You just feel very tired and your body is covered in sweat, and your eyes hurt," he said in Mandarin. 
"But I have been doing this for about one-and-a-half years now, so I'm quite used to it."
Even so, he admits that the recent warm and humid weather has been testing his limits. 
Last month, Singapore saw 14 days where the daily maximum temperature soared above 34 degrees Celsius. The southern and south-eastern parts of the island also saw warmer nights with a minimum temperature of around 28 degrees Celsius. 
"Sometimes, when it gets too hot, our supervisor will tell us to sit in the shade for an hour or two, or we take a lunch break, but … we still have work to do, so sometimes we just drink more water and pace ourselves," said Mr Goh.
"I've heard of cases where workers fainted from heat exhaustion but thankfully, I haven't had any problems so far."
But rising global temperatures could make his work conditions more unbearable.
Earlier this week, a landmark report released by the United Nation's panel on climate change warned that global temperatures will rise by more than 1.5 degrees Celsius sometime early in the next decade.
As temperatures climb, experts CNA spoke to said people may have a higher risk of developing heat-related injuries or illnesses.
Currently, incidences of heat injuries and deaths in Singapore are low compared to places such as India and eastern Europe, where deadly summer heatwaves have killed thousands of people.
According to data provided by the Ministry of Health (MOH), between 71 and 124 people were admitted to hospital for heat-related illnesses each year from 2010 to 2020.
These range from minor ailments such as heat rash, cramps and exhaustion to more severe – and potentially fatal – conditions such as heatstroke. 
Ng Teng Fong General Hospital's department of emergency medicine told CNA that it has seen more than 30 cases of heat exhaustion this year. Singapore General Hospital said it receives fewer than 10 cases annually.
But with Singapore heating up twice as fast as the rest of the world, temperatures could soar to new heights in the coming decades. 
According to the National Climate Change Secretariat, Singapore's annual mean temperatures have been steadily climbing over the past few decades, increasing from 26.9 degrees Celsius in 1980 to 28 degrees Celsius last year. Seven of the top 10 hottest years fell within this decade.
"The sort of issues that Singapore will be facing won't be things like wildfires, but instead, it would just be a gradual increase of warmer temperatures," said ​​climate scientist Winston Chow, an associate professor of science, technology and society at the Singapore Management University.
"We might see temperatures in excess of 36 degrees Celsius at some point, but sooner rather than later," he said.
"The likelihood of heat stress, heat injuries and mortality will increase because of the increase in the exposure to a warmer climate."
WHO IS AT RISK?
As temperatures rise, Associate Professor Jason Lee from the National University of Singapore's Yong Loo Lin School of Medicine said those who are frequently exposed to the sun, such as construction workers, gardeners and soldiers, may face a higher risk of developing heat injuries. 
According to data published in the Ministry of Manpower's annual workplace safety and health (WSH) reports, the number of heat stress or work-related heat disorders each year ranges between one and five. 
Last year, the WSH Council published guidelines to help reduce the risk of heat injuries among workers. Preventive measures include acclimatising new workers to the heat for at least one week and increasing the duration of rest periods under high heat exposure conditions. 
However, as the temperature gap between a person's body and the environment narrows, more adaptive mitigation solutions such as wearable sensors to monitor heat stress may be needed to better protect workers, said Assoc Prof Lee. 
"The closer the temperature of the environment is to a person's body temperature, the harder it will also be for them to lose heat, putting them at risk of developing heat injuries," he said.
"Data also shows that (rising temperatures) can increase accidents mainly due to heat-induced cognitive impairment … so at worksites, you can expect that with increased temperatures, accidents will increase if we don't do anything about it."
Vulnerable groups such as the elderly and young children will also be increasingly at risk of developing heat-related injuries and illnesses due to lower heat loss capacity, said Assoc Prof Lee.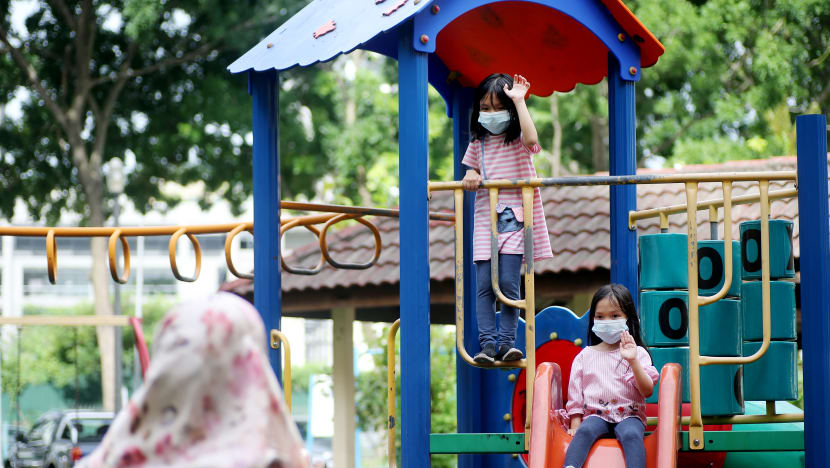 HEAT ACTION PLAN 
With the world expected to see more extreme weather events, some cities are already taking steps to prepare for such scenarios, by incorporating extreme heat into their climate adaptation strategies. 
Ahmedabad, a city in western India, developed a heat action plan after a devastating heatwave in May 2010 which killed more than 1,300 people. 
As part of the action plan, authorities mapped "high-risk" populations, including slums, and increased outreach and communication on the dangers of high temperatures. 
During sizzling hot summers, temples, public buildings and malls would also be converted into "cooling centres" to provide shelter for those in need.
In Singapore, authorities have also taken measures to beat the heat, such as designing buildings to maximise wind flow and shade in estates. 
MOH said it has also formed an expert panel to look into the effects of heat stress, as part of an ongoing whole-of-government effort to mitigate the impact of urban heat.
This could include drawing up heat stress guidelines for vulnerable groups such as the elderly, children, taxi drivers and tourists who have not been acclimatised to the heat, said Assoc Prof Lee, who sits on the expert panel. 
"It's not like having guidelines like haze, where when it goes above a certain threshold, everyone takes the same action," he said. 
"The guidelines must be very targeted and refined to be more specific to different groups, for instance, at one given temperature, there must be different advisories to different segments of the population, for instance the children, the working adults and the elderly," he said.
However, one thing is certain: Singapore will need to find a way to adapt to rising temperatures and be more climate-resilient or face serious costs. 
"We are already at that stage where we are uncomfortable (with the heat), so we're already paying the price," said Assoc Prof Lee.
"When the environment is fully saturated, meaning we can't lose heat via convection or sweat – we're basically doomed and will need either air-conditioning or a cooling suit to function properly," he said.