Two construction workers dead in separate accidents at LTA worksites
One worker died after a motorcycle collided with him on an expressway while another was hit by a pallet of gas cylinders.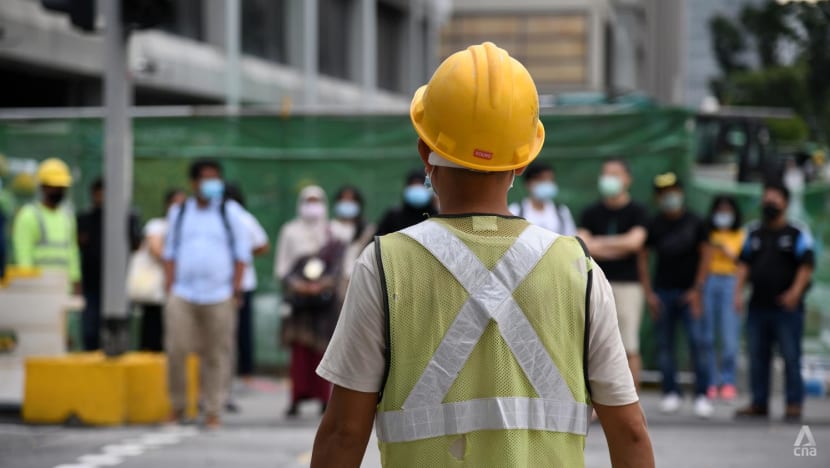 SINGAPORE: Two construction workers died in separate workplace accidents at Land Transport Authority (LTA) worksites on Friday (Sep 15) and Saturday.
In the first incident, a 45-year-old Indian national died after a motorcycle collided with him along the Pan-Island Expressway towards Tuas after the Pioneer Road North exit. 
The first and second lanes of the expressway were closed for road resurfacing works by LTA contractor Ley Choon-Gim Tian Joint Venture.
The worker was performing traffic controller duties when the motorcycle that was travelling on the third lane of the expressway encroached into the work zone in lane two and collided with the worker at about 1am on Sep 15.
Both the worker and the motorcyclist were pronounced dead at the scene by a Singapore Civil Defence Force paramedic, said the Ministry of Manpower (MOM).
Another worker who was behind the paving machine sustained a minor injury on his right hand.
The worksite occupier and employer of the deceased worker is Ley Choon Constructions and Engineering.
"As a general safety measure, road work contractors are reminded to adhere to guidelines stipulated in the Land Transport Authority's Code of Practice for Traffic Control at Work Zone," said MOM, adding that it is investigating the incident.
The second incident occurred at about 10.45am on Sep 16 at a North-South Corridor worksite along Cavenagh Road.
A 41-year-old Bangladeshi worker was struck by a pallet of gas cylinders that toppled during a lifting operation, said MOM. He was taken to hospital, where he died of his injuries. 
LTA is the developer of the project and the worksite occupier is Leighton-Yongnam Joint Venture. The employer of the deceased worker is Royale Construction.
MOM has stopped lifting operations at the worksite while investigations are ongoing.
All work activities at North-South Corridor worksites under Leighton-Yongnam Joint Venture were stopped after the incident.
"As a general safety measure, care must be taken to prevent any part of a lifted load from becoming entangled with any other structure," said MOM.
LTA said it is working with the contractors to assist the families of the deceased men. They are also assisting the police and MOM in their investigations into the incidents.
Acting Transport Minister Chee Hong Tat said on Tuesday morning at the LTA Safety, Health and Environmental Award Convention that there has been an uptick in workplace accidents at LTA sites this year.
There have been 33 accidents in the first eight months of 2023, compared with 27 in the same period last year. He said he was saddened by the two recent fatal accidents at two LTA worksites.
"We may have exited the heightened safety period, but we must continue to stay vigilant and strengthen our safety practices," he added.
Who is responsible for worker safety? Listen to Heart of the Matter: