Workers' Party MP calls for categorising motorcycle COEs based on engine capacity among other changes
SINGAPORE: Categorising Certificates of Entitlement (COEs) for motorcycles based on their engine capacity was among the proposals made by Member of Parliament Faisal Manap (WP-Aljunied) as he called for the current COE system for the two-wheelers to be reviewed. 
Speaking during an adjournment motion in Parliament on Tuesday (Oct 5), Mr Faisal said his suggestions were aimed at making motorcycle ownership more affordable for those who depend on them for a living, 
His call comes as COE premiums for motorcycles have been rising over the past year, hitting a record S$9,689 for the first round of bidding last month. 
Mr Faisal proposed that motorcycle COEs be separated into classes based on their engine capacity, similar to how motorcycle licences are categorised. 
The number of COEs in each of these proposed categories should be 
allocated according to the percentage of such motorcycles on the roads, he added. 
Currently, motorcycle COEs all fall into a single category, while the COEs for cars are divided into Category A for cars up to 1600cc and Category B for cars above 1600cc. 
The Workers' Party vice-chair said he had previously suggested this in 2016, which prompted former Senior Minister of State for Transport Ng Chee Meng to respond then that such differentiation would lead to greater volatility in motorcycle COE prices.
"This volatility has already set in as we can see from the COE prices for motorcycles especially in the last few months," said Mr Faisal, calling on the Transport Ministry (MOT) to reconsider his proposal for a "proper and fairer allocation" of motorcycle COE quotas.
INTRODUCTION OF BALLOTING SYSTEM
He also asked for MOT to consider abolishing COE bidding for Class 2B motorcycles - which have an engine capacity of 200c and below - replacing it instead with a balloting system similar to that for Build To Order (BTO) flats. 
He added this was a refinement of a parliamentary question he filed in 2014 asking if the COE could be abolished for such bikes, noting the reply then was that the certificates were required to regulate the motorcycle population. 
Mr Faisal noted that in 2013, Mrs Josephine Teo - then Minister of State for Transport - had said a balloting system for car COEs could encourage a black market, and that it was not possible to set a price for balloted COEs which would deter speculators but remain feasible for genuine buyers. 
"However, I believe that the introduction of a balloting system with conditions attached, similar to what is done for BTO flats, could be a way to regulate the Class 2B motorcycle population," he said. 
"Like BTO buyers, prospective owners of 2B motorcycles are more likely to be first-time buyers with a genuine need."
Should the authorities choose to retain the bidding system for smaller motorcycles, the Aljunied MP said motorbike buyers should be allowed to bid for COEs under their own names, rather than through dealerships as is the case currently. 
This would deter possible speculation by dealers, he said.
Mr Faisal noted the Land Transport Authority (LTA) had said there was no evidence of such speculation. 
"However, the number of expired or unused Cat D COEs, and the fact that COE prices rose significantly in the May 2021 exercise despite the higher number of motorcycle COEs on offer are signs that LTA may need to update its information," he said. 
IMPROVE CONDITIONS FOR THOSE RIDING FOR A LIVING
He also called for MOT to allow for motorcycle COEs which have been renewed for five years, to be renewed for an additional five years after that. 
COEs - which are typically valid for an initial period of 10 years - can be renewed for either an additional five or 10 years. However, those who renew for five years are not allowed to renew the certificate for another five years once the initial renewal period expires. 
Mr Faisal noted such an extension is currently only available for Category C vehicles, comprising goods vehicles and buses. 
"Given that there is a segment of our population that depend on their motorcycles for work, I am asking for the same flexibility offered to
owners of goods vehicles and buses to be extended to the riders as well," he said. 
Mr Faisal also reiterated his call for the Preferential Additional Registration Fee (PARF) rebate - granted to deregistered cars not older than 10 years - to be extended to motorcycles with Additional Registration Fee (ARF), and asked for allocated areas for delivery riders to temporarily park their motorcycles while making deliveries in areas such as the Central Business District. 
"I am mindful that the ultimate goal is not to lead to an increase in the
number of motorcycles on the road. Rather, my intention is to improve the well-being of our fellow Singaporeans who rely on riding motorcycles to make a living," he said.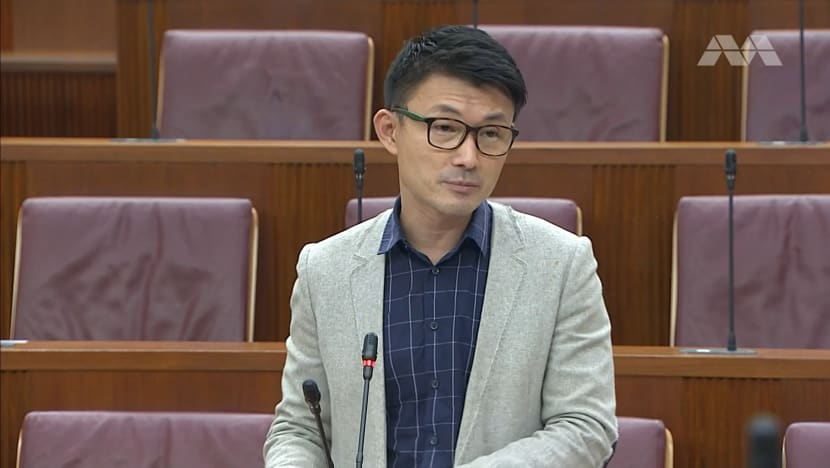 STRONG DEMAND FOR MOTORCYCLES
Responding to Mr Faisal, Senior Parliamentary Secretary for Transport Baey Yam Keng said the high prices for motorcycle COEs in recent months indicated "strong demand". 
About 99 per cent of temporary COEs - which must be used to register motorcycles within a six-month period to avoid forfeiting a S$200 deposit - have been utilised since COE bidding resumed in July last year, said Mr Baey, noting the historical average has been about 91 per cent. 
He added that the lower COE supply for the current three-month period, coupled with the high demand, would likely have contributed to higher COE premiums.
But he said that dividing motorcycle COEs into subcategories would not work, due to their "relatively small" quota.  
"For example, for August to October 2021, about 440 Category D COEs were available in each bidding exercise. If we were to divide this further, there will be even smaller quotas for each sub-category. This will likely result in greater volatility and potential increases in COE prices," he said. 
Allocating COE quotas based on the engine capacity of motorcycles would also pose challenges, he added. 
"The percentage of Class 2B motorcycles registered fluctuates across the years and even from month to month. It would therefore be very difficult for us to arbitrarily select an allocation basis."
Introducing a balloting system for smaller motorbikes would also require that the authorities "arbitrarily" set a price, said Mr Baey.
"If the price is too low, it will increase demand and crowd out those who truly need the motorcycle for a living, and are prepared to pay a bit more for the value it brings," he said. 
On allowing motorcycle buyers to bid for their own COEs, Mr Baey noted that while this is already possible at ATMs, many choose to go through dealerships as they are able to get their motorbikes immediately using temporary COEs secured by dealers. 
Removing such an option would have to be studied carefully as it could have unintended consequences for buyers, he said.
MONITORING SITUATION CLOSELY
The Senior Parliamentary Secretary also responded to Mr Faisal's other suggestions. 
Allowing motorcycle riders to renew their COEs for two five-year periods would "tilt the current balance between existing and prospective vehicle owners" as it would mean fewer COEs recycled for bidding, he said. 
There are also no plans to extend PARF rebates to other types of vehicles, he said, noting motorcycle riders pay significantly lower ARF compared to car buyers. 
On the issue of temporary parking areas for delivery riders, Mr Baey said parking provisions depend on the nature of the development and the geographical zone.
"We acknowledge that the food delivery sector has grown rapidly in recent years, and that commercial developments have their own circumstances and needs as well," he said.
"Commercial building owners are strongly encouraged to set aside motorcycle parking lots for food delivery riders, and to provide a reasonable parking grace period for them."
MOT understands the concerns of those who ride for a living and is mindful of the needs of motorcycle owners, Mr Baey added.
"I would like to assure the House that we are monitoring this situation closely, and will take action if warranted," he said.