Worker dies in forklift accident at Keat Hong Link; workplace fatalities rise to 29 this year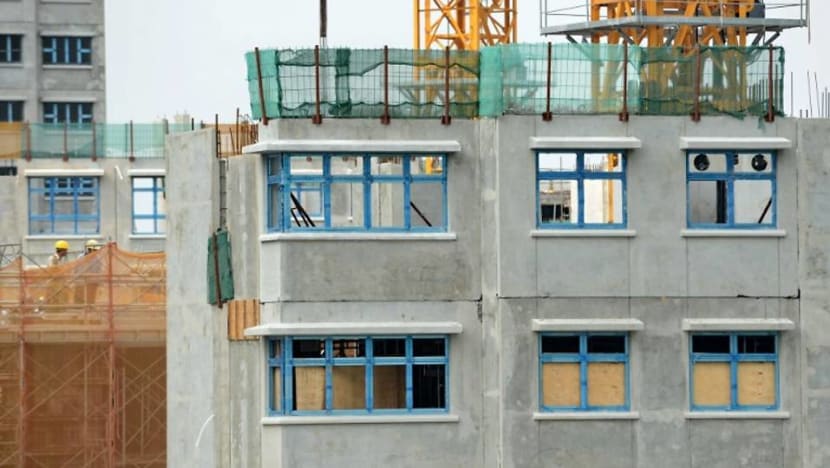 SINGAPORE: A 35-year-old worker died in a forklift accident at a Housing Board project site at Keat Hong Link on Thursday (Jul 7), bringing the total number of workplace fatalities this year to 29.
The Indian national was standing on the rear counterweight of a forklift while tying an electrical cable onto the side of an overhead beam when the forklift moved backwards suddenly.
He was caught between the forklift's canopy and the beam, said the Ministry of Manpower (MOM) in response to CNA's queries on Friday.
The man, who was employed by Mega Engineering, was taken to Ng Teng Fong General Hospital, where he later died.
MOM said that as a general safety measure, forklifts should only be used for "its intended purposes".
It is investigating the accident and has instructed the occupier Teambuild Engineering & Construction to stop all works at the worksite.
Companies that have been issued with stop-work orders or have had major injuries will be required to engage external auditors to conduct a thorough review of their processes.
There were 28 workplace deaths in the first six months of this year, compared to 17 in the same period in 2019, before the COVID-19 pandemic, said Manpower Minister Tan See Leng in response to parliamentary questions on Monday.
Harsher penalties for companies with poor workplace safety and health performance kicked in last month.
The composition fine for offences observed during MOM inspections was doubled from S$1,000 to S$2,000 on average, up to a maximum sum of S$5,000 from June.
In a Facebook post on Friday, the Migrant Workers' Centre (MWC) said it was "saddened" by another workplace fatality. 
It said it would work with the employers to provide support to the worker's family while work-injury compensation is being processed.
"MWC will also extend ex-gratia pay out through the Migrant Workers' Assistance Fund (MWAF) to provide interim financial assistance to help the next-of-kin to tide over while they await compensation from the Work Injury Compensation Act," it wrote.
It said it will provide the workers with the "necessary support and assistance", and that counselling services will be offered through its partners to the workers who were near the accident.
In a Facebook post, National Trades Union Congress (NTUC) assistant secretary-general Melvin Yong said: "NTUC is very concerned with the high number of workplace fatalities, which has reached 29 to date and is significantly higher than the same time frame in previous years.
"Every death is one too many."
He called for employers to consider offering refresher training on workplace safety and health, and to incorporate site supervision using technology. They should also appoint a dedicated workplace safety and health person on-site and implement a policy for workers to raise and stop unsafe work practices without reprisal, he said.
"Vigilance at worksites together with awareness and knowledge on the safe operation of tools and machinery play a major role in preventing accidents at the workplace," said Mr Yong.
In May, MOM, the WSH Council, National Trades Union Congress (NTUC) and industry partners called on companies to conduct a safety time-out amid the "worrying spate" of workplace fatalities across various industries. 
Safety time-outs typically involve taking a pause in work for senior management to engage workers and unions in reinforcing workplace safety and health processes, and to act on any issues raised.