Contractor barred from hiring foreign workers for 3 months after 'serious workplace accident': MOM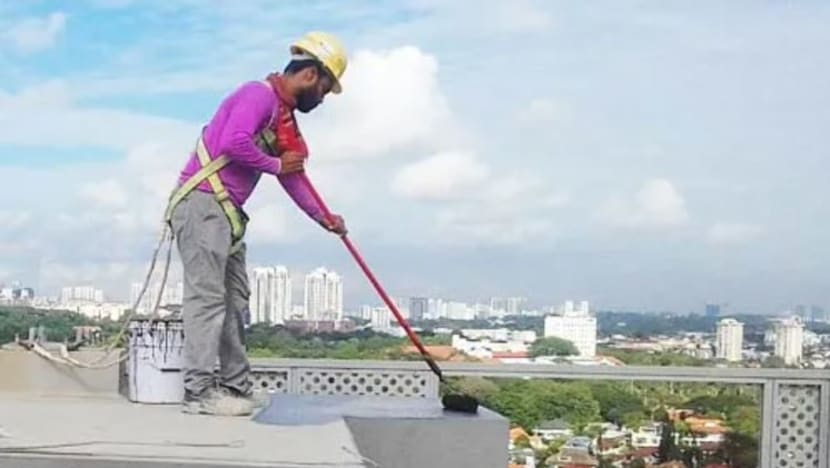 SINGAPORE: A waterproofing contractor has been barred from hiring foreign workers for three months after one of its employees fell more than 8m through a roof and sustained multiple bodily injuries. 
The worker from Le Fong Building Services had stepped on a skylight panel which broke, said the Ministry of Manpower (MOM) in a Facebook post on Thursday (Sep 9).
MOM added that he was "fortunate" to survive the serious fall, and remains warded in hospital.  
Le Fong's managing director William Lim was called up by the ministry to account for the serious workplace accident - which occurred on Sep 1 - as well as major safety lapses found at the worksite. 
MOM said it inspected the worksite and found unsafe work practices that directly contributed to the accident and posed imminent danger to other workers.
Le Fong was ordered to stop all work at height activities across its worksites, and has been debarred from employing new foreign employees for three months.
It is the first company so far to be subject to stricter measures under a six-month "heightened safety" period from Sep 1 till Feb 28, 2023.
During this period, companies with unsafe workplace conditions or poor risk controls following serious or fatal workplace accidents may be debarred from employing new foreign employees for up to three months.
"In line with new heightened safety measures, Mr Lim had to turn up personally and account to MOM," said the ministry. 
"Mr Lim acknowledged the company's failure to implement a proper system to address safety hazards from working at height."
MOM added that Mr Lim will need to ensure that rectification is carried out and a robust workplace safety and health system put in place before the stop-work order is lifted.
"Company leaders are in the best position to set a positive culture and shape safety practices on the ground," said MOM.
"All company leaders must pay utmost attention to workplace safety and health."
The ministry urged company leaders to subscribe to the Workplace Safety and Health Council's alerts, to incorporate lessons from past accidents.
There have been 37 workplace fatalities since the start of the year, equaling the total number of deaths for the whole of 2021.