Rebalance of power expected in football after controversies in World Cup host selection process: Expert
Decisions on hosting rights will be made by the 211-member FIFA general assembly, while a country's human rights record will be considered in its bid to host the tournament.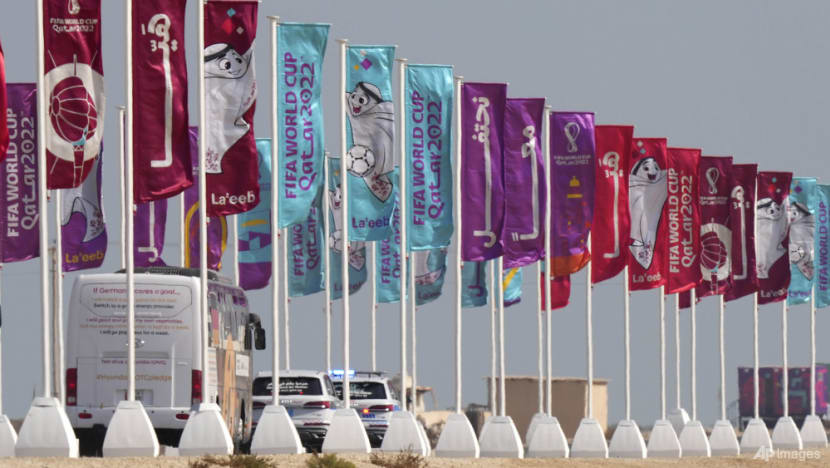 SINGAPORE: Lessons and measures from the World Cup in Qatar will leave an irreversible mark on the future of the tournament, and on the operations of football governing body FIFA, said an observer. 
As critics focus on human rights issues in the host nation, FIFA has nominally committed to factoring in a country's human rights record in its selection process for future editions of the competition, which takes place once every four years.
There will also be a more open and transparent process of awarding hosting rights, with the decision made by a wider and more representative body from the FIFA congress.
These are some changes highlighted by S Rajaratnam School of International Studies adjunct senior fellow James Dorsey on Friday (Dec 2) on CNA's Asia First.
The build-up to this year's tournament, the first to be held in the Middle East, was marred by controversy, with protests continuing on and off the field even after the first ball was kicked.
These include the German team's hand-over-mouth gesture over FIFA silencing their support for lesbian, gay, bisexual, and transgender (LGBT) rights, and the Iranian team declining to sing their national anthem in support of anti-government protesters back home.
PROTESTS AND KEY ISSUES
"We've got to keep in mind that, first of all, Qatar is an autocracy. It is not a democracy. Demonstrations are banned in Qatar," said Dr Dorsey.
He added that while people wearing the rainbow colours of the LGBT movement have been asked to remove them, there have been very few arrests.
"So by and large, the Qataris have gone quite light-handed on all kinds of infractions of Qatari law, but at the same time they have been inclusive in the sense that LGBT fans are in Qatar, even if they cannot wear their colours," he said.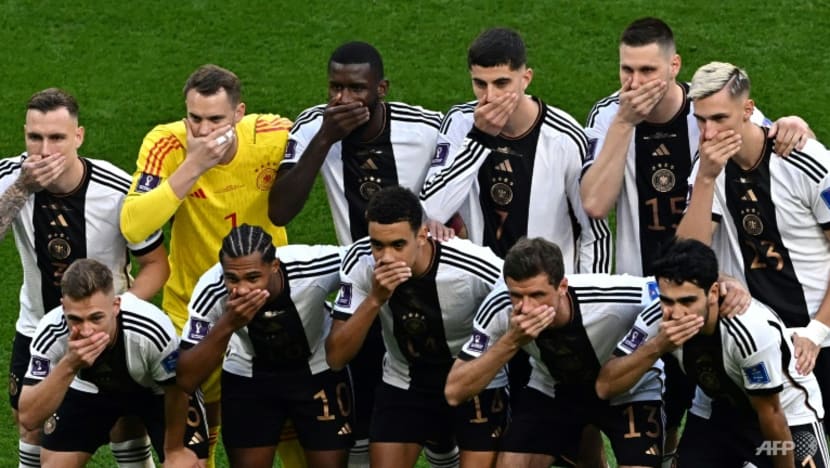 He added that the Qatari authorities have not been able to control protests against Iran inside the stadiums.
"The Qataris have been their own worst enemy in terms of managing the communications on these issues," said Dr Dorsey, adding that Qatar has unwittingly and unwillingly contributed to shining the spotlight on them through the way it has responded.
"We have seen the improvement of workers' conditions in Qatar over the last 12 years. We've seen FIFA at least nominally commit to human rights as part of its host selection process. And we've seen a focus on all kinds of other issues, including LGBT rights, that is going to go forth with regard to future sporting mega-events," he said.
"This is not something that's going to be shoved off the table after the Qatar World Cup."
One key issue has been the death of migrant workers. Qatar's World Cup chief Hassan Al-Thawadi recently said that between 400 and 500 migrant workers have died in the course of preparing for the tournament, a greater figure than Qatari officials previously cited.
However, Dr Dorsey noted that the number of deaths is "a very murky issue".
"In fact, if you look at what human rights organisations say, they themselves admit that they don't have a definitive figure," he said.
"I think the bottom line of this is, workers have died on World Cup-related construction sites, and the Qataris, as well as the construction companies and FIFA, have not been forthcoming throughout the process on this."
POLITICS IN FOOTBALL
Dr Dorsey said that the controversy over the awarding of hosting rights to Qatar has also driven football governing body FIFA to improve the process, to make it more inclusive and representative of the global football community.
"In the past, the host was selected by an executive committee of 24 people, and it was a very secretive process. Corruption was rampant. Now the host is being selected by the general assembly of FIFA, and its 211 members," he explained.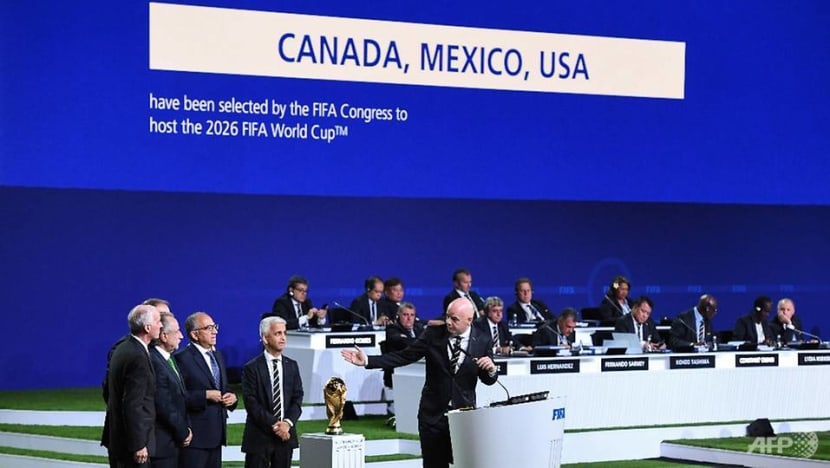 With each member having an equal vote in the decision-making process, the outcome will be more representative of the world order, with views beyond the Western countries' reflected, said Dr Dorsey.
"Effectively, I think what we are going to see is a shift … from West to East and a rebalancing of power within the soccer world, as it reflects a rebalancing of power globally in terms of geopolitics."
Suspicions have long surrounded the decision to hand this year's tournament to Qatar, with bribes allegedly paid to secure votes for hosting rights - something organisers have strongly denied.
Key officials involved in the process have come under scrutiny, with some banned from football and others facing criminal charges. Former FIFA president Sepp Blatter, who led FIFA for 17 years, has also come out to say the Qatar decision was a wrong one.