At 32, she picked up running. A decade on, this marathoner will represent Singapore at her second SEA Games
In the second story in a series featuring Singaporean athletes headed for the SEA Games, Matthew Mohan speaks to a marathoner who started running to prove that age is just a number.
SINGAPORE: On a midday afternoon in 2011, Jasmine Goh struggled to take the next step.
The sun was unrelenting and her destination loomed large like a desert mirage for a thirsty traveller.
If she wanted to stop, here was her chance.
"I started running kind of like a birthday present to myself. I think one of the push factors was that I had put on some weight after childbirth," recalled Goh, who was also going through a divorce at the time.
"I think a lot of mothers and women do this - we put our health and our needs on the back burner because we focus on our families so much ... I lost the sense of who I am and maybe that's why I felt that maybe losing weight (would help regain that) …  I just wanted to change something."
And she wasn't just running for herself.
"One of the things I wanted to do was I wanted to show my kids that if Mummy has a goal ... (and I) work at it and commit to it, then I'll reach my goal," she said.
While other sports typically require sparring partners, Goh realised running was more straightforward. So she threw on a pair of shoes and never looked back.
"I thought I could just run, (that it would be) so easy to just put on a pair of shoes and do, like PE (Physical Education)," she told CNA.
"I didn't run when I was younger, so I thought I'd just wear a cotton tee and FBT shorts and then (later) people laughed at me and asked: 'Do you not know there is something called Dri-Fit?'"
She clocked her first run of 2.5km.
"It was quite hilarious when I started," she said. "I was actually not (happy with the distance). Back in secondary school we did 2.4km. So why am I struggling with 2.5km? It was not easy."
Little did she know this run would be the start of a new adventure.
This year, Goh will be one of the four marathoners who will represent Singapore at the upcoming SEA Games in Hanoi.
CONQUERING NEW PEAKS
Goh's first marathon came months after she decided to pick up running. She was 32 at the time.
"I'm glad I ... stuck to it after the first run. A lot of people do their first run and they say it's so uncomfortable and they give up," she said. "That didn't happen to me, thank God. I think also because my kids were my motivation factor. I didn't want to give up so easily, I wanted to show them a new me in time."
Later that year, she chanced upon a roadshow advertising the annual Standard Chartered Marathon.
"I walked into the roadshow thinking: 'I don't know what is this but just take a look.' And they were selling race slots. So I looked at the prices and thought for the same price, I might as well pick the longest distance," explained Goh, who was running two to three times a week by then.
With four months left to train, Goh picked up the pace.
"For the next four months I knew that I had to be more consistent," she said.
"But I think what helped was that there was an end goal. Having that number in mind, you just kind of work backwards and kind of see how there's a structure of how much to increase per week. So I think that helped as well."
She scaled up her runs, trained with her colleagues, and would register distances as much as 34km prior to the marathon.
"Every time you run a new distance it becomes like a new peak," she said. "Every experience or every training was more like for me to kind of understand myself better. So it was also like self discovery."
"IT TAKES A VILLAGE TO RAISE A RUNNER"
At the 2015 SEA Games, Goh was in the crowd at East Coast Park as Singapore's marathoners pounded the pavement.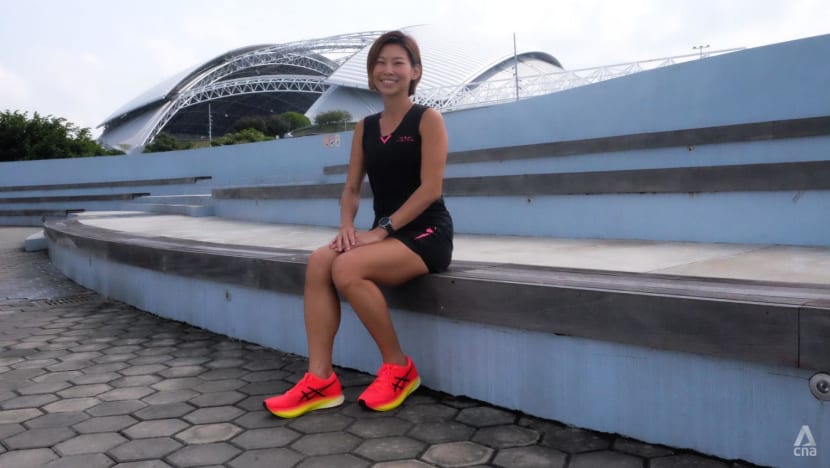 "It was just nice to see them in action. I was thinking to myself, what an honour to represent your country. And to be honest, I think Rachel (See), (Neo) Jie Shi, they were also in their 30s. And I was like, I'm also in my 30s. So what is stopping me from having a shot, a chance at this?" she recalled.
What sealed the deal was watching the Games' closing ceremony.
"At the moment when I saw the athletes come out, I went like: 'I want to be part of the contingent.'"
Goh got herself a coach who drew up a daily training program and began preparation. She also joined a local running club and ran with their members every day.
"What really helped - and I say this over and over again - is open communication to the stakeholders in my life, because ... it really takes a village to raise a runner," said Goh, who is a financial planner.
She cited the support she gained from her family members as well as a boss who understood her.
"Everyone came together and said they will support (me). So I think that was really what helped," she said.
Eventually, Goh would meet the qualifying mark  – the third-placed timing from the previous SEA Games – set by the Singapore National Olympic Council (SNOC) in 2016.
"It was great. It was like doing the first marathon, like knowing that what you have set (your mind to) … has come to fruition," she recalled.
"It was kind of a relief as well because I was training really hard … Once you hit the time, you kind of go okay, I've done it."
Months later, she would do one better, running a career-best sub three-hour time in the Standard Chartered Hong Kong Marathon.
Next stop - the 2017 Kuala Lumpur SEA Games.
FEELING GRATEFUL AND LOVED
On the wide streets of Putrajaya, Goh competed in her first SEA Games marathon.
She wasn't alone though.
Somewhere among the cheering spectators were her two sisters, her brother-in-law, nephew, her mother and members from her running club.
"Imagine running past your mum and your mum going: 'Faster! Faster!'
"I'm like: 'Mum, I'm really trying my best.' But I just felt so grateful and loved," she recalled.
"I was really trying my best, but I think the heat and the weather just got to me. I think we all suffered towards the end so I got fourth, I didn't manage to catch up to the third."
But it was more than missing out on a medal finish for Goh.
"The experience was great, because I was wearing the Singapore flag. So I kind of knew that I'm running - literally running - for the whole nation," she recalled.
"Out of four million people, I was the one that's representing all of you to run."
After undergoing a minor surgery in 2017, Goh would fall just short of qualifying for the next edition of the Games in the Philippines.
"Disappointed? Yes. But also very grateful because what happened was I just came back from injury," she explained. "The timing that I did I felt was really good considering what had happened."
Goh clocked her qualifying timing for this year's Games at the Zurich Seville Marathon earlier this year, with a time of 2:56.36.
Coming into her second SEA Games, she is not just running for herself or for her children anymore. Instead, she also runs to inspire others.
"I can use my story to inspire people to aspire towards sporting dreams. And I don't want them to think that you have no chance just because you're 42," she said.
There are those who ask her why she isn't slowing down. And Goh's answer is simple.
"I say age is just a number. I truly believe so. I also believe that regardless of your age, you can still pursue physical excellence in a sense, you still can get fit," she said.
"Obviously we all have different goals, not all are meant (to be) and can be national athletes. But I think if your goal is just to have an active lifestyle, then what's stopping you? It shouldn't be age."
Being an older athlete also comes with a set of advantages, noted Goh. For one, it has taught her patience.
"You really need a lot of patience when you're learning a new sport or taking up a new sport, doing a new thing ... We have patience when we are older, and dealt with kids. (And) after you've dealt with kids, you are an angel, you are a saint," explained Goh, whose daughters are now 15 and 13.
"I think competitive running, especially in a marathon, it's all about patience. Because if you go out too fast, you die. Basically you must have patience to really run a tactical race."
There have been numerous sacrifices along the way to get to where she is today, added Goh. It has meant sacrificing her social life, time with family, and being disciplined with her lifestyle.
"If people ask you (to go out on) Friday night - 'Oh sorry, I got to wake up like 3, 4am on Saturday (for a run) ... You try to eat clean … sometimes people don't want to jio (invite) you after a while because you always cannot eat," she explained.
"You have to be so disciplined when you want to pursue excellence, because you know that you can only take so much. And what you do to your body and what you put in your body, you've got to give yourself enough recovery time. You cannot be out there playing all night and then expect to run a good run tomorrow morning."
Goh's goal in Hanoi is simple. To do her best for Singapore.
"I really, really hope I can get a medal and I'm trying my best. What's lovely about a marathon is that it is a long time out there. You have to play the game, you have to play your cards well, you have to be tactical, you have to strategise," she explained.
"My number one goal is I want to do my best for the country. So if my best means a medal, so be it. If it's not good enough, I'll try again."
Days after our interview, Goh drops me a message on Whatsapp. She wants to share a quote she came across online, one which resonates with her experience.
"Nobody is cheering harder for me than the woman I used to be", she said.
"I think I really appreciate how this running journey has made an ordinary woman like me, do some extraordinary things," she adds.
"Also, no matter how I do at the SEA Games, I know I am stronger and better than the woman I used to be. I think that is the takeaway ... focus on the journey rather than the destination."
And what a journey it has been for her.