IN FOCUS: Fixing Singapore football - are there lessons from the successes of other sports?
CNA examines if there are translatable takeaways for football from the comparative success of swimming and athletics.
SINGAPORE: The conclusion of another Southeast Asian (SEA) Games campaign offers the chance for reflection for Team Singapore's sporting fraternity.
For some, the games, which were held in Cambodia for the first time, were a marker of consistency.
Take swimming, whose contingent delivered 22 gold medals – one more than at the last edition of the SEA Games, and one shy of their best hauls of 23 in 2015 and 2019. They also registered 15 silver medals and 10 bronze medals.
There were also six new meet records, seven national records and 19 personal best results.
For others, the games were proof of a turnaround.
Singapore's athletics team secured thee golds, two silvers and five bronzes. This was the contingent's second consecutive SEA Games hitting a double-digit haul of medals.
There was a games record courtesy of Southeast Asia's new sprint queen Shanti Pereira, six national records, 13 personal best timings and 19 season best performances.
But for football, the event represented yet another low.
Singapore was eliminated in the group stages for the fifth consecutive time, and suffered a 7-0 mauling by Malaysia in their final game. It was Singapore's heaviest defeat at the SEA Games since the competition became an age-group affair in 2001.
It has been 10 years since the Under-22 football team made it out of the group stages and the last time Singapore made it to the men's football finals was in 1989. 
The contrasting fortunes of these sports are clear, but are there lessons for football from swimming and athletics, and their comparatively consistent success?
Speaking to CNA, former Singapore national football team defender R. Sasikumar said that it is important to acknowledge the inherent differences between sports.
"If you really want to compare apples for apples, between individual sports and team sports, they don't belong in the same room, they don't belong in the same category," he said. "While they're all classified as sports, every sport has its own nuances, its own politics, its own way."
At the same time, there are general principles and concepts from the success of swimming and athletics which football can reflect on, he added.
"I'm pretty sure there's a lot we can learn from other sports. We can't be closed minded about that," said Sasikumar.
UNITING A FRATERNITY
Just four years ago, Singapore Athletics (SA) was taken to task after a disappointing SEA Games campaign in the Philippines. The contingent had ended the competition with three bronze medals to their name.
At a wrap-up press conference, Richard Gordon, who was Singapore Sports Institute's (SSI) head of high performance and athlete life, said that the lack of "stable governance" within the athletics fraternity had taken its toll. 
"We've seen a decline in results over the past three SEA Games. We've done a lot of work behind the scenes in terms of trying to help (them) to stabilise," said Gordon.
"But they seem to have a propensity for infighting within the fraternity... what I am going to say is that you need to get your act together."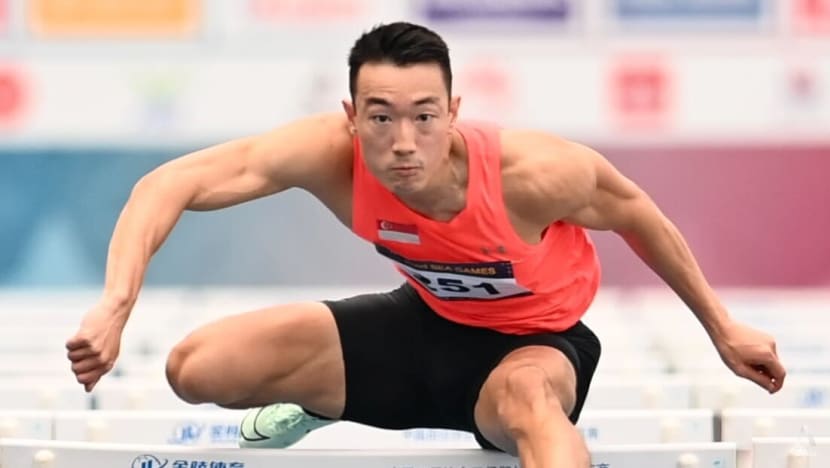 And that is exactly what the association seems to have done.
Since the new SA leadership took the helm in 2020, there has been a clear change in the fortunes of the sport at the regional level. The team delivered 11 medals at the SEA Games that were held in Vietnam last year, and followed that up with a haul of 10 medals last month.
What has helped is the uniting of a fractured fraternity.
"It was a lot of work, but I think people have rallied around ... When we came on board, within the broader community there were a very large number of disciplinary cases, outstanding appeals, lawsuits, not all directly related to SA, but related to the athletics fraternity," SA president Lien Choong Luen told CNA.
"It was massive. And we've been able to just be systematic and to strike them down one by one by one. So that once you get the noise out of the way, then we can focus on our core work."
At the same time, it has been important to get SA's board and secretariat "aligned", explained Lien.
What the leadership team has done is actively solicit feedback, he added. And they aim to be "very transparent" with their principles and "logic process" when making decisions.
"People will have different opinions, and rightly so. If anyone is super upset then we will speak to them and we try to get them to understand our view," he said.
"(But) just because you don't like my answer doesn't mean that an answer wasn't given. Just because you don't like my answer doesn't mean that we didn't think about it … I can accept that you may not like my answer, that's life."
Coming in as a new leadership team has also helped, Lien added. His team was re-elected last year and will lead athletics till 2026.
"We're able to move on from a lot of the legacy issues, because we were not involved in the legacy issues. So even if I come up with the same solution, I can say with hand on heart, and everyone will believe me, when I say this is not personal," he explained.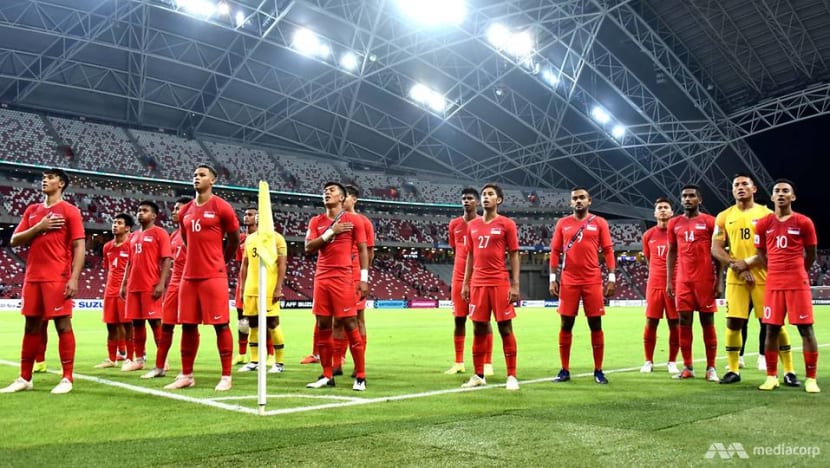 What is important in football is to make stakeholders feel included as well as being transparent and accountable, said Sasikumar.
"Football is a huge community … To please 100 per cent of them, you can't. But I think what you can do is if you include people into your narrative, and if you tell people that you're part of my ecosystem …  then they feel part of something bigger," he explained.
When people are excluded, they end up feeling disenfranchised and upset, Sasikumar added.
"That's normal, that's human nature. You can't blame them. So again, you need to change the narrative to say that actually, you know what? Football is all inclusive, we are inclusive," he said. 
And it is okay for people to have different opinions, said Sasikumar.
"Football is not united. Everybody is pulling in their own direction. Everybody thinks they know better. Everybody has got an opinion. Which is fine. I think that's the beauty of football, right?" he said.
"But let's find out why they are disgruntled; what is the basis of all this?"
The need to include the wider ecosystem has to some extent been recognised by the national "Unleash The Roar" (UTR) movement, which was set up in 2021 to raise the levels of local football.
Last month, it held a "football conversation" at Suntec Singapore Convention and Exhibition on Thursday evening with more than 150 people in attendance. This included fans, coaches, parents and even former players.
Also in May, the Football Association of Singapore (FAS) held a closed-door session involving various stakeholders in the game, including fans, ex-players and coaches.
In an interview with CNA, FAS president Bernard Tan said the association will work on highlighting where progress has been made, while making stakeholders part of the process.
'FLY WITH EAGLES'
Another factor behind the recent success of athletics has been SA's Overseas Competition and Training Camp (OCTC) grant, said Lien.
The programme was established in January last year and is an ongoing initiative to provide support for athletes competing at major games.
The support is for athletes who have met the qualifying marks within the window for major games, and are looking to travel overseas for competitions or training ahead of such events. It was carved out from "costs savings in optimising operations and improving efficiency" said SA in a post on its website.
Contributions from donors and sponsors as well as fundraising helps SA to increase its OCTC pot, and these contributions are then matched by the OneTeam Singapore Fund. The fund offers one-for-one matching grants from the government for donations to support Team Singapore athletes.
"If you had to talk about needle moving, then this is needle moving ... because all the guys and girls who would benefit or qualify for it are already (at the) top of their game in the local context. Nobody's going to push you … literally nobody's breathing down your neck at all," Lien explained.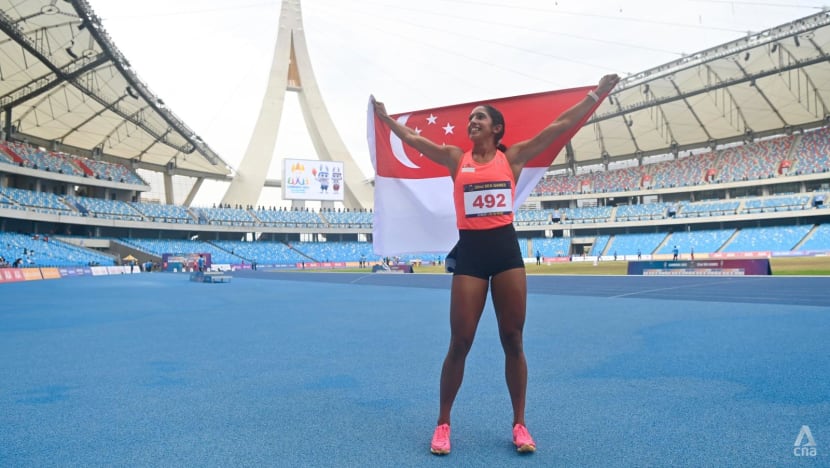 "Whereas, when Shanti broke the (100m) record in Germany, everyone was in her ballpark. (For hurdler Ang) Chen Xiang, when he was doing his camps in Hong Kong and Thailand, it was with the people who subsequently podiumed with him at the SEA Games as well."
Other beneficiaries of the OCTC include high jumper Michelle Sng, middle-distance runner Goh Chui Ling, and pole vaulter Low Jun Yi.
Lien also singled out the "incredible work" of Pereira's coach Luis Cunha. Cunha has also helped a number of athletes, including Elizabeth-Ann Tan, hurdler Calvin Quek and the men's 4x100m relay teams, reach new heights.
The focus on individual development abroad can be applied in a footballing context, said Sasikumar.
"You see why Shanti Pereira is doing well. Because they (athletics) understand that if you want to be an eagle, you've got to fly with the eagles," he said.
Sasikumar has been able to witness this firsthand in the football context.
It's been about a year since he relocated with his family to Spain. His sons Kyen and Tylan were offered a trial at the academy of Spanish giants Atletico Madrid, before being signed to play for the under-12 and under-10 teams.
"Their standard in the last year has gone through the roof. If they stayed in Singapore, maybe they would have made progress but not like what they have done here," said Sasikumar.
At the youth level, UTR previously announced that there will be scholarships to send Singapore's best young talent to overseas academies that offer good education and a competitive training environment.
There must be a "concerted effort" to export as many players as possible, added Sasikumar. These players need to be overseas for prolonged periods of time, he explained.
Rather than putting in money and resources into Singapore Premier League (SPL) side Young Lions, footballing authorities could use the equivalent budget to send selected players abroad to train and compete at clubs where they can improve, he suggested.
This could be done either before or after National Service (NS) - preferably after for those who enlist early, he explained. While serving NS, these players can turn out for Singapore Armed Forces Sports Association (SAFSA).
"Everybody has a level. What I am saying is that (if) the level he is at there is better than where he is (here), he's already won. And that is money well spent," he added.
"(Be) consistent over time, give it some time and (let them) be in an environment where they're thriving. The principles are the same ... it is just the application which is different."
Aide Shazwandi, a footballer who came through the National Football Academy system before featuring in the Prime League and S.League (now Singapore Premier League), agreed that such stints can be useful.
But at the same time, he agreed that these training opportunities have to be longer than just a few weeks or a month.
"I have been sent to to train with Albirex Niigata in Japan. But then the period was only two weeks," he said. "After a while, we are back to our old same (footballing) ways ... If you want to send players overseas, it has to be for longer."
A THRIVING CLUB ECOSYSTEM
Under the blazing afternoon sun, they troop towards the swimming pool.
Some are dropped off by their parents, others slip into the compound alone, with backpacks heavy on the shoulders.
While there is the faint murmur of chatter, conversations are eventually abandoned as some hit the "gym without walls" beside the pool. They stretch, lift dumbbells and jump rope.
Aquatech Swim Club's senior squad - the ATS Barracudas - are about to begin one of their nine weekly sessions. On days where there are double sessions, they get to the pool by 5.15am. The second session starts at 4.30pm.
Swim clubs as such Aquatech have been integral to the success of Singapore swimming. This is where young swimmers learn skills and develop.
There are a range of swimmers at these clubs, and they train at a variety of locations ranging from recreation clubs to public pools, each with its own price point. Swimmers range from some who are training recreationally, those who hope to one day represent their school, and some who harbour hopes of swimming for Singapore.
"In a club, the reality is you have a whole range of commitment levels ... dedication, discipline levels," said Aquatech Swim Club technical director and former national swimmer Leonard Tan.
"Here we also try to educate and try to nurture them ... (to) understand that they are not just a half-year athlete (and) half a year a student. They are a student-athlete, so they need to need to figure out their balance."
These clubs serve as a pipeline of talent. Should swimmers be deemed ready to make the step up, they will then be invited to the Singapore Swimming Association's high performance base, the National Training Centre (NTC).
"For the most part, the goal (for our club) is always to be the pipeline for the nation," said Leonard Tan.
"I've already communicated with parents when we spoke to them during our town hall and to swimmers, that we want to support the national agenda." 
"You definitely feel extremely proud knowing that there are swimmers that you've kind of taken and then have now spread their wings and have gone to do bigger and better things," added head coach Marcus Cheah, who estimated that there are currently between 200 and 300 swimmers in the Barracudas' ranks.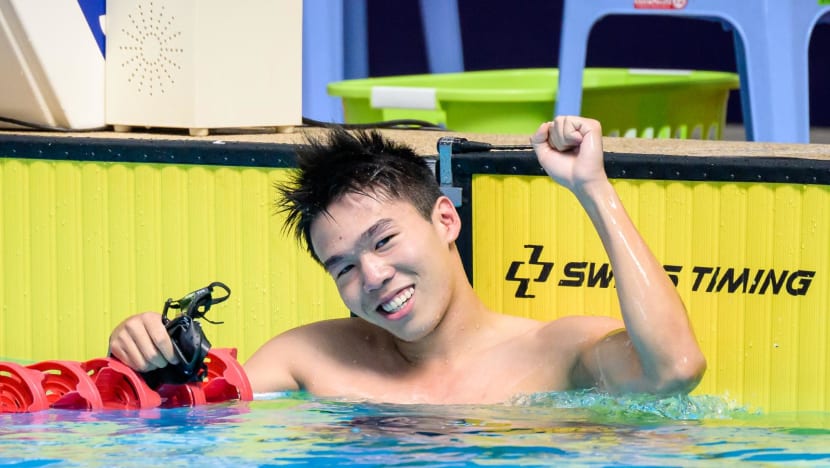 Notable swimmers who have come through the ranks of the ATS Barracudas include Teong Tzen Wei, Jonathan Tan, Darren Chua and Glen Lim, added Cheah.
Lim holds multiple national records, while Chua clinched five golds at the 2019 SEA Games. Tan recently made the Olympics "A" cut in the 50m freestyle after setting a national and SEA Games record in Phnom Penh, while Teong is the Asian record holder in the 50m butterfly (short course).
Within the swimming ecosystem, clubs are not forced to release swimmers to the NTC, national head coach Gary Tan told CNA. "If the club feels they are ready to take on this high performance role, we will not stop them as well," he added.
At the same time, close monitoring is undertaken to ensure that swimmers who remain at the clubs continue to perform.
Gary Tan and Singapore Swimming Association (SSA) technical director Sonya Porter keep in constant communication with the clubs in Singapore, as well as clubs based overseas which have local swimmers in their ranks.
"There is always that synergy, so we don't close the doors ... If you create a silo, a silo effect, if you're on an island on your own, it will never work," explained Gary Tan.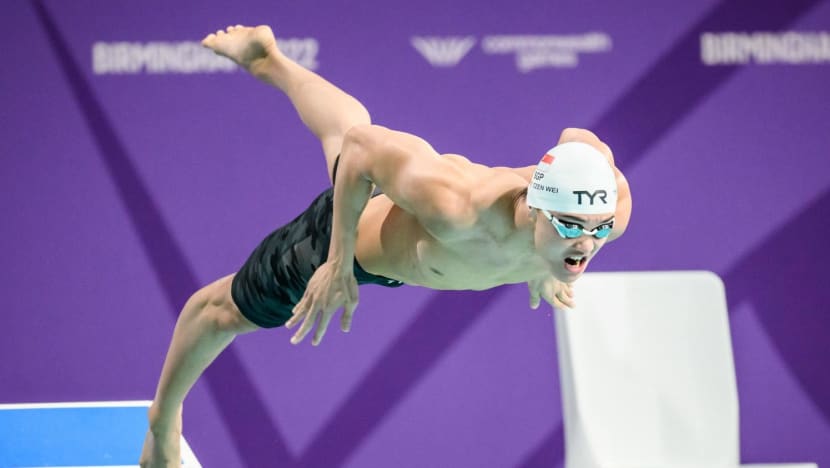 A thriving club ecosystem where footballers of all levels can train and compete is something Sasikumar feels is missing from local football.
He pointed out how in Spain, it is easy for a child of any ability to find a club, join a club, or for their parent to even start a new club.
"You have the kids who are ... of a low ability but they still have a chance to be part of a team, they still have a chance to play week in week out, they still have a club to call their home. Just sign up and then you will find a place. So that is the beauty about being here," he explained.
While there are various academies in Singapore at the junior level ranging from the ActiveSG Football Academy to the private academies, there still remains a barrier to entry for kids who may be passionate but are not of a particular skill level, said Sasikumar. 
Such an ecosystem from the grassroots level will eventually and naturally result in more players making it to the top, Sasikumar said.
"What will be a massive success in my eyes (is) having 100 football clubs thriving at every level in the next 10 years. That will be a massive success ... because the rest will take care of itself. It is a domino effect, everything else will move," he explained.
"Let's make it easy. Let's have a low barrier to entry. Let's create more clubs. Let's bring back the vibrant club culture again." he added.
One way to do this is to empower Singapore Football League (SFL) clubs by investing time and money in the league and its tiers. In doing so, this provides a continuous pathway for some players who come through the pipeline via the UTR's School Football Academy system, said Sasikumar.
In addition, introducing a promotion and relegation system between the SFL and SPL would allow more teams to compete at the highest level and drive a strong club culture in Singapore. 
With a dearth of clubs at the highest level, some promising footballers such as Aide ditch their dreams of playing professionally after NS.
"I've seen a lot of talented footballers who also didn't want to continue because they are not being picked (by clubs) after NS or after they're injured. They want to try (to continue) but then there are not so many clubs that are available," he explained.
"With more clubs ... (even) if you don't know whether you can make you or not, and if another club offers you, you can try for one season. You never know - if you do well then they may increase your pay for next season or a better club might approach you," he explained.
PARENTAL INVOLVEMENT
SSA is not resting on its laurels. Recognising that it too has a limited pipeline, a new Emerging Talents Programme (ETP) kicked in earlier this year.
Held between one to three times a week depending on an individual's age, selected swimmers are grouped together for ETP sessions, said Gary Tan.
"This whole ETP program is a three-fold approach to address our issues (so) that we can work on (the) whole landscape, how we influence the landscape, and (provide) the touch points that we have to bring back into their daily training environment," he added.
It also helps instil a sense of national pride within the young swimmers, who know that they are part of a system bigger than themselves.
But while having programmes in place is important, parental support is vital for swimmers. 
"It's a tripartite partnership - the swimmer, the coach as well as the parent … Without them (the parents), you cannot have a swimmer in your club. You will never be able to have any buy in from them," said Tan.
"We actually have very open discussions with our parents, not just in the National Training Center, but even on a national level when they can email us on various levels of things."
"The swimmers who do well usually have a lot of support from their families. They have plenty of support from their families in terms of logistics, sending them back and forth from training," explained Cheah. Other forms of parental support include paying for swim sessions and gear, he added.
"If you want to learn how to swim, I don't think it's expensive just to learn. But in any sport that you play, to be able to be the best of the best or to be able to (be) the top one or two per cent … you have to spend a (lot) of money."
The same applies to football, where such support as well as family circumstances can shape the outcome of a youngster's sporting path.
Aide, who hails from a middle-income family, recalled how his mother encouraged him to pursue his footballing dreams. But he also remembered how some friends dropped out of the sport to support their families.
"They were good players but then they stopped and didn't come for training because they were going for work to support their family. And so if you keep missing training then of course you're going to get kicked out," he said. "It happens a lot."
Aide had initially hoped to continue chasing his dream of playing professionally after NS. But the lack of options at the club level, a paltry salary offered by an interested club (below S$1000 a month), and the death of his father were contributing reasons to why he moved on from professional football.
"I've been playing football for my whole life, and that's what I wanted to do as a full time job. But once I got into that space, it was a bit hard salary-wise, and I saw that (footballing) opportunities in Singapore were not that good," he added.
"I said: 'Never mind, it's okay, maybe it's not meant to be. I just found a full-time job and played in the SFL," he recalled.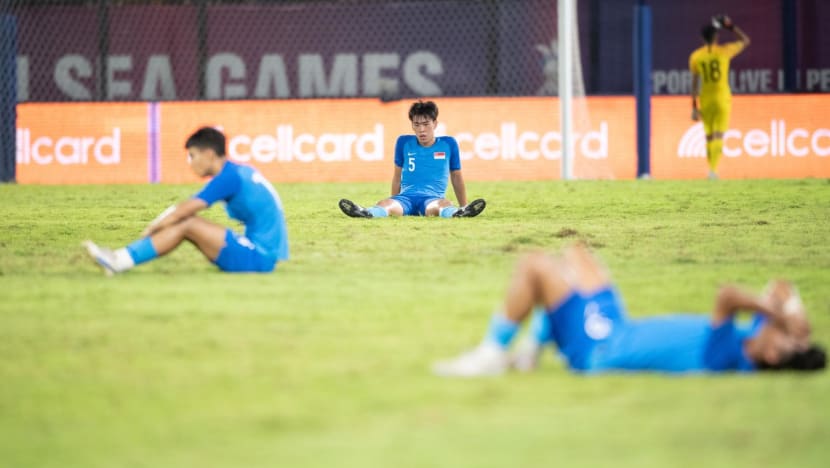 During his time as a national swimmer, Cheah recalled how friends left the sport as well.
"It's tough. You see certain people who are so talented, but just because they cannot afford to be in a sport, they just go you know what: 'I call it quits. Let me just go and study'. And that is really sad," he added.
Till today, some continue to view sports as a hobby rather than a job, said Cheah.
"When I was in school, my teacher was like: 'Why you spend so much time in a pool? For what? Can (it) put food on the table? Become a professional swimmer? I have never heard of one,'" he recalled.
Even today, Cheah still gets questions on whether coaching is a part-time job, and what his "real job" is. "We need more public support, and the stigma that being an athlete is not a bad thing," he added.
When it comes to football, one way to change perceptions is to push the narrative that being a footballer can equate to having a successful career, said Sasikumar.
As such, it is important to celebrate success, and show that pursuing a career in the sport can lead to good outcomes, he added.
"I'm living proof, and many of my colleagues are living proof, that football can open many doors. Today, whatever I have in life is thanks to my football career and nothing else," said Sasikumar.
Repairing the football ecosystem will be difficult given how many moving parts, people, egos and characters there are, but it can be done, he added.
"That doesn't mean it's going to be impossible. It's not that it's never been achieved. The reality is we are not really reinventing the wheel here at all … We are just trying to fix what's broken."