With climate change making weather more extreme, people need to adjust plans according to forecasts: Grace Fu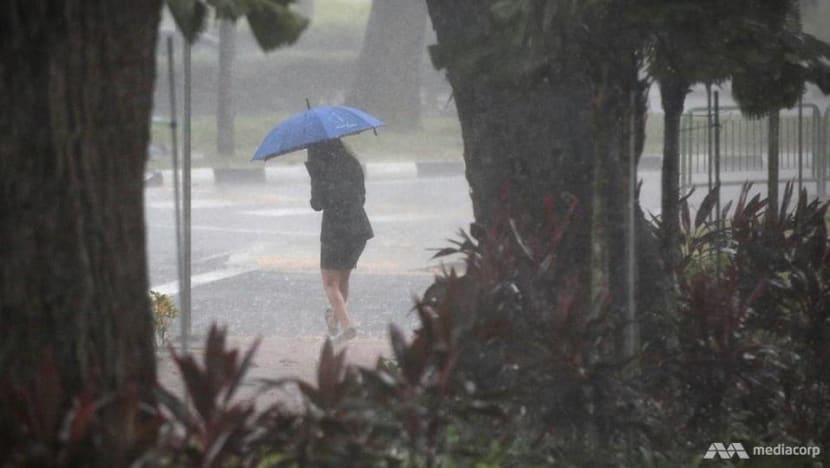 SINGAPORE: People will need to get into the habit of checking weather forecasts daily and adjust their plans accordingly with more extreme weather events expected due to climate change, said Sustainability and the Environment Minister Grace Fu on Tuesday (Aug 31).
Speaking at a webinar on the United Nations Intergovernmental Panel on Climate Change's latest report and its implications for Singapore, Ms Fu said that the findings highlighted the need for the country to press ahead with its climate adaptation efforts.
"As climate change brings about more intense rainfall, it will not be possible to completely eliminate flash floods, that is why another important aspect of climate adaptation is our community resilience," said Ms Fu.
"For far too long, Singaporeans have grown used to our weather, as we think the weather doesn't change very much. But increasingly, we need to build the habit of checking weather forecasts, checking weather advisories to go about our daily lives," she said, adding that it will be a part of the country's preparedness as a population.
Over the past two weeks, heavy monsoon rain saw water levels in drains and canals nearing full capacity, and flash floods occurring in many parts of the island.
The country has invested heavily over the years to improve drainage with almost S$2 billion spent on drainage works, and another S$1.4 billion to be pumped in over the next five years to enhance flood resilience.
On Saturday, the national water agency PUB announced that it would raise a 450m section of Dunearn Road as an "interim measure", a few days after the flooding hotspot was inundated with rain.
Beyond hard engineering, the government will continue to strengthen our forecasting and sensing capabilities, and improve education and outreach efforts, said Ms Fu.
"For example, ahead of heavy monsoon seasons, PUB will continue to work closely with building owners and residents in low-lying areas to deploy flood protection devices to safeguard lives and properties," she said.
Meanwhile, the Centre for Climate Research Singapore has started work on its third national climate change study which will provide local projections based on the latest climate models used in the recent UN report.
The study, which is expected to be completed by end-2022, will guide the planning and implementation of adaptation measures to safeguard Singapore against the impact of climate change.
The centre is also working closely with local universities to research and build up climate science capabilities in Singapore, said Ms Fu.
"We will need our scientists to do high quality research and improve our models and projections, so that our adaptation efforts are effective and relevant," she said.
Ms Fu said Singapore is also playing its "full part" to reduce carbon emission, taking decisive steps to mitigate emissions such as implementing a carbon tax and ramping up solar capacity.
Businesses, communities and individuals will also have to do their part and take climate action, she said.
"We will need our businesses to transform, and make sustainability not just a core pillar of their operations but a competitive advantage, being more energy and carbon efficient and pursuing sustainable production," she said.
"We will need every one of us to make climate friendlier choices such as purchasing energy and water-efficient appliances, reducing air conditioning, and opting for public transport where possible."