COP27: Schism between rich and poor countries biggest obstacle to climate progress, says Grace Fu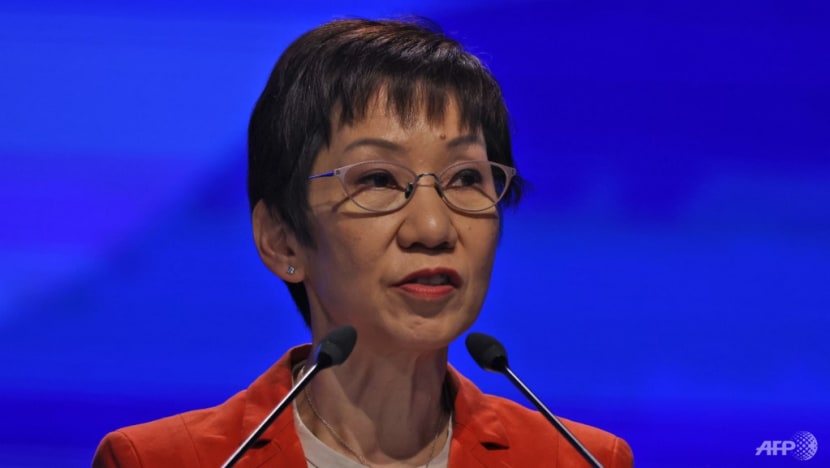 SHARM EL-SHEIKH: The ongoing schism between developed nations and their developing counterparts is the biggest obstacle to meaningful progress on climate change negotiations, according to Singapore's Minister for Sustainability and the Environment Grace Fu.
Speaking on the sidelines of the United Nations climate summit in Egypt on Wednesday (Nov 16), Ms Fu said that despite the disconnect, there were positive signs that COP27 could deliver improved outcomes on ambition and implementation.
In the final days of the summit, developing nations that have increasingly been impacted by climate change are pushing for more finances to be mobilised for adaptation as well as loss and damage.
Adaptation funds could be used to prepare countries for the onset of climate impacts, like building new infrastructure, early warning systems and greening urban spaces.
Loss and damage - on the agenda for the first time at COP27 - is the notion that countries that have historically caused climate change will provide financial assistance to the countries that are now facing unavoidable impacts, without contributing to the climate crisis.
Egypt's presidency is pushing for a deal this week, with climate-vulnerable nations making a concerted late push for progress at the summit.
"The concern of the developed countries would be whether by putting it on the agenda, it is an admission of their liability and it obligates them to even greater financial commitments," Ms Fu said.
"So, that's something that has been really the focus of intense negotiation. My own sense is that it seems we are on track."
"Developing countries would have to ask for assurance that what has been committed to help them to mitigate, to adapt, will be delivered. And I think they need clarity on that," she added.
"So, finance relating to adaptation, relating to loss and damage, will be the issues that will be there until the very last minute, I suspect."
Wealthy nations promised in 2009 to deliver US$100 billion per year by 2020 until 2025 to poorer nations for climate adaptation and mitigation projects. That total has not yet been reached and is again a sticking point at COP27.
Ms Fu highlighted improved relations between the United States and China as a welcome development, following formal talks between presidents Joe Biden and Xi Jinping at the G20 summit in Bali.
"The cooperation of the two countries is very essential because they represent both sides, the developed world and the developing world. So, we are hopeful that with them on a more positive note that the relationship will bring some momentum to the negotiation or mitigation," she said.
During her national statement delivered to COP27 on Tuesday, Ms Fu said that there was a risk that parties focus on "pressing issues of the day" but lose sight of the need for shared international ambition to keep global temperatures down.
But she said that she has more confidence that countries would not backslide on their commitments made a year earlier at COP26 in Glasgow, despite the pressures many are experiencing due to Russia's invasion of Ukraine. 
"I think when we first looked at COP 27, we realised that actually it is being held under very challenging circumstances," she said.
"The beginning of the year with the war in Ukraine, we saw energy prices really gyrating wildly, and you see countries having to scramble to address issues such as energy security, looking for an alternative supply, some even looking at restarting their coal plants in order to secure energy for themselves. So, there were great concerns."
"I have greater assurance, I will say, that countries, although they have to manage some short-term disruptions, still focus on climate. And of course, I am saying this with some cautious optimism," she added.
"The fear about backtracking seems unwarranted."
She said Singapore could not commit to delivering finance to a loss and damage fund but would look to leverage its resources in the most effective way, while emphasising that the country has offered solutions to the conference, such as in water and food security.
"We will have to find the most cost-effective way for us to make an impact. We believe that just giving grants ... does not necessarily get us the kind of outcome that we want."
Singapore earlier joined an international effort to help advance the development of carbon markets - the Article 6 Implementation Partnership, launched by Japan's environment ministry at COP27.
Countries previously agreed in Glasgow on a rulebook for carbon markets, but negotiations have continued around technical aspects, with Singapore acting as a co-facilitator on ministerial consultations.
Listen: Special report from COP27