Hydrogen buses 'could be a solution' for Singapore as transport sector goes green: Britain's largest bus maker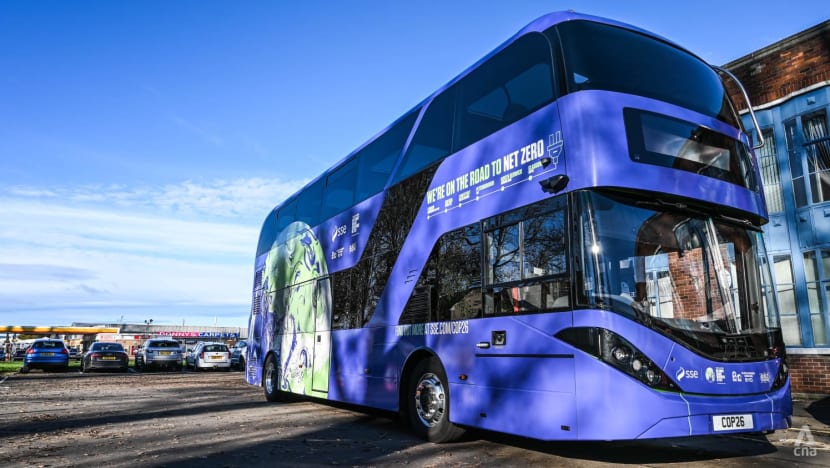 GLASGOW: Britain's biggest bus manufacturer lies within an 80-year-old weathered building outside Glasgow. It is a facility that tells more a story of the company's history than its future.
But behind the facade of Alexander Dennis (ADL), real technological innovation is happening and it is clear that the company's ageing face does not reflect the modernising intentions of its leader.
ADL has been around for 126 years. Never has the pace of change been so fast though, driven by the urgency of climate change and the fast development of technology, said the bus maker's president and managing director, Paul Davies.
The transportation sector is responsible for about 20 per cent of all global emissions. It is a major polluter that needs to be decarbonised in order for the world to keep global warming to less than 1.5 degrees, a major aim of ongoing climate change talks at COP26 in Glasgow.
"Coming out of the pandemic, everything is changing," Davies told CNA.

"Here at COP26, countries from around the world are going to agree on policies to get to net zero or whatever their intentions are. We have to embrace that because the tailwind is there. We're part of the solution, we've been part of it for 126 years. Now is the time to modernise," he said.
The company is deliberately "technologically agnostic", Davies said, a way of staying flexible and nimble to the needs of its global consumer base.
That means it produces battery-electric buses and also has hydrogen fuel cell buses in its order pipeline, as well as the final wave of more conventional diesel engine buses. 
It has facilities in 10 different countries, including Hong Kong, China and Singapore, where public transport users may be familiar with the hundreds of Enviro500 double-deck buses in service.
In the apparent race of technologies to decarbonise the transport sector, Davies believes that it will not be a case of a single solution, but rather, many.
"The big debate about whether it's going to be battery-electric or hydrogen, the reality is it's going to be both of them," he said.
He added: "There are pockets of the world or even within countries, where there will be infrastructure to support hydrogen buses, which is the big challenge. There are places where it works and makes sense to do it but other places where battery-electric will be the answer.

"The pace is really fast right now. From 2016 to 2021 we have delivered 500 battery-electric buses. In 12 months that will double to 1,000 because that's the speed of change."
CHALLENGES IN ASIA 
While both battery-electric and green hydrogen fuel cell vehicles are clean and emission-free technologies, there are differences in range, cost and suitability in certain climates. 
In hot countries, like in Southeast Asia, the extra energy requirements for providing cooling with air conditioning on buses will impact the performance of buses running on electricity. 
Analysis from the International Energy Agency (IEA) suggests that bus auxiliary power for cooling or heating can consume 20 per cent of onboard energy. 
"This is significant. It can impact the performance of the bus. However, where bus routes are not long and where there is possibility for opportunity charging, it can be possible to use batteries," said Leonardo Paoli, an IEA energy technology analyst.
Singapore aims to phase out petrol and diesel-powered vehicles by 2040 and will not allow diesel cars and taxis to be registered from 2025. 
Public charging infrastructure is being rolled out at speed, with an aim to have 60,000 charging points across the country by 2030 to support the transition to electric vehicles. New public housing developments will have capacity to support electric vehicle charging in 15 per cent of their parking lots.
Singapore also aims to have 100 per cent greener, cleaner energy public bus and taxi fleets by 2040. Yet, the Land Transport Authority's (LTA) last order with ADL - awarded in 2019 - was for diesel Enviro500 buses.
"We've got some work to do. The challenge for us is to take these buses from being diesel to something else. We now need to transform these to net zero emissions," Davies said. 
"Hydrogen could be a real solution for Singapore. Hydrogen development is going to happen at pace. We're ready for any and all of it. We have hundreds of talented engineers to navigate us through it."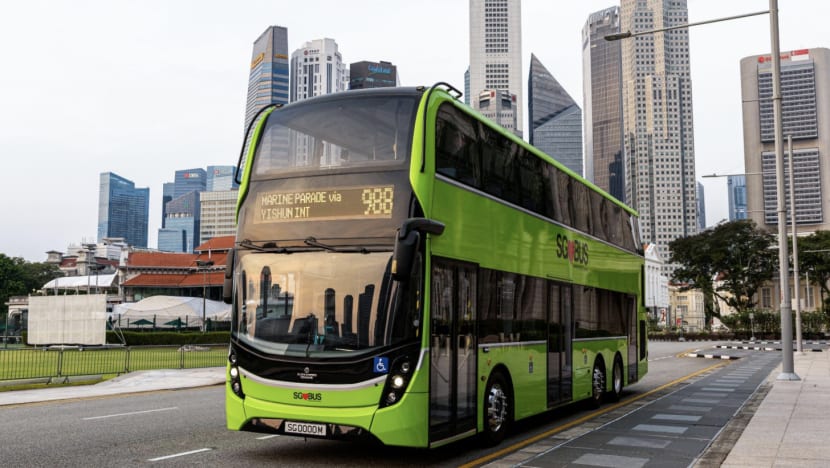 FLEXIBILITY OF HYDROGEN 
Interest in fuel cells is growing, but there remains debate over its applications.
IEA's Paoli said that recent market developments place electric power trains ahead of fuel cell ones, and in a net zero world, hydrogen will act to fill gaps in hard to decarbonise areas, like heavy-duty trucking or shipping.
"Right now there are more than 350 electric car models available while there are only three models for hydrogen-powered cars. Similar trends are seen for buses and heavy-duty trucks, although with less of a stark proportion," he said.
"This doesn't mean fuel cells should be discarded for transport. There are still applications where they can be useful."
Long-range and flexibility are some of the reasons why momentum is ramping up behind fuel cell investment, according to Nigel Holmes, the CEO of the Scottish Hydrogen and Fuel Cell Association.
"One of the expressions comes from an old advert that used to run in the UK for Heineken lager. The ad was 'refreshes the parts that other beers cannot reach'," he explained.

"Hydrogen is often being labelled the Heineken of the energy system, reaching the parts that can't be easily treated by other means. In a zero carbon context, this is where hydrogen complements electrification, especially in transport."
Holmes said the Scottish city of Aberdeen is a leading example of hydrogen fuel cell buses running on normal routes without passengers really noticing the difference.
Getting those vehicles on the road has been a product of many years of capacity building and experimenting with technology. The outcome is a public transport fleet with no carbon emissions, and the side benefits of cleaner air within the city and less traffic noise. 
The costs remain high though, and that remains a challenge for many cities and countries, particularly those in the developing world.
"The technology is mature and it's now more a question of how we bring the cost down to be affordable. In the bus market, we're starting to see great progress. Scaling up is one of the ways that costs can continue to come down," Holmes said.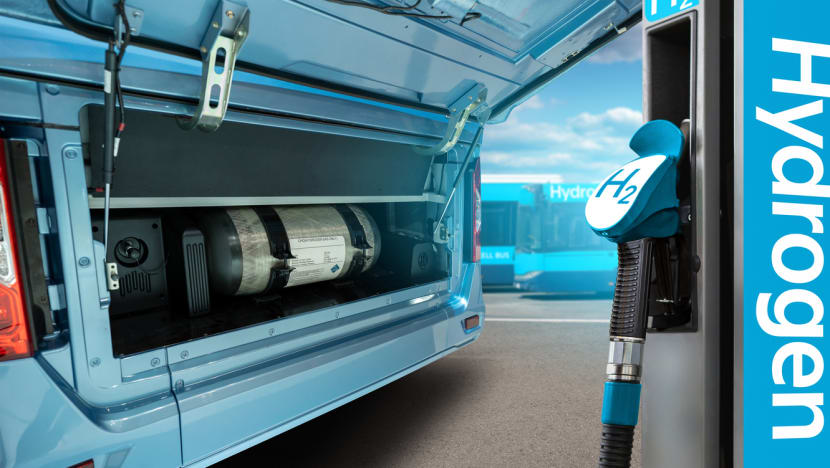 A PUBLIC TRANSPORT TIPPING POINT 
With transport and cities also on the agenda this week at COP26, this could be a "massive tipping point" for governments and transport providers to start taking real steps to decarbonise, said Isabel Dedring, the global transport leader for Arup and London City's former deputy mayor for transport.
"About ten years ago, decarbonisation was excruciating. It was like pulling teeth. Hybrid systems seemed like a wacky idea. Electric buses were considered to be for airports not for proper urban environments. Things have actually changed a lot," Dedring said.
"Transport is a traditional, high bound, slow moving industry. Now you have countries developing and adopting technology at pace. It might seem like an anodyne point, but the picture is much more positive than people think. Now we have to springboard off that." 
One change, at least superficially, might be that zero emission buses start to actually look different from their fossil fuel chugging brethren, through innovation and creativity.
Demand for public transport has declined steeply due to COVID-19 and part of winning back users could involve taking them along on the net zero journey, ADL's Davies said, hinting at a new upcoming project in Asia. 
"You want people to differentiate that something is zero emissions, it's new, it's a bit more futuristic. We're doing some work there," he said. 
"People will know it's a zero emissions bus straight away. It's going to make a statement."