Visually impaired woman fights to save endangered gibbons in remote Indonesian village
To mark Earth Day, CNA looks at how a woman in West Java perseveres to help endangered silvery gibbons against the odds.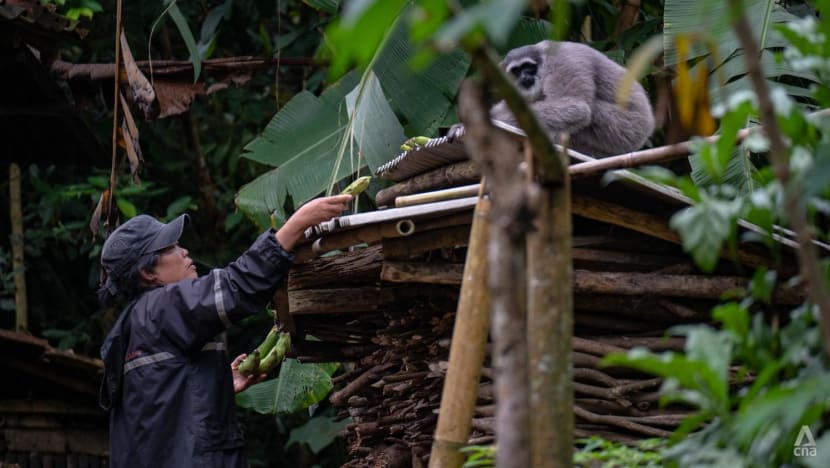 SUKABUMI, Indonesia: With her trusty walking cane in hand and a backpack filled with ripe bananas, Tini Kasmawati trudged through the slippery, mud-caked paths of a dwindling forest near her village, unfazed by the drizzling rain, frigid morning air and most of all: Her deteriorating vision.
Occasionally, the visually impaired woman lost her footing on the hilly terrain. But she pressed onward, eager to encounter the elusive creatures that called this forest home: The silvery gibbons, an endangered species endemic to Indonesia's most populous island, Java.
For the past nine years, Kasmawati, a 51-year-old food vendor from Lengkong village in West Java's Sukabumi regency, has been providing food to a family of gibbons that roam a once lushly canopied hill. 
That hill is now slowly being converted into rubber plantations and human settlements.
"The gibbons only eat ripe (fruits), but before (the fruits) are ripe, they are either harvested by the farmers (who grow them) or stolen by others," Kasmawati told CNA.
With virtually nothing they could eat aside from leaves and insects, conflicts with humans became rampant in Lengkong village, threatening the survival of a species with a population of just around 2,000 left in the wild.
The silvery gibbons are territorial and rarely venture out of their respective areas, unless to find a suitable partner with which they mate for life.
Kasmawati's efforts to provide food for the gibbons – using a bucket hoisted onto a makeshift bamboo platform – not only prevented these conflicts from happening but also improved the gibbons' welfare.
"The gibbons have very good instincts. If they feel that a long drought is coming and food scarcity is imminent, they would hold off from producing more offspring," she said.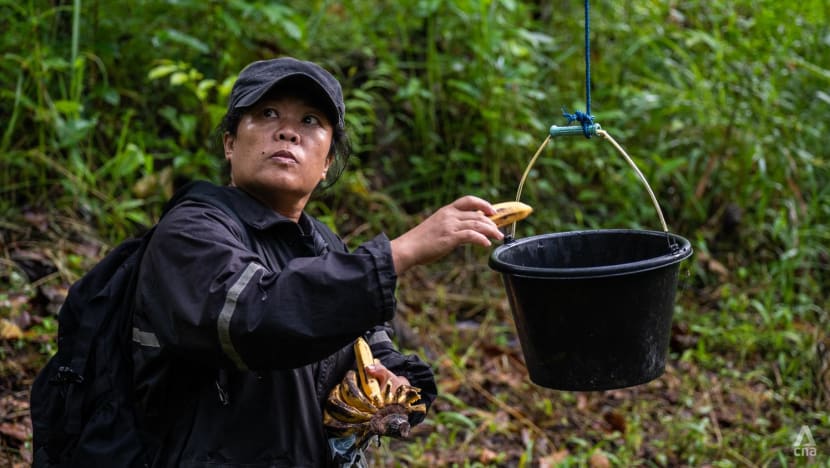 Over the years, the gibbons near Lengkong village went from a family of four to one of eight. Two of the offspring had even started families of their own and subsequently moved to other areas around the village.
Still, the future looks bleak for them.
In 2016, damage to her nervous system caused Kasmawati to slowly lose her vision. Her left eye is now completely blind while vision on her right has since reduced to less than 30 per cent.
The condition makes it more difficult for Kasmawati to make the 30-minute trek to get to the hill where the gibbons live. She had to rely on the rustling of leaves and the primates' distinctive, siren-like calls to locate where the gibbons are located.
Meanwhile, the rest of her village is reluctant to give her a hand, leaving Kasmawati - who is unmarried - without a successor.
HOW HER PASSION GREW
Kasmawati told CNA that she has always loved the wilderness ever since she was little, playing in the forest near her home whenever she could.
"In the past, the population of the silvery gibbons was really big. There were many colonies in this area alone because the forest was still dense, unlike today," she said.
That started to change in the 1990s when illegal loggers began cutting down trees in the forest of Lengkong, destroying the rich biodiversity and much of the gibbons' habitat and feeding ground. In their place, locals began planting cash crops such as rubber and pine, which the gibbons cannot feed from.
At the time, Kasmawati did not think much about the environmental destruction happening in her backyard. "I liked watching the gibbons. I liked the wilderness. But I was not passionate about them," she said.
That all changed in 2014 when a Dutch student came to her village, looking to study the silvery gibbons. The student rented a room at her late brother's house and Kasmawati would accompany her in and out of the forest.
"I wondered why would (the student) come all the way from the Netherlands just to see what the silvery gibbons were like," Kasmawati recounted.
"After (the student) finished her research here, I became intrigued. I went in and out of the forest on my own and observed (the gibbons)."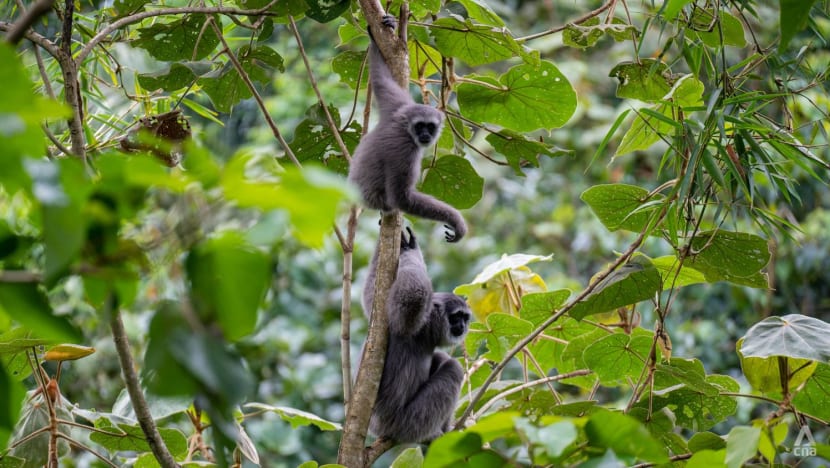 She focused her attention on a family of four gibbons living right at the edge of the forest. She named the patriarch, Abah; the mother, Emak; the eldest male offspring, Wiki; and the younger male, Jojo.
Living so close to human settlements meant greater risk of conflicts as both gibbons and local residents compete for food.
"When the dry season came, there was not that much food that they could consume aside from leaves. That's when I started giving them food," Kasmawati said, adding that she first consulted with the Dutch student who earlier came to her village.
DISASTER STRUCK
Kasmawati was accompanying a pair of Indonesian researchers in late 2016, when she began to lose her vision.
"I somehow failed to see a big hole that was sitting right in front of me. One of the researchers asked: 'How could you not see that hole?' I also asked myself the same question," she said.
Thinking that Kasmawati must have been tired, the researchers took her to a gazebo, built as a communal resting place by local farmers. Seconds after sitting down, Kasmawati collapsed and fainted.
When she regained consciousness, she could not see anything.
Kasmawati had no money or insurance to seek proper medical attention. The research institution which last hired her agreed to foot a portion of the medical bill while a local politician provided transportation to get from her remote village to the city of Bandung, a five-hour drive away, to see an ophthalmologist.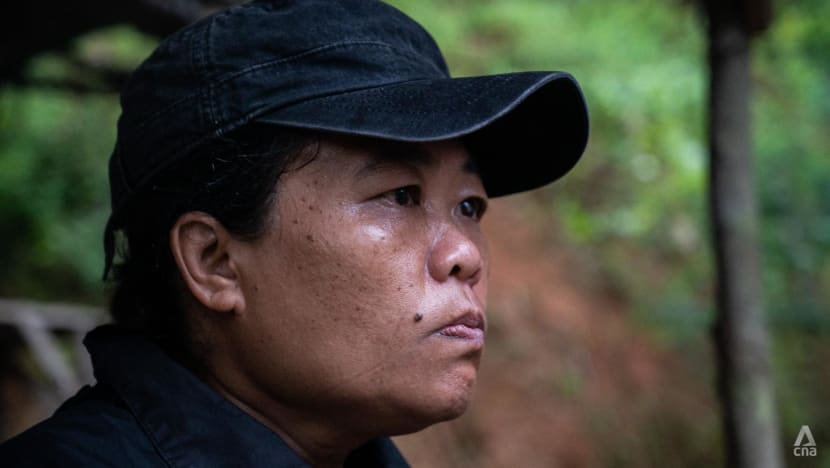 After a number of surgeries, Kasmawati managed to partially regain her eyesight, enough for her to get back to doing what she loves: Caring for the family of gibbons near her village.
But she still struggles to see after dark, while any object further than arm's length appears nothing more than blurry shapes. Furthermore, her eyesight is slowly getting worse.
"I used to be able to see with my left eye, although everything is blurry and dim. Now, I can't see anything with my left eye anymore," she said, adding that over the years, she is also losing sensitivity to light in her right eye.
STRONG DETERMINATION
Despite her condition, Kasmawati is determined to keep caring for the gibbons, which has since welcomed four more offsprings: A female named Tina and three males - Naruto, Takeshi and Arashi.
For now, Kasmawati is able to find her way through the jungle by memory and the aid of a makeshift walking cane. But her deteriorating eyesight meant she can never be too sure if the trek would be a dry or slippery one. Falling and injuring herself, she said, is happening more frequently.
"I have no successor. I once asked (the locals): 'Will you help me feed (the gibbons)?' (They replied:) 'How much are you paying me?' she said.
Kasmawati said that she spends around 600,000 rupiah (US$40) each month on the gibbons, around half of what she makes selling coffee and food at her stall. No one in her village, not even her siblings, is willing to make such sacrifices, she said.
"I have a dream of one day buying the land where the gibbons live from the locals. I will grow fruits on it. That way, even when I'm gone, they will never starve," said the woman.
Until that day comes, Kasmawati said she will continue to do whatever she can to care for the gibbons.
"There were times when we not only had the Sumatran tiger. We once had the Javan and Balinese tigers. Today, even the Sumatran tiger, whose population is tiny, is being hunted. The other two are extinct. We can only see pictures of them. I don't want that to happen to the silvery gibbon," she said.
"I will continue to fight until I breathe my final breath."
Read this story in Bahasa Indonesia.