Sierra Madre range has been protecting Manila from the forces of nature, but how long can it continue?
Environmental defenders are putting their lives on the line amid land grabbing and other illegal development activities.
MANILA: Under the misty canopies and alongside the meandering rivers of the Sierra Madre, the Dumagat people have always had simple dreams.

The mountain range has been the tribe's provider and its protector. Life here has deep roots in the land, where prosperity is borne only by the riches of the forest and waterways of the Dumagat's ancestral domain.
"We only wish we can eat every day and live right," explains Danny Escaraga, a tribal leader from Quezon.

"This is where we first gained awareness of our culture and tradition through nature. Everything that we have came from the Sierra Madre."
The Sierra Madre is the backbone of the island of Luzon, stretching more than 540 km from north to south. It is a priceless patch of biodiversity, a diverse habitat of ancient forests and animals found nowhere else on the planet.
The range that looms at the edges of the Manila horizon has historically shielded millions of urban dwellers from the very worst weather generated in the Pacific Ocean. Its forests have absorbed rain from countless typhoons, preventing flooding in the city.
It is also a dangerous frontier, a collision point between those who would protect the land and environment and those who wish to develop or exploit it.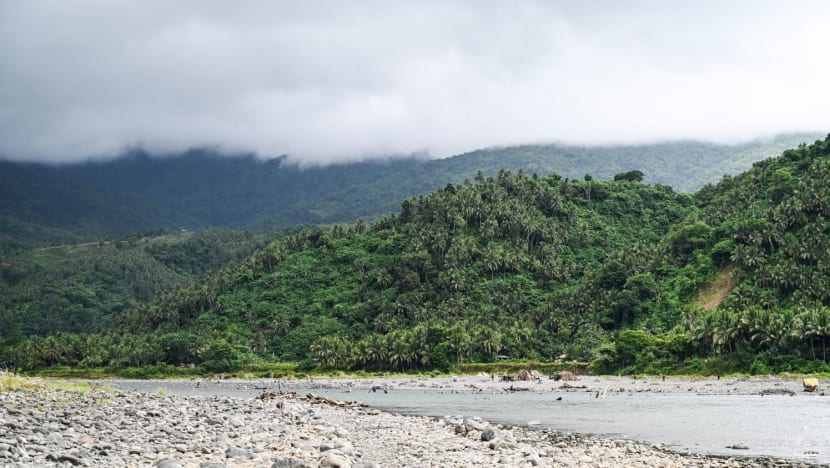 Over time, the Sierra Madre has been pillaged of its defensive assets. In the face of ever worsening impacts of climate change, the potential demise of this natural shield poses great risks. 
"It's crucial, not just for Metro Manila, but all of Luzon," said Tony La Viña, an environmental policy expert and executive director of the Manila Observatory
"We're having problems because people take it for granted that this will always be there and you don't have to do anything. 
"They don't realise that when they deforest it, when the mountains are actually literally cut down to size for quarrying purposes, then the protection disappears," he said.
It is estimated that the Philippines has lost about 90 per cent of its original forest cover since the days of early Spanish colonisation. Deforestation has continued despite bans on logging and attempts to quell illegal forest activities.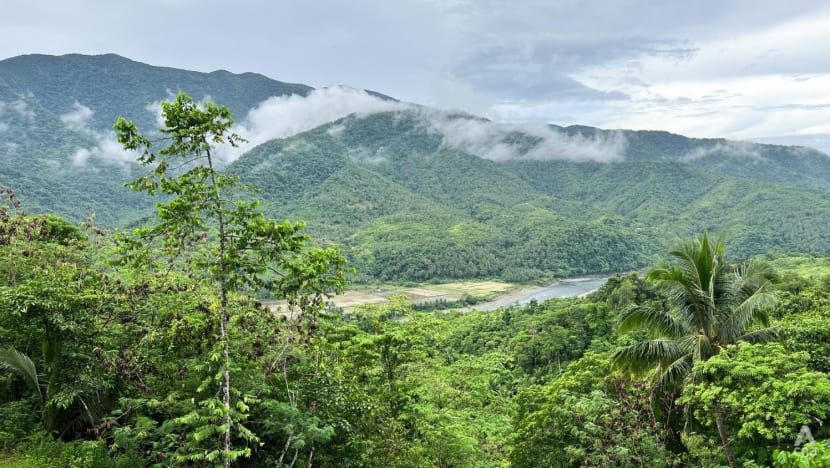 Recent efforts to restore the country's forested areas through the Enhanced National Greening Program, which continued under the Duterte administration, have been mixed. 
While billions of seedlings have been planted during the programme, survival rates for young trees have been low and successful reforestation has simply offset continued deforestation in other areas.

Throughout the Sierra Madre range, deforestation rates picked up again between 2016 and 2018 after declining for the five years prior to that, researchers found.
Officials with the Department of Environment and Natural Resources (DENR) conceded that particularly in remote areas, they struggle to curtail the intruding and illicit influences that affect the Sierra Madre region. 
"Actually the enforcement and protection of the park is really a challenge to us," said Gwendolyn Cabataña Bambalan, the DENR director of Region 2, which covers the northern sections of the Sierra Madre.

"It's really very important for us because it is the home of carbon sequestering and serves as a natural barrier to any calamities that might affect us," she said.
The mountain range is host to multiple critical watersheds. Water that falls upcountry flows all the way down the Pasig River, Marikina River and then out to Manila Bay.
It is exactly that water that the Philippine government wants to harness, as a solution to the capital's drinking water woes. But, the Dumagat people will be standing in the way.
CONCRETE IN THE JUNGLE
The first time Danny Escaraga stepped away from his people's forest realm and into the bustling capital city, he recalls being struck by the scale of man's intervention, the tall buildings and busy roads.
"When I saw Manila, I thought, 'so there really are places like this'," he said.
"Where I'm from there are rivers without bridges. In Manila, there is a bridge even without a river. It made me realise that there really are places in the world and in this country that are so different from where I'm from." 
Soon, he fears, the concrete of the cityscape he once looked at in amazement, will be constructed in his people's own patch.
With support and funding from the Chinese government, the Kaliwa Dam project promises to provide 600 million litres of raw water from the Sierra Madre to a fast growing metropolis every single day. 
It is a controversial idea that was meant to be a flagship project of the Duterte Administration but has now fallen into the hands of the new government led by President Bongbong Marcos. The dam has been delayed several times and while some construction has begun around the project site, it is far from certain to be completed.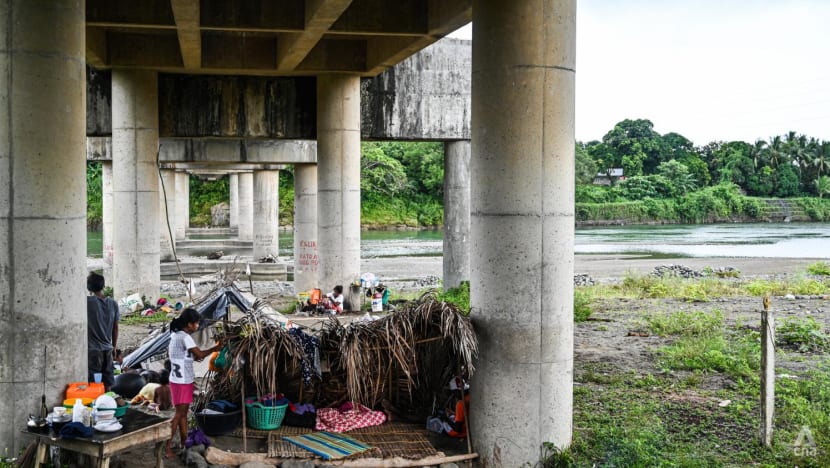 It falls within an Environmentally Critical Area, and if it proceeds, will see the flooding of old growth forest areas and displace thousands of people. 
For opponents of the project, it has become symbolic of the continued degradation of a precious ecosystem.

"These are the types of projects that plague the critical watersheds across the Philippines, not only the watersheds relevant to Metro Manila," said Leon Dulce, the national coordinator of Kalikasan People's Network for the Environment.
"It's part of that economic paradigm where the damages in cost to the environment are always externalised. They're never part of the equation.
"So the damages are borne by the frontline communities. And that is why the most motivated to stop these projects are the defenders in these grassroots communities," he said.
The area around the dam site has become heavily patrolled - there is palpable tension among local indigenous peoples. The recent arrest of a high-profile activist has put the community on a conflict footing on an environmental frontline.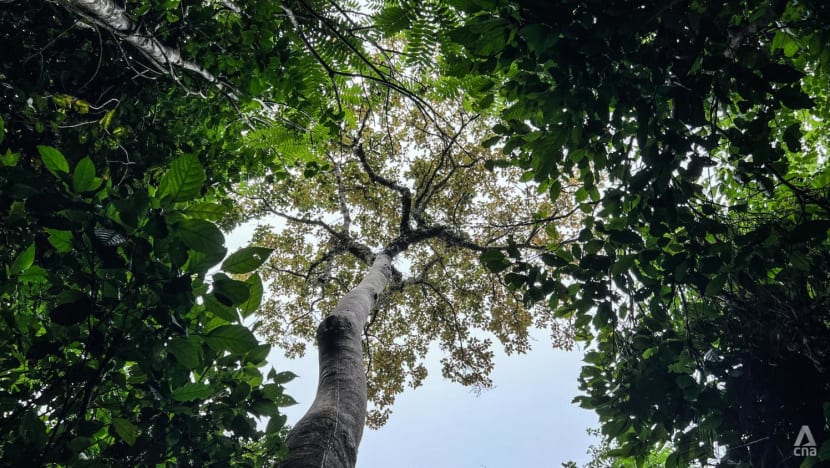 "We are opposing the project not because we are not denying anyone of water, but because we don't want the environment to suffer," said Dumagat tribal leader, Jualito Tina.
"We are protecting our lives when we protect our native land. The younger generations will suffer should we fail to take care of the environment.
"There would be no problem if it would really resolve Metro Manila's water supply issue, but is there no other way? It would be an answer to one problem in the city, but there would be consequences and sacrifices," he said.
Climate change and development pressures have already made an impression on the landscape around the municipality of General Nakar in Quezon, where Dumagat tribe members reside. 
Standing in the way of further possible environmental damage, however, is a precarious game, here and throughout the entire country.
DEFENDING THE LAND
Wedged between the Sierra Madre range and metropolitan Manila, the Masungi Georeserve is a critical piece in the wider ecological system.
Age-old pinnacle limestone karsts emerge dramatically throughout the 430-ha protected area. From their heights, the skyline of metro Manila emerges encircled by its daily haze. 
Masungi is a rare type of project - a private enterprise that has taken custody of land critical for the public good. The georeserve has become a popular tourist destination and small groups of city escapists scramble on rope walkways and pose for selfies overlooking a dense rainforest reserve.
There is pride in the voice of Ann Dumaliang as she recalls how this land used to be when she and her sister would play here, while their engineer father envisioned its fate.
"In the 1990s when I was around like six or eight years old, and our dad would bring us here, and I'd usually be playing in dried grass and goat poop to be honest," she said.
She added: "What's very noticeable then was just the scorching heat of the sun at your back because there were very few trees in the area. And it's nice to really grow old with a place and see how it's evolved through time. 
"From a barren landscape like that, it's really evolved into this lush greenery that we are now protecting."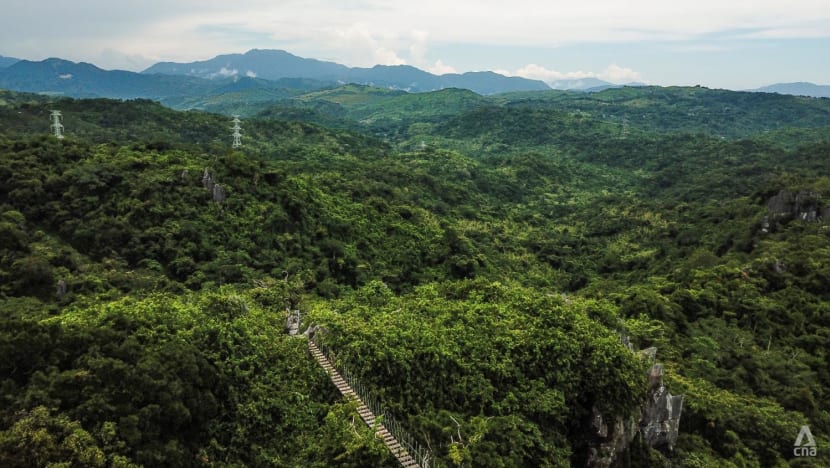 But Dumaliang, a conservationist and geotourism advocate who co-manages the park with her sister, is frustrated and exhausted by the constant struggle to manage Masungi's boundaries.
Land grabbing is rife around the green fringes, water is being diverted and trees are being cleared to build resorts or houses. Masungi rangers - many of whom are indigenous peoples - are the ones putting themselves in harm's way to prevent these activities.
"When people talk about development aggression, that's basically how it first manifests - people grabbing land that they are not supposed to take for themselves," she said.

"And we're not talking about ordinary people taking land because they are landless. We're talking about syndicates, businesses, who have made a profit out of selling land and occupying land.
"It's also been so violent in the last year. It's so exhausting. It's so tiring."
In July last year, Kuhkan Maas was one of two rangers shot in the head and neck and almost killed while defending a patch of adjacent land, where there are ongoing disputes with resort operators and companies looking to develop a large-scale quarry.
His main role is to help plant trees and restore the 2,700 ha piece of land as part of an agreement with the national government in 2017. But he also has to contend with intruders.
"I think our jobs as rangers are important. It is a very difficult job. We get a lot of hate, he said.
"If there are no rangers, trespassers will be able to occupy the area. We caught so many violators who cut trees, burn wood, install structures for the resorts down below.
"I now have a child. I want my child to be like me. That when he grows up, he will see the work I have done. He will see the trees I have planted."
These are the types of risks that had the Philippines ranked the third most deadly country in the world for land and environment defenders in 2020. It had the worst record in Southeast Asia for eight consecutive years.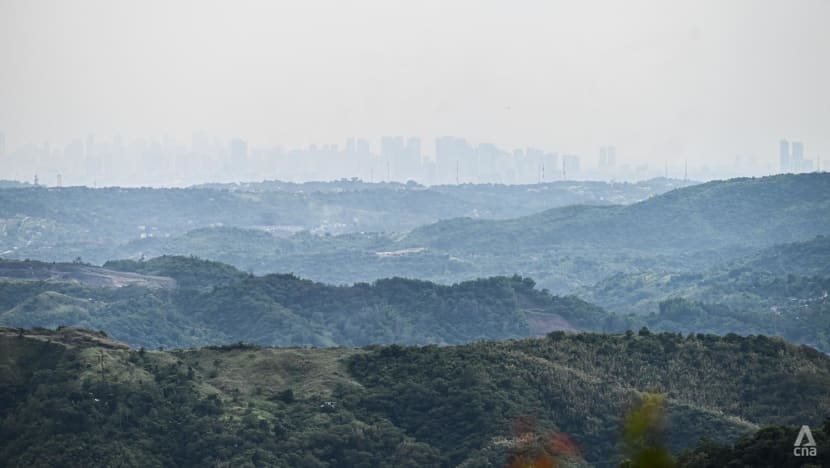 Under the Duterte administration, 166 killings of land defenders have been recorded since 2016, according to Global Witness.
As the fourth most vulnerable nation in the world in terms of climate impacts, Dulce of the Kalikasan people's network believes the work of these defenders are of "global consequence".
"Filipino environmental defenders are operating in what we would describe as a planetary frontline. It's a crucial battleground where we are working - in one of only 17 mega biodiverse countries in the world," said Dulce.
"We are a hotspot for forest loss, deforestation. We are a target for mining expansion. And we are also a frontline of the impacts of the climate crisis."
"It's alarming that the dangerous work that we Filipino environmental defenders engage in is the first but also the last remaining line of defence left against these destructive projects that threaten to unleash unimaginable disaster on millions and millions of Filipino people, especially in Metro Manila," he said.
"Most of us in the capital region are unaware about the dangers that are looming on the horizon."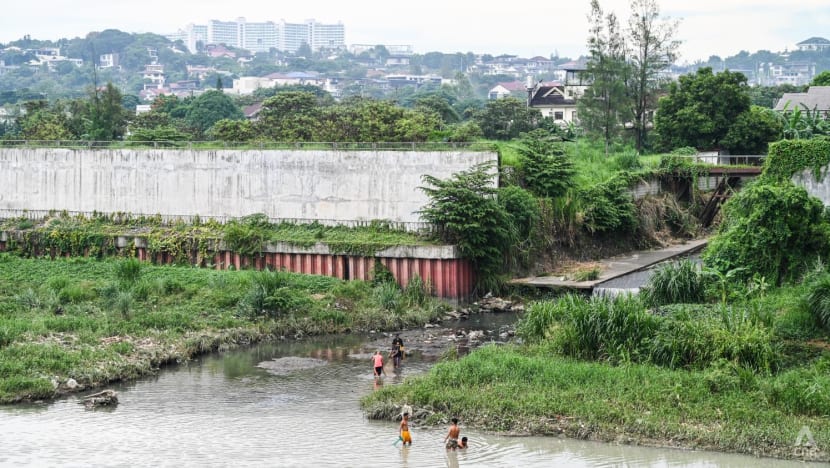 IN THE FACE OF THE FLOOD
At the end of the watershed system, residents in Marikina, a city of metro Manila, live in the flood path of twin rivers.
Misery has inundated this place in the past, most recently in 2019 when Typhoon Ulysses brought devastating flood waters that quickly swallowed up low-lying neighbourhoods.
The inability of watersheds upriver to hold water saw debris barrelling towards the densely populated neighbourhoods in Marikina.
During both typhoon and flooding events, Mary Jane de Paz was left standing on her rooftop as the swollen river engulfed her family's home.
But she does not plan to leave the area amid a feeling that authorities and the community itself are better prepared for disaster events. 
"As a mother, I do not wish for my children to experience what I have experienced. But the memories and the blissful times I had with my parents who have passed on keep me from leaving. I'd rather prepare for the flood when the rainy season comes," she said.
Since the devastation of Typhoon Ondoy in 2009, city authorities have been taking preventative measures against bigger storms. 
The 'Great Wall of Marikina' is a gravity wall along the Pasig-Marikina River that has been years in the making - and still incomplete - but designed to reduce flooding impacts.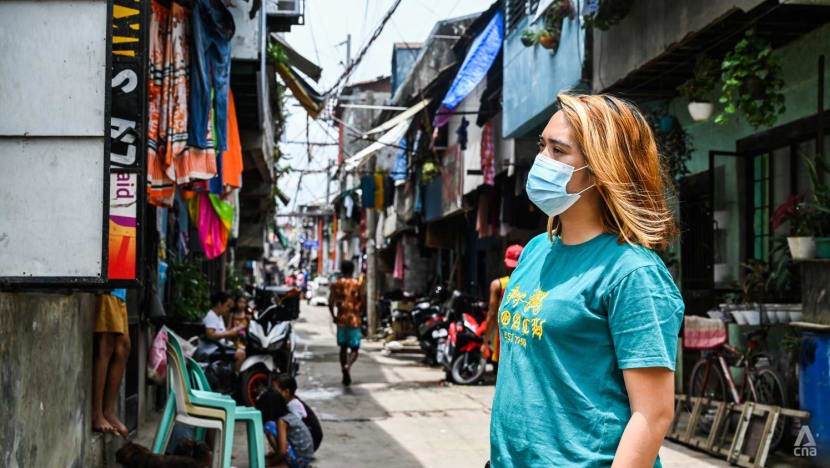 Here, there is also support for more infrastructure to solve climate-fuelled problems, including the Kaliwa Dam.
"We cannot stop flooding until the construction of the dam is complete. Although we can minimise the casualties, we cannot stop flooding. Our priority is the safety of our people," said Redentor Masangkay, a local government unit official in charge of disaster management.
He expressed confidence that the Marcos administration will act on promises to revamp "long overdue" projects to help with flood management from the previous Ferdinand Marcos era.
Others hope that the Philippines will do more to develop strong climate policies, particularly around adaptation and the empowerment of local communities. 
How the new national government handles the environment will be crucial, but remains unclear at this early stage.
"I frankly, have no idea what to expect because they have no platform. And they obviously have different, more personal priorities. But they did say that climate change would be a priority," Niner Guiao, Managing director of Parabukas, an international environmental consultancy
"We're kind of optimistic," she said, "but also trying to be extra watchful."
Additional reporting by Aiah Fernandez.