Daily round-up, Aug 4: China fires missiles around Taiwan; Malaysia says no decision yet on lifting chicken export ban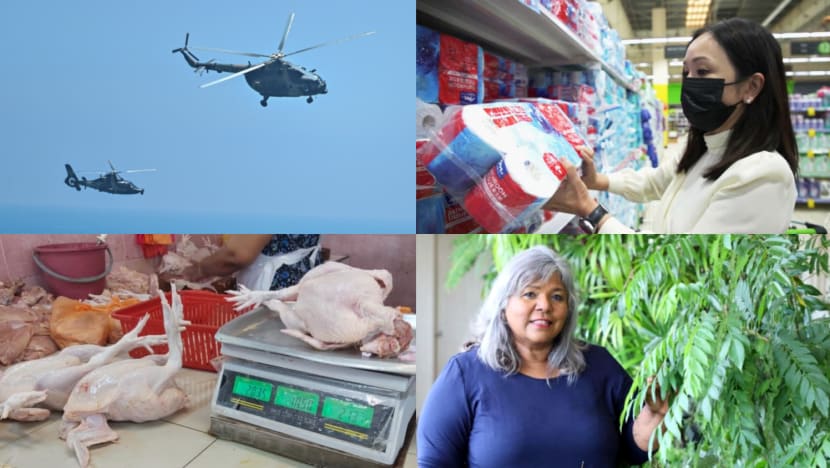 Let's get you caught up on the day's top stories.
China began its largest military exercises around Taiwan on Thursday (Aug 4), firing multiple missiles into waters around Taiwan.
The show of force straddles some of the world's busiest waterways and comes after US Speaker Nancy Pelosi visited the island.
Some of the ballistic missiles fired by China are believed to have landed in Japan's exclusive economic zone (EEZ) for the first time, Tokyo's defence minister Nobuo Kishi said, adding that it has lodged a protest with China.
South Korean airlines have temporarily cancelled flights to Taiwan and Singapore carriers are avoiding areas affected by China's live-firing exercises.
China's manoeuvres take place in an "incredibly busy waterway", used to supply vital semiconductors and electronic equipment produced in East Asian factory hubs to global markets.
Analysts warn that the shutting down of these transport routes - even temporarily - will have consequences not only for Taiwan but also global supply chains. 
Malaysia's Ministry of Agriculture and Food Industries has clarified that the chicken export ban is still in force for the time being.
Agriculture minister Ronald Kiandee had said earlier in the day that the export ban on chickens was scheduled to end on Aug 31.
The ministry said that any decision to lift the ban will be decided by the government based on a study on the stock and production at the farm level.
More consumers are turning to supermarket house brands as inflation shrinks what they can buy with the same amount of money.
But cheaper does not necessarily mean inferior, as the products could be from the same manufacturer making the branded stuff, a supermarket chain says. It explained why manufacturers would want to sell their products under supermarkets' house brands. 
There are more than 120 types of edible weeds growing wild across Singapore, forager Laletha "Lita" Nithiyanandan says.
She and fellow forager Alexius Yeo told CNA Lifestyle about edibles to look out for, and how they can be used - not just for salad garnishing but also for their reported medicinal properties.