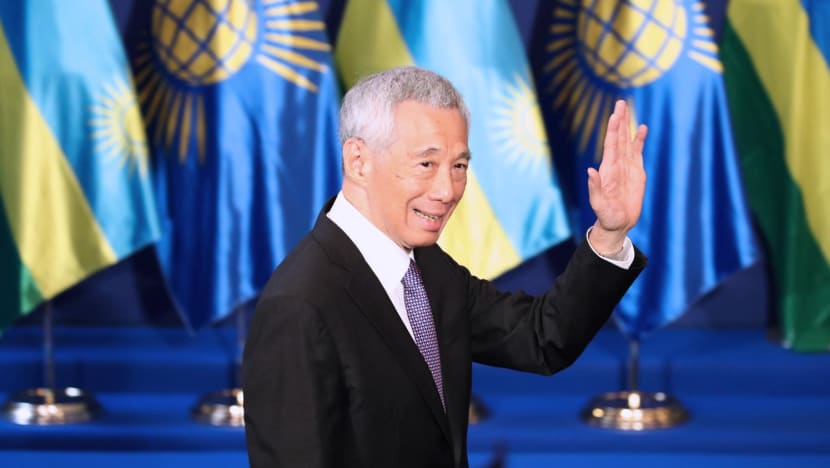 KIGALI, Rwanda: Countries must be wary of turning to protectionism, Prime Minister Lee Hsien Loong said on Friday (Jun 24), warning that it was "impossible" for any one nation to produce everything it needs by itself.
This comes as the pandemic exposed the complexity and weakness of global supply chains, he said, pointing to how supplies of gloves, personal protective equipment, and ingredients for tests and vaccines were sometimes disrupted and interdicted.
"Faced with an emergency, some governments intervened to override the normal operation of the free market," he said, recalling how suppliers could not fulfil promised deliveries.
Mr Lee was speaking at the Commonwealth Heads of Government Meeting, held in Kigali, Rwanda, on post-COVID recovery.
The supply chain shocks caused by COVID-19 led to an "unhappy experience" for countries and shook their confidence in globalisation, Mr Lee said.
"Countries are now emphasising self-sufficiency, moving from just-in-time production to just-in-case precautions," he said.
"Such a response is understandable, but we must be very careful not to take it to extremes, or to become protectionist. It is impossible for any one country to produce everything it needs by itself, at all costs."
Countries like India and Indonesia have banned wheat and palm oil exports to prioritise domestic supply, while closer to Singapore, Malaysia has partially lifted a chicken export ban.
"Excessive 'on-shoring' or 'friend-shoring' could result in growing economic fragmentation, make us less rather than more secure, and leave us all worse off," Mr Lee said.
"We should not abandon the pursuit of win-win economic cooperation and inter-dependence. Instead, we must work towards a more resilient form of globalisation."
Mr Lee cited trade mechanisms like Africa's African Continental Free Trade Area and Asia's Regional Comprehensive Economic Partnership - which comprises almost a third of the world's population - as "practical ways" for countries to improve cooperation.
"We must continue to promote such regional initiatives, even as we pursue the more difficult path of global multilateral cooperation," he said.
PREPARING FOR ANOTHER PANDEMIC
Mr Lee said the world needs to do "much more" together to improve pandemic preparedness.
This includes reforming the World Health Organization, among others, to develop an "effective international surveillance system" that can detect the emergence and spread of new pathogens and viruses, he said.
"Meanwhile, we must strengthen individual countries' public health response capabilities," Mr Lee said, highlighting that populations in many developing countries are still not sufficiently vaccinated against COVID-19.
According to a March article on the United Nations website, while the overall number of vaccines administered worldwide has risen "dramatically", so has the inequality of the distribution. Of the more than 10 billion doses given out worldwide, only 1 per cent was administered in low-income countries.
"Logistical constraints and challenges in public health responses have made it difficult for these countries to actually deliver shots into arms," Mr Lee said.
Mr Lee said resolving such issues will take years of "patient effort".
"We must therefore start now, to build capacity, and get ourselves better prepared for the next pandemic," he added.