Uganda starts oil drilling, targets first oil output by April 2025
Europe's energy crisis has ignited fresh interest in Africa as an alternative supplier of oil and gas.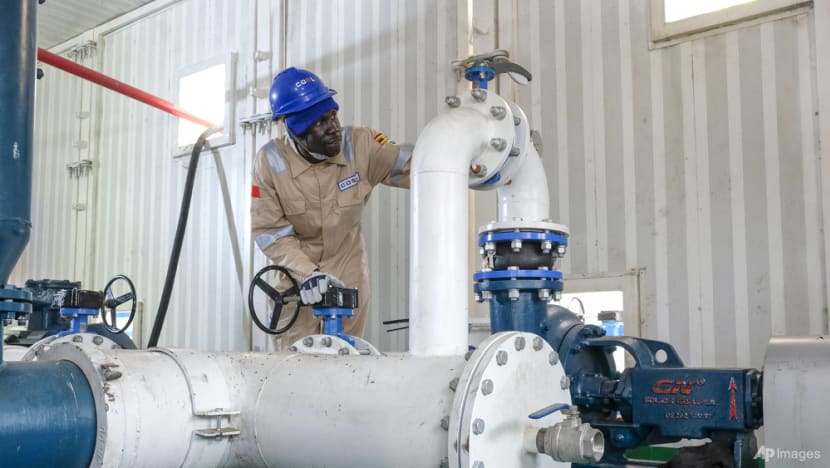 KIKUBE, Uganda: Uganda is on track for its first oil output by April 2025, putting the East African nation on the list of oil-producing countries. 
The move is expected to boost its economy, and open up investment and employment opportunities.
Europe's energy crisis has ignited fresh interest in Africa as an alternative supplier of oil and gas. 
ALTERNATIVE SUPPLIER OF OIL, GAS
In western Uganda, drilling has already started at the country's first-ever oil production wells, despite mounting criticism from environmental activists.
The Kingfisher oil field, operated by the China National Offshore Oil Corporation (CNOOC), is expected to drill more than 30 wells and produce about 40,000 barrels of oil at its peak.
It is a few kilometres away from the Tilenga oil field, managed by France's TotalEnergies. Drilling there begins later this year and it is expected to produce some 190,000 barrels daily.
Crude oil will be pumped through the East African Crude Oil Pipeline, believed to be the longest heated export pipeline in the world.
It will run more than 1,400km from Hoima in western Uganda to Tanzania's Tanga port, where the transported oil will be sold to global markets. 
Uganda is also looking to partner with other international firms to build an oil refinery to produce finished oil products for local and regional markets.
"Momentum is picking up on the ground, work is getting busier," said Mr Martin Tiffin, managing director at the East African Crude Oil Pipeline. 
"So there's a ripple effect from our activities, rippling into the economies of Uganda and Tanzania, and it's nice to see that in a tangible way."
DRIVING RESIDENTS OUT
Uganda will have to borrow much of the money it needs to fund these projects, with China being a major source. The rest will come from oil companies.
However, the race for oil has also driven residents out of the area.
Residents living where the pipeline will run through have been relocated to other areas to make way for construction. 
But many people are unhappy about the compensation they have been given, saying it is not enough for the value of their land, property, and crops.
Mr Moses Musingunzi, one of the residents displaced by the pipeline, said: "In this area, an acre of land goes for about US$3,000. 
"How can you buy me off all this land that even has more than 500 eucalyptus trees? And you want to pay me US$2,500? This pains my heart."
The Ugandan government said more than 60 per cent of those affected by the project have been compensated so far.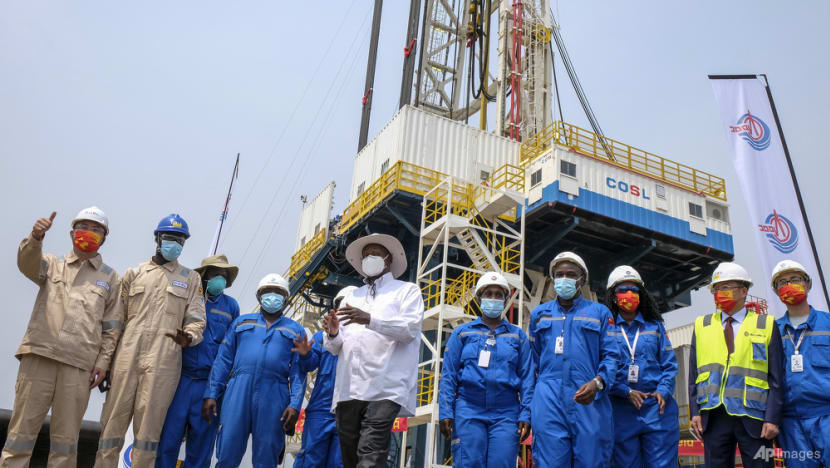 OPPOSITION FROM ENVIRONMENTAL ACTIVISTS
Meanwhile, opposition from environmentalists has become another thorny issue.
They are concerned about the infrastructure being located in an eco-sensitive area that encompasses the Lake Victoria basin, as well as national parks and rivers.
Ms Diana Nabiruma, senior communications officer at the Africa Institute for Energy Governance, said: "Nearly a third of the East African Crude Oil Pipeline is going to be constructed in the Lake Victoria basin. The developers would say they are going to do their best to either avoid, minimise or mitigate the impacts."
Despite Europe's urgent need for alternative sources of energy, the European Union has also called for a halt to the oil pipeline, citing environmental and human rights concerns.
But Uganda's President Yoweri Museveni has dismissed those calls.
Oil companies have insisted that it is safe, and that steps have been taken to mitigate the environmental impact.
"We recognise that we are working in an eco-friendly area, so we try as much as possible to limit the footprint," Ms Proscovia Nabbanja, chief executive of the Uganda National Oil Company. 
"In terms of environment, the way in which the cuttings, the drilling mud or the waste is going to be handled, we are deliberate on ensuring that we use the right quality of the mud that has minimal impact on the environment, but at the same time, the way it's going to be treated is also deliberately done."