More Americans see China as an enemy, most think Beijing not contributing to global peace: Survey
The think-tank Pew also found that most of the Americans polled believe the US and China cannot cooperate on resolving international conflicts.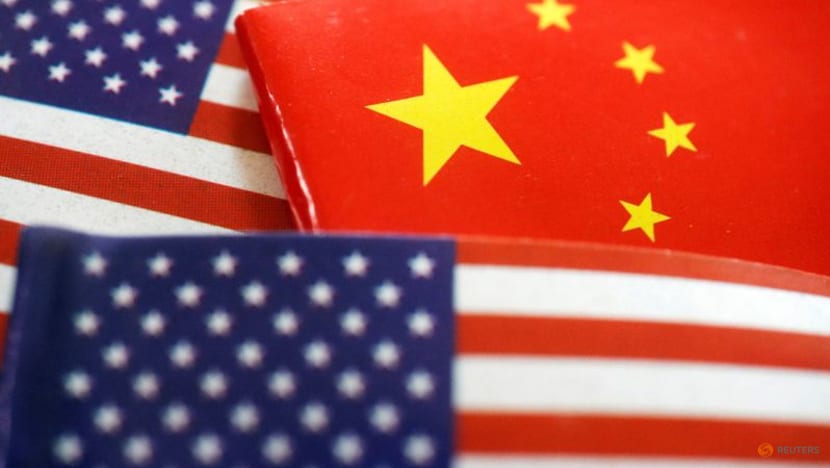 SINGAPORE: An increasing number of Americans see China as an enemy of the United States, according to a survey released on Wednesday (Apr 12).
The American think-tank Pew Research Center interviewed 3,576 US adults in late March, to gauge their views on China.
When asked to label China as either a competitor, enemy or partner of their country, four in 10 - 38 per cent - said "enemy". This was up from 25 per cent a year ago and the highest figure since 2021.
Though most of the respondents (52 per cent) viewed China as a competitor, this was a dip of 10 percentage points from 2022.
Only 6 per cent see China as a partner of the US.
The survey follows a string of run-ins over the past few months involving the two superpowers, among them the threat of Chinese-owned social media app TikTok being banned in the US.
TikTok's chief executive officer Chew Shou Zi was grilled on Mar 23 by US lawmakers over concerns of Beijing having access to American user data.
In February, a suspected Chinese spy balloon over US airspace was also shot down by the military, prompting a strong response from Beijing describing Washington as "clearly overreacting and seriously violating international practice".
Among the Pew survey respondents who viewed China as an enemy of the US, 53 per cent were Republicans - an increase of 11 percentage points from 2022. The number of Democrats who shared the same view also rose over the year, from 12 per cent to 27 per cent.
Older Americans were also more likely than younger ones to call China an enemy, said Pew, noting that about half of respondents aged 65 and above shared this view compared to about a quarter of those under 30 years old.
On the topic of possible US-China cooperation, most Americans (54 per cent) surveyed thought both countries could not work together to resolve international conflicts.
More than half (52 per cent) also felt the same about the US and China cooperating on climate change and dealing with infectious diseases.
Pew found that Democrats tended "to be much more amenable to working with China on all key issues mentioned than Republicans".
Respondents were also more open when it came to student exchanges and trade and economic policy, with a respective 65 per cent and 52 per cent thinking it was possible for the US and China to collaborate on those fronts.
Younger and higher-educated Americans also saw more opportunities to work with China, in keeping with past Pew surveys which found that younger people tended to prioritise multilateralism. 
"NEGATIVE VIEWS CONTINUE TO BE HIGH"
Pew said that among the Americans surveyed, "negative views of China continue to be high", with 83 per cent expressing an unfavourable opinion of Beijing.
The proportion sharing this sentiment has steadily increased from 35 per cent in 2005. That year, more Americans (43 per cent) actually viewed China favourably, but this share has since dipped to 14 per cent.
A large majority (91 per cent) of older Americans aged 65 and above have negative views of China, compared with 75 per cent of those aged 18 to 29.
When it came to China's technological achievements, however, two-thirds of the Americans offered compliments, saying they were either the best or above average in relation to other wealthy countries.
About 51 per cent also thought the same of China's military.
On China's soft power, only 14 per cent rated its entertainment industry - including movies, music and television - as the best or above average.
The American survey respondents were also critical of China's behaviour on the global stage, said Pew. Around three-quarters or more saw China as not taking the interests of other countries like the US into account, and as interfering in the affairs of other countries.
As many as eight in 10 believed that China does not contribute much to peace and stability around the world.
Source: CNA/Agencies/rc(jo)