Knock-on effect of California's drought dries up businesses in agriculture, transport, even retail
The dry spell does not just affect those on the fields, it also trickles down to those working in the industries post-harvest, including in processing, transporting, and marketing.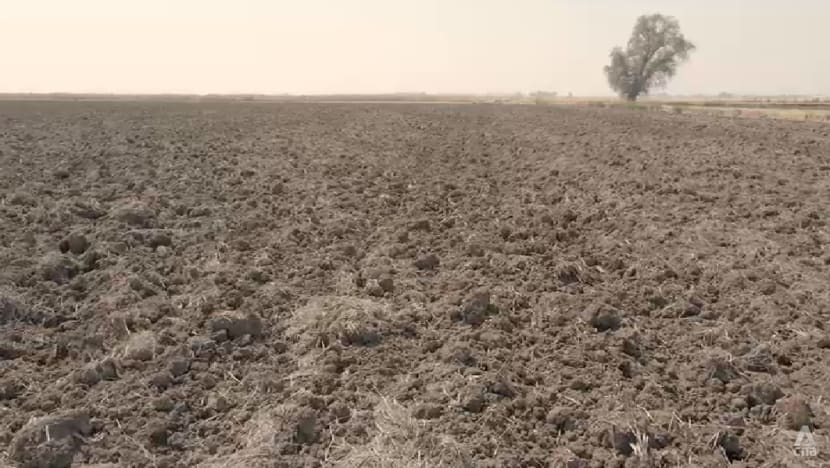 WILLIAMS, California: Into the third year of an extreme drought, California's large agricultural industry is bearing the brunt of the dry spell, with farmers unable to plant crops like rice.
However, farming is not the only sector feeling the heat.
A growing number of businesses and workers who depend on the industry are also struggling, as the knock-on effect of the prolonged drought sets in.
One such business owner is Ms Juanita Martinez, whose shop sells work clothes and western apparel in the farm town of Williams, about an hour north of the state's capital Sacramento.
Most of her customers work in the area's many rice and almond fields, and footfall to her store has been dwindling.
 
"We are a farming community. So I'm guessing that it's 80 to 90 per cent that we rely on the farm labour community to survive," said Ms Martinez, who owns Rancho Viejo Western Wear.
As cracked, barren land dries up farm work, many small local businesses like hers are suffering as workers stopped staying in town and spending money.
"We have been feeling it because a lot of the people that used to come in during the season just to plant the rice, they're out of a job," said Ms Martinez. "So right now, they're looking for jobs in a different area, or they're unemployed."
DROUGHT CAUSING FINANCIAL, JOB LOSSES
More than 97 per cent of California is now classified as facing severe drought conditions, according to the US Drought Monitor.
Last year, the crippling dry spell cost the state's agriculture industry – the largest in the US – about US$1.1 billion, according to a study by the University of California, Merced. Other sectors sustained another estimated half a billion in losses.
More than 14,000 jobs in, or related to, agriculture were lost.
The last two years were the second-driest two years on record, and the increasing scarcity of water is wreaking havoc across the region.
In parts of California where the majority of US' short and medium grain rice is grown, many farmers are unable to find water to flood their fields.
Even farmers who are able to plant crops have reported a reduction in harvest yields, which is contributing to record-high food prices.
The United States Department of Agriculture (USDA) said it is expecting rice crop to drop by 38 per cent this year.
KNOCK-ON EFFECT
Experts said that this does not just affect those on the fields, it also trickles down to those working in the industries post-harvest, including in processing, transporting, and marketing.
"So that rice that's not grown is therefore not milled. It's not dried, it's not shipped, it's not packed. Or even prior to that, it's not planted," said Professor Daniel Sumner from the University of California's department of agricultural and resource economics.
"So the company that plants the rice by air – it isn't hiring anybody to do that job. So on both sides of the farm – that is the farm input side and the processing and marketing and transportation – all of that is lost to the economy as well."
While many farms receive some economic protection in the form of crop insurance or relief grants, those in the wider industries indirectly affected by the drought are left to fend for themselves.
"It's been a very dry year since last year. We didn't see any rain, especially here in our community, but hopefully with our hopes high and praying, you know, and that we will have better years to come," said Ms Martinez.