Victory for Najib and our family, says Rosmah after 1MDB audit tampering acquittal
Najib Razak's lawyer said the court's decision lifted the former Malaysia prime minister's spirit and desire to fight.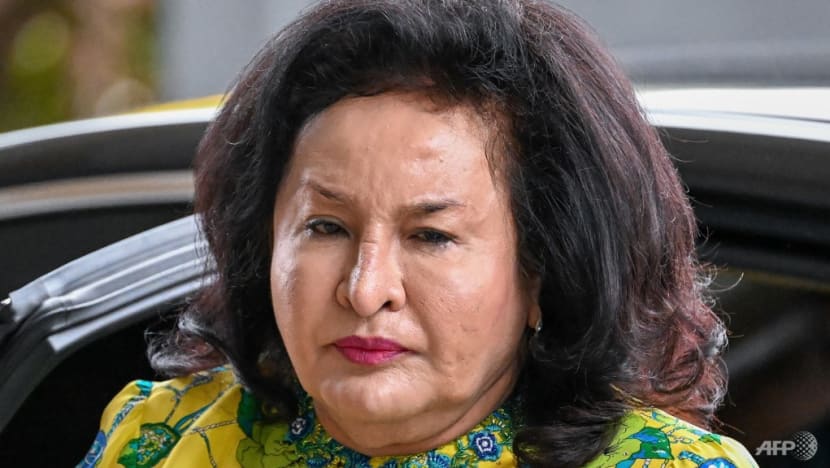 KUALA LUMPUR: The Malaysian court's decision to acquit former prime minister Najib Razak of charges related to the tampering of the 1MDB audit report is a victory for the family, said his wife Rosmah Mansor on Friday (Mar 3). 
"Thankfully, thank God, today's case is a victory not only for my husband but for our family," she said, adding that Najib expressed gratitude for the outcome, which was highly anticipated. 
"Hope God willing ... better things to come," she told members of the media after the proceedings of the case in Kuala Lumpur. 
The charge dismissed on Friday focused on allegations that Najib ordered a report on the 1Malaysia Development Berhad sovereign wealth fund by the government's official audit body to be altered in February 2016.
He was allegedly assisted by Arul Kanda, who was president and chief executive of the fund at the time. Arul was also acquitted on Friday. 
Najib's counsel Muhammad Shafee Abdullah said the decision by Judge Mohamed Zaini Mazlan has lifted the spirits of the former leader.
"Najib wanted to communicate to the members of the media, he wanted to tell you (press) that he is grateful to Allah with this decision today because it really uplifts his humble (Najib) spirit and desire to fight."
Muhammad Shafee added that the decision on Friday was the beginning of many good things to come.
"This is the first case out of those cases that we got a good result. I hope that the Attorney-General's Chambers will not appeal because the finding of the judge is completely supportable."
Najib, 69, was brought to court Friday from Kajang Prison, where he is currently serving a 12-year jail sentence for corruption linked to the plunder of 1MDB's funds.
His acquittal from the tampering charge does not affect his current jail sentence.
Friday's court ruling eased the pressure on Najib, but the former leader still faces dozens more charges, which could lengthen his stay in prison.
Most of the charges are related to his alleged role in the 1MDB financial scandal, which had led to investigations around the world, including in the US, Switzerland and Singapore.