Malaysia not 'some banana republic', will go 'very far' to recover stolen 1MDB funds: PM Anwar
The Malaysia premier also says his government is determined to bring back a convicted Goldman Sachs banker and a financier fugitive, both linked to the 1Malaysia Development Berhad (1MDB) case.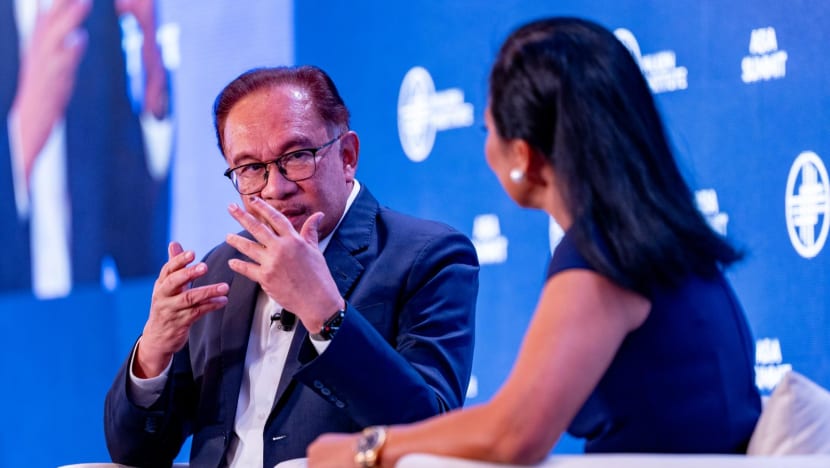 SINGAPORE: Malaysia is not "some banana republic where one can plunder and leave", said Prime Minister Anwar Ibrahim, as he warned US investment bank Goldman Sachs that the country would go "very far" to retrieve most of the public funds lost in a multibillion-dollar financial scandal.
He also said the government is determined to bring back convicted Goldman Sachs banker Roger Ng Chong Hwa and financier fugitive Low Taek Jho, both linked to the 1Malaysia Development Berhad (1MDB) case.
Speaking during the Asia Summit organised in Singapore by the Milken Institute on Wednesday (Sep 13), Mr Anwar warned Goldman Sachs not to take Malaysia "for a ride" and urged the bank to renegotiate a settlement it had reached over 1MDB with a previous Malaysian government.
"You cannot say that this issue is over because it was agreed by my predecessor. I have issues to raise," said Mr Anwar, adding that Goldman Sachs has not been forthcoming over the matter and that he does not wish to prolong this issue.
"Why can't we continue to engage and discuss? We have our position; we want some more money back."
Under a 2020 settlement agreed with the former Muhyiddin Yassin administration, Goldman Sachs agreed to pay Malaysia US$3.9 billion for its role in the 1MDB case, while Kuala Lumpur agreed to end all criminal proceedings against the bank.
This includes a US$2.5 billion cash payment and a guarantee to return US$1.4 billion in assets to Malaysia.
Malaysian and US authorities estimate some US$4.5 billion were stolen from 1MDB between 2009 and 2014, in a globe-spanning scheme that implicated high-level government and banking officials in Malaysia and elsewhere.
Mr Anwar has publicly declared the deal as being far from satisfactory, saying on Wednesday that he would like to get back as much of the money as possible, and that the recovered funds would go to public education, healthcare and amenities.
"Everybody knows ... that Malaysia suffered immensely due to the excesses of 1MDB. It could not have happened in the manner it did without the complicity of international financial institutions, and in this case particularly, Goldman Sachs," said Mr Anwar, though he declined to reveal how much Malaysia has received from Goldman Sachs.
He also told Bloomberg anchor Haslinda Amin that he was prepared to take a "tougher" stance - including legal action - against Goldman Sachs, reiterating a warning just ahead of his trip to the US next week for the United Nations General Assembly.
While Mr Anwar accepted that a previous settlement had been reached under former PM Muhyiddin, he said he wished to raise some issues and urged the bank to listen to him in hopes of settling some of them "amicably".
"I would convey clearly to Goldman Sachs to put an end to this, but it depends on them. They have to be forthcoming; they cannot shy away," said the premier, adding though he would not be meeting with bank officials yet.
"You can't consider us (to be) some banana republic that you can plunder and then leave us alone. No. We will not stop at that, because it's not my money and I owe it to my people."
BRINGING BACK ROGER NG, JHO LOW
Before his dialogue at the Asia Summit, Mr Anwar also spoke to CNA's Melissa Goh and Afifah Ariffin in an interview where he stated his desire to bring former Goldman Sachs banker Roger Ng back to Malaysia to face outstanding 1MDB-related charges.
Ng, a Malaysian citizen who was extradited to the US in May 2019 under a special government-to-government arrangement, played a central role in the 1MDB fiasco.
He was convicted in April 2022 over the case and just under a year later was sentenced to 10 years in prison by a US District Court.
CNA previously reported that Kuala Lumpur's determination to secure Ng's quick custody appears to be tied to fresh efforts to push Goldman Sachs back to the negotiation table to revisit its controversial settlement.
US government prosecutors, however, want Ng to serve out his jail time before he can be handed over to the Malaysian authorities.
They noted that Ng has knowledge about previously undisclosed dealings between Low and top executives of Goldman Sachs over 1MDB that could significantly strengthen Malaysia's case for a higher settlement.
Mr Anwar said on Wednesday that his government is in the process of negotiating Ng's extradition with the US Department of Justice, which he said has been "quite cooperative".
"I am optimistic that it can be done," he said. "He (Ng) knows a lot when he was in charge, and he won many of these deals. So, I think he should be able to assist us in that sense."
Mr Anwar was also asked about another 1MDB-linked figure - fugitive financier Low Taek Jho, often called Jho Low - in relation to his other upcoming foreign trip to China from Sep 17, where he will meet with Premier Li Qiang and discuss investment as well as "issues of concern".
When asked if Jho Low, the alleged mastermind behind the 1MDB scandal, was in China, Mr Anwar said he does not know "for certain".
"But certainly I will explore (it), because we have to bring him back," he said.
Malaysia's anti-graft agency had said in May that Low is believed to be hiding in Macao. 
Low has been charged in Malaysia and the United States for allegedly masterminding the theft of US$4.5 billion from 1MDB. He has consistently denied wrongdoing.
"We don't know where he is. I mean, I've asked intelligence and security personnel. With his contacts and his enormous wealth, we can always do a lot of things to him and change it for the better," Mr Anwar said.
"I'm not in a position to say more, except for the fact that we are determined. Whether it's Jho Low, Goldman Sachs, we will try and get as much back as possible."
CHINA RESPECTS MALAYSIA TERRITORIAL WATERS: ANWAR
In the interview with CNA, Mr Anwar touched on how Malaysia can navigate the rivalry between the US and China, adding that it has good relations with both superpowers and must continue to engage both while remaining "fiercely independent".
"We welcome the West, we welcome China. Whoever can help improve and enhance the technological capabilities of Malaysia, we will support. We are not, therefore, guided by decisions taken by any so-called superpower," he said.
Mr Anwar said that during his discussions with Mr Li Qiang at the recent Association of Southeast Asian Nations (ASEAN) Summit in Jakarta, the Chinese premier had also given his "full commitment" that China will respect Malaysia's territorial waters.
China and Malaysia, along with other ASEAN states, have overlapping claims in the resource-rich South China Sea. China claims most of the waterway, although Malaysia's state energy firm Petronas has its largest oil platform in the disputed area, as well as several exploration projects, that Mr Anwar wants to safeguard.
"In all my discussions we have made it very clear as far as Malaysia is concerned that we will not concede our right to to our territorial waters and also to use it.
"We have informed the Chinese. Thus far, there's not been too much tension or problems, and that's why the response by Premier Li Qiang was very much welcome," said Mr Anwar in the interview, where he also spoke about how it would take time to win back the trust of a public weary of former "ministers and prime ministers" amassing wealth and leading exorbitant lifestyles.
After the Asia Summit, Mr Anwar also met with Singapore Prime Minister Lee Hsien Loong at the Istana, where Mr Lee said they reaffirmed the long-standing and multifaceted close cooperation between the two countries.
"There is still much more we can do, if both sides continue to join hands for the benefit of our peoples," Mr Lee wrote in a Facebook post.