Barisan Nasional's strategy for ethnic, gender inclusivity must be understood: Ahmad Zahid ahead of Malaysia GE15
His remarks came amid signs of dissent within the coalition after several stalwarts were dropped from the line-up.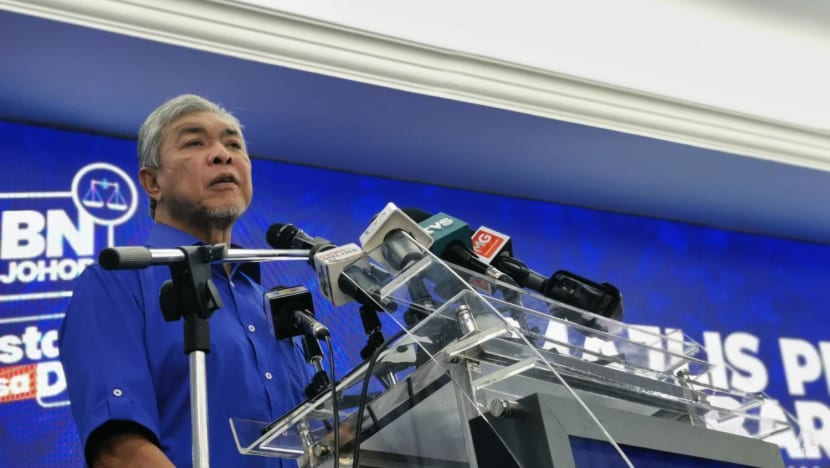 KUALA LUMPUR: Barisan Nasional (BN) chairman Ahmad Zahid Hamidi said some coalition members have not understood why it is moving towards "inclusivity and progressive policies" as part of its winning strategy in the 15th General Election (GE15). 
He said to win a particular constituency the selection of candidates should not be on the basis of skin colour, ethnicity or gender. 
In a Facebook post on Friday (Nov 4), Ahmad Zahid, however, said that some BN members have criticised the strategy because it means some of them have to be dropped in the coming election.  
"Some even despise this strategy. It is true that sometimes in the struggle towards a big victory, not all of us can reveal our secret strategies and weapons," said Ahmad Zahid who will defend his parliamentary seat in Bagan Datuk, Perak.
According to Ahmad Zahid, several MPs who have been in politics for a long time have to be dropped to make way for new faces as well as to secure more participation from the youths.
Several of those who were dropped from the list of BN candidates announced on Tuesday, included ministers in the caretaker Cabinet of prime minister Ismail Sabri Yaakob.
Ahmad Zahid, who is also president of the United Malays National Organisation (UMNO), said that there were attempts by certain male incumbent MPs who are bent on consolidating their power in GE15 to the detriment of the coalition's interests.
They included senior figures who were dropped as the coalition's candidates for the election.
Ahmad Zahid claimed that the party is trying its best to fulfil its inclusive strategy, especially in fielding more female candidates.
However, he said that there were male incumbents who have been unwilling to make way for others because they want to consolidate their power.
Although Ahmad Zahid did not name the incumbents, among those who were dropped is Mr Shahidan Kassim, who is also current caretaker minister of federal territories.
He added that BN will also field a female candidate in Tanjong Karang, Selangor, as a recognition of the struggle made by women.
The candidate will take over the seat from another UMNO's stalwart, Noh Haji Omar who is caretaker entrepreneur development and cooperatives minister.
Also to be dropped as UMNO/BN candidates are three other caretaker ministers and two deputy ministers.
Mr Shahidan and incumbent deputy minister of housing and local government Ismail Abdul Muttalib, on Thursday announced that they will be defending their seats in Arau, Perlis and Maran, Pahang, respectively, under the Perikatan Nasional (PN) banner.
On Friday, Mr Noh Omar said that whether or not he would remain loyal to BN would be revealed on Saturday during the Nomination Day.
"Wait for tomorrow in Tanjong Karang. Whoever's interested, please come," he was quoted as saying by Free Malaysia Today. 
Caretaker communications and multimedia minister Annuar Musa said on Thursday that he had rejected the offers from other parties to defend his seat in Ketereh, Kelantan.
As for his deputy in the ministry, Zahidi Zainal Abidin, who was also dropped as a BN candidate, he has announced that he would likely be defending his Padang Besar seat. But he did not mention under which party.
Meanwhile, Mr Ismail Sabri on Friday urged coalition members to set aside their differences ahead of the general election.
He said every issue and decision made was made in the interest of the party, so it was only right for every member to return the favour and give their support to ensure victory for BN in the election.
"Be it in a general election, state election or by-election, there would be issues regarding the selection of candidates...that's normal. Not every name proposed will (be selected as a candidate to) contest," said Mr Ismail Sabri as quoted as saying by Bernama.
Mr Ismail Sabri, who will be defending his Bera seat in Pahang, also called on all party members and supporters attending the nomination process on Saturday, to maintain discipline and not engage in any provocation.
POSSIBLE DISCIPLINARY ACTION
Meanwhile, the two UMNO leaders who have opted to run under PN's banner in the election may face disciplinary action soon.
UMNO vice-president Mahdzir Khalid said the decision by Mr Shahidan and Mr Ismail has clearly violated the party and coalition constitutions.
"They ought to know that they are bound by the party constitution and rules," he was quoted as saying by Malay Mail on Thursday. 
Mr Shahidan, who has been serving as an UMNO MP since 2013, while Mr Ismail has been a four-term UMNO MP.
In GE15, more than 21 million people will cast their ballots to elect 222 new members of the Lower House of parliament. 
Candidates who want to stand in the election will have to submit their names on the Nomination Day on Saturday, Nov 5.
Polling Day will be on Nov 19.