Will Bhumjaithai party play political kingmaker after Thailand's May 14 election?
The Bhumjaithai party, led by deputy prime minister and health minister Anutin Charnvirakul, is seen by voters as astute, savvy and moderate enough, without being threatening.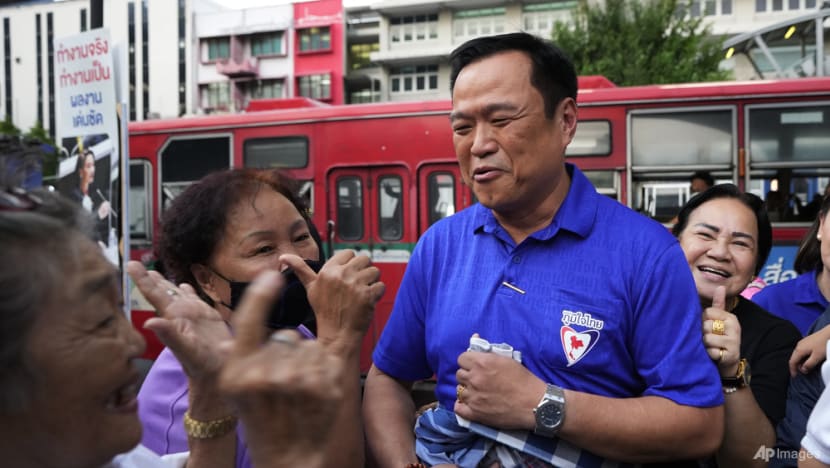 KRABI: No single political party is expected to win enough seats at Thailand's May 14 polls to form the government without a coalition, but one party could hold the key to tipping the scale, according to observers.
The Bhumjaithai party, led by deputy prime minister and health minister Anutin Charnvirakul, is seen by voters as astute, savvy and moderate enough, without being threatening.
The party, founded in 2008, had already scored big by attracting some 40 Members of Parliament from other parties - the largest number of defectors to one political party.
CAMPAIGN PROMISES
"Bhumjaithai party is the party that has delivered every policy to the people as promised," Mr Anutin told CNA at a recent rally.
Unencumbered by the COVID-19 pandemic and the ensuing economic slump, his party's major achievement was to legalise the use of cannabis for medical purposes in Thailand, becoming the first country in Southeast Asia to do so.
It was a pledge Mr Anutin himself made on the campaign trail for the 2019 election.
But it remains controversial, with political opponents and critics blaming Bhumjaithai for inadequate regulations amid reports of cannabis also being openly used for recreational purposes.
Mr Anutin has defended the policy, blaming the unregulated use on parliament's failure to pass the required Bill.
His party continues to back cannabis for medical use and as an economic stimulus.
On whether Bhumjaithai is threatened by a possible wave of nationwide support going to Thailand's largest opposition party Pheu Thai, Mr Anutin told CNA he is focused on reinforcing his party.
Pheu Thai has urged voters to give them a landslide victory at the upcoming polls, as it looks to form the next government without the need for a coalition.
"We are digging and piling to make all foundations strong. We don't like landslides. We want a strong foundation by (continuously) piling to make sure we have a very strong ground, in order to top up so many things on a solid base," said Mr Anutin.
This time round, Bhumjaithai has rolled out new campaign promises, including life insurance for citizens aged 60 and above and creating 10 million new jobs in the tourism sector.
"Our policies are all doable. We don't sell a dream, we sell reality. We don't have policies that just give out money to the people. We don't have enough money (and) the country will not have that sufficient money to just give away," said Mr Anutin.
"But we create opportunities. We let the people work certain parts and we subsidise certain parts. Then make sure that the benefits that they will receive in the future will surely lie with them. We are not giving money right out, but we give them a promising future."
BOOSTING TOURISM
Such campaign promises would matter significantly in the southern regions, including provinces like Krabi and Phuket.
Winning big in these areas would let parties bring about quicker change through enhancing the tourism sector, along with the much-needed higher economic growth from industrial crops like rubber and oil palm.
First-time Bhumjaithai candidate Kitti Kittidhrakul, a native of Krabi, is promising better bridge connections and road expansions to increase accessibility for business and tourism.
"I strongly believe the local people can make a decision based on what Bhumjaithai has offered them. Other parties have had opportunities for a long time," said the 43-year-old, who has been working at the grassroots level for years.
"This will be a crucial indicator of whether the Krabi people want to see rapid development in the province or get stuck in the same cycle. We are ready to bring a change to Krabi to make it better."
Thailand's southern provinces are traditionally dominated by the Democrat Party, but it may not be a tall order for Bhumjaithai to make inroads there.
The Democrat Party, the country's oldest political party, had suffered huge losses in the last election, even losing some seats in their southern home ground.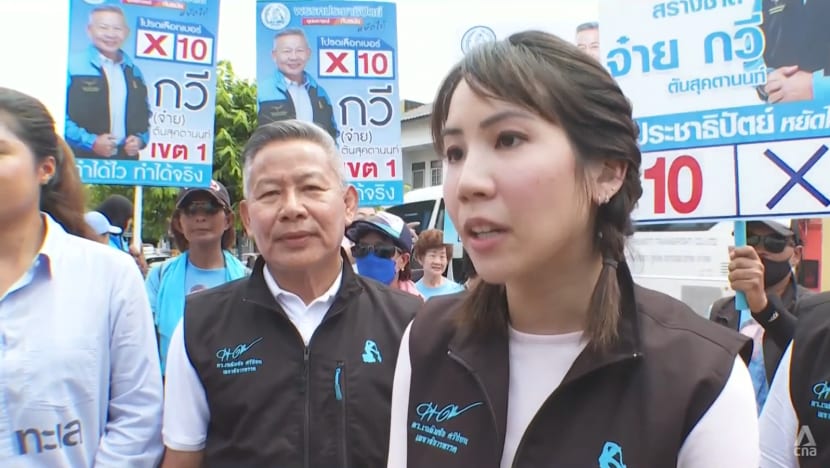 Its deputy secretary-general Chitpas Kridakorn told CNA the party is "coming back stronger and better" this time round.
"The past four years, we have learnt from our mistakes, we have learnt what we did wrong and obviously from now on, we are moving forward (and) we have strong candidates in all our provinces to fight for a seat to win the election and get a seat in parliament."
She added that the party may have started its campaigning a little slower than the other parties, but it is catching up and moving "slowly but securely".
HARDSHIP ON THE GROUND
Democrat Party candidate Sakorn Kiewkhong is aiming to secure his seat for the fourth time.
The 60-year-old is unfazed by his political competitors, as he believes he is in tune with the needs of residents.
"My thinking, my actions, and my daily living patterns are similar to the local people's, so they will vote for the person who can represent their thoughts in order to help them make decisions at the national level," said the veteran politician.
"Our party is committed to the policies that will provide long-term benefits to the people. This includes an improvement of agricultural product prices (and) a continuation of the agricultural price guarantee scheme that we implemented in the current government."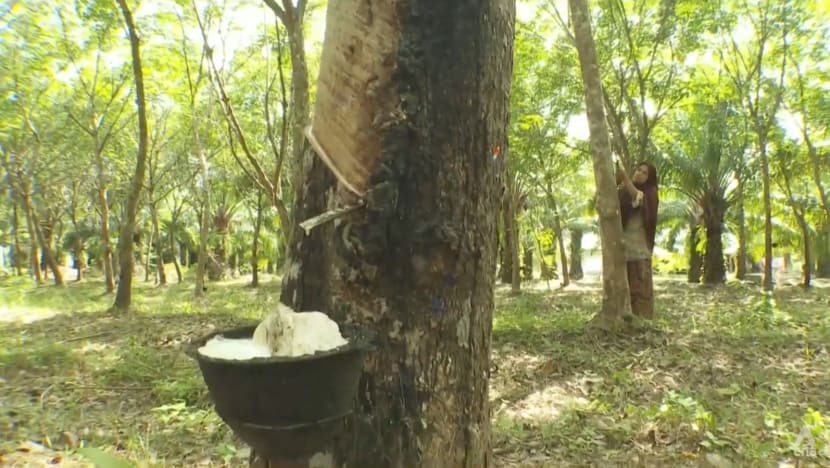 However, it may all be too little, too late, with recent hardships pushing some voters, such as rubber farmer Nattaya Chaiyamat, to choose another party this time.
"Life is quite difficult because our expenses and income are unbalanced. The prices of goods are going up. This time, I'm determined to change my vote, because I want to see my life change," said the 50-year-old, who has always voted for the Democrat Party.
"From my past experience, we were disappointed with the Democrat Party, so it will be hard for us to support them again no matter what policies they offer. When they were campaigning, everything sounded so good. But in the end, they've done nothing. It's all the same."
Such sentiment could help tip voters towards Bhumjaithai, with its reputation as the party that delivered on its campaign promises.
If no one party wins by a landslide at the May 14 polls and Bhumjaithai delivers a strong showing, it could reprise its role as political kingmaker, with all other parties looking to woo it to form the next government.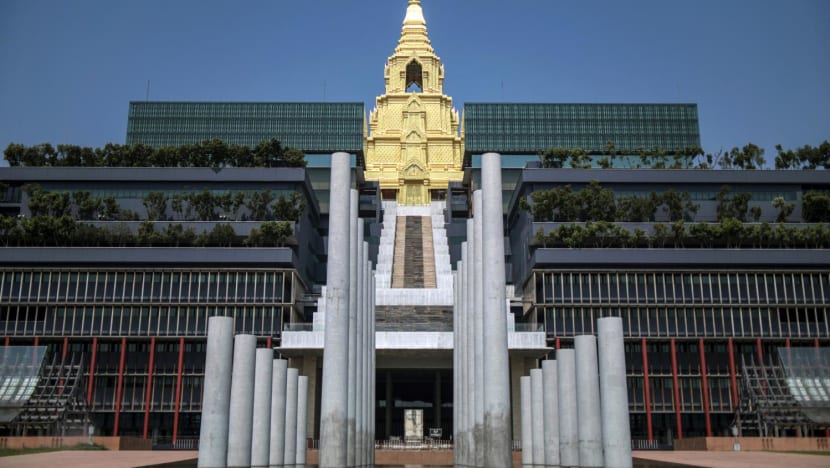 Bhumjaithai has traditionally positioned itself "as a party that can join either side of the political divide in Thailand", Chiang Mai University's political science assistant professor Panuwat Panduprasert told CNA.
"I can easily imagine a situation where Bhumjaithai will join in a coalition with (Prime Minister) Prayut and at the same time, it's also very possible that Bhumjaithai will end up being a coalition partner with Pheu Thai," he said.