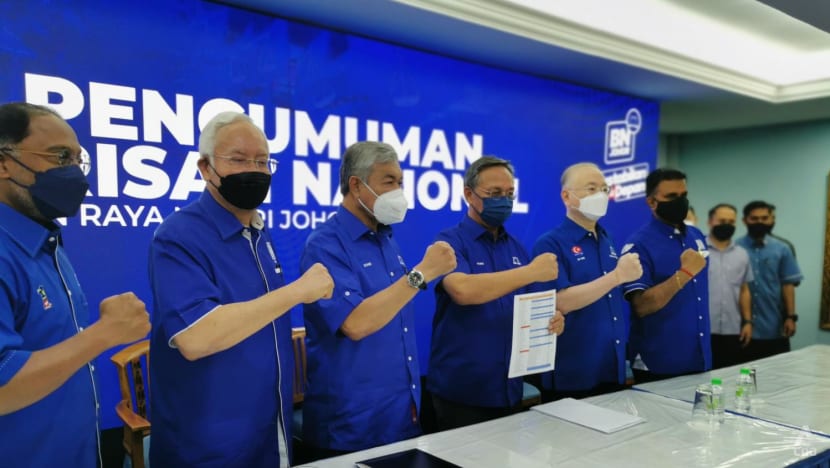 JOHOR BAHRU: The Barisan Nasional coalition (BN) has announced that it will contest all 56 seats in the upcoming Johor state elections, with 70 per cent of its candidates fielded making their political debut.
Speaking at an event on Thursday morning (Feb 24) to formally announce the candidates, BN chairman Ahmad Zahid Hamidi said he was confident that they will be "game changers".
"They will trigger big changes that will give new hope to the state of Johor," said Ahmad Zahid. 
"Many are professionals, with strong academic credentials and are able to give fresh hope to voters, especially new voters who will be voting for the first time," he added. 
Of around 2.6 million eligible voters in Johor, nearly 750,000 are new voters aged 18 and above. 
Of the 56 seats, 37 seats will be contested by United Malays National Organisation (UMNO) members, 15 seats will be fielded by the Malaysian Chinese Association (MCA) and four seats by the Malaysian Indian Congress (MIC). 
Ahmad Zahid, who is also president for UMNO, added that the candidates were selected based on three criterias - "winnability, acceptability and likeability". 
He added that 80 per cent of the candidates are aged 55 and below and that 70 per cent will be new faces. 
"I am hopeful these younger candidates are able to inject fresh excellence for Malaysians," said Ahmad Zahid. 
Among the candidates who will be fielded include Johor's caretaker chief minister Hasni Mohammad, who will stand as incumbent in his current constituency Benut. 
Ahmad Zahid said in his speech that Mr Hasni will be BN's "poster boy" for the election campaign, and expressed optimism that he will be reappointed chief minister after the polls. 
Besides Mr Hasni, other candidates who will fielded again include Mr Onn Hafiz Ghazi, caretaker chairman of Johor's Tourism, Youth and Sports Committee, who will contest in Machap as well as Johor's caretaker health and environment committee chairman and MIC member R Vidyanathan will be fielded in Kahang. 
Also speaking at the event, Mr Hasni acknowledged that the list of candidates fielded may not satisfy all BN members. But he called on the coalition to stand together to "ensure a huge win" for the polls.
He also urged BN to redeem itself after it got poor results in Johor during the 2018 General Election. Back then, the coalition only clinched 19 out of 56 state seats. 
It was the first time in Malaysia's history that Johor, considered a BN stronghold and bastion of UMNO, fell to the opposition.
"I still recall our dissatisfaction after the end of GE14. The result tore the core fabric of our society, in terms of party, government and the role of different organisations to build Johor," said Mr Hasni.  
"That's why we are here to correct this, we have pledged that we don't want to see Johor continue in this manner," he added. 
Following the results in 2018, Pakatan Harapan (PH) presided over the Johor state government. However, following a political manoeuvre known as "Sheraton Move" in February 2020, PH was ousted from the federal government.
The PH Johor state government also fell, and a new government, made up of BN and Perikatan Nasional (PN) coalition, took over.  
BN's Mr Hasni then served as chief minister before the state assembly was dissolved on Jan 22. 
Prior to the dissolution, Mr Hasni justified that his state government needed a fresh mandate as it only held a one-seat majority following the death of former chief minister Osman Sapian in December last year.
With Mr Osman's demise, BN was in control of 16 seats while its coalition partners Parti Pribumi Bersatu Malaysia (Bersatu) held 11 seats and Parti Islam Se-Malaysia (PAS) had one.
The opposition PH coalition, comprising Democratic Action Party (DAP), Parti Amanah Negara (Amanah) and Parti Keadilan Rakyat (PKR), held 27 seats.
Mr Hasni said at that time that the election was necessary as the stability of the Johor state government was a prerequisite for investors and businesses to expand their operations in the state.
The Johor state election will be held on Mar 12, with nominations to take place on Feb 26.
NO GATHERINGS, PROCESSIONS ON NOMINATION DAY: EC 
The Election Commission wrote in a statement on Thursday that no gathering of supporters will be allowed throughout nomination day. 
In the statement, EC secretary Ikmalrudin Ishak stressed that only the election candidates, proposers and their seconders will be allowed to enter the nomination centres.
"Political party supporters who will be represented by future candidates are not permitted to gather or form a procession at any location, including the nomination centres, on nomination day," Mr Ikmalrudin said. 
He also expressed hope that the nomination process for candidates is held smoothly without any unwanted incidents which disrupts public safety. 
Mr Ikmalrudin added that there will be strict enforcement of health protocols outlined throughout the election period.