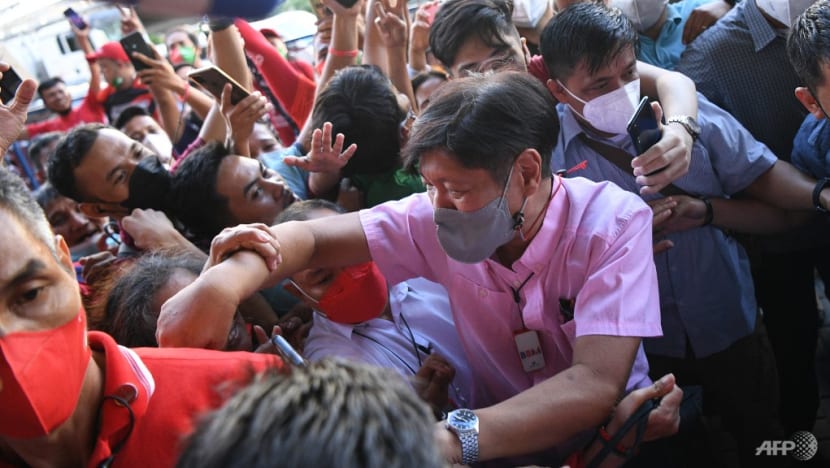 MANILA: Ferdinand "Bongbong" Marcos Jr emphasised a message of unity and revealed his plans for the Philippines after a landslide victory in this week's presidential election.
"I am guided by the fact that 31 million of our countrymen voted for unity," said 64-year-old Marcos in his speech on Wednesday (May 11).
Speaking at his headquarters in Mandaluyong City, Marcos laid out a plan for the Philippines once his administration takes over.
His top priorities include tackling the economic crisis caused by the ongoing COVID-19 pandemic and what he described as "critical areas".
"We are dealing with these first ... The economic crisis, the crisis in energy, a lack of jobs, education and infrastructure - all of these areas that are going to be critical in the next few years," he told the media.
Marcos also pledged to continue working for "an administration that gives voice to everyone who wants to help", adding that he will be making more announcements over the next few days.
As of 7.32pm on Wednesday, the partial and unofficial results showed Marcos has won 31,091,482 votes in the May 9 presidential election, leading his key rival incumbent Vice President Maria Leonor "Leni" Robredo by more than 16 million votes.
Robredo, 57, a former human rights lawyer, has so far scored 14.82 million votes, according to data from the Commission on Elections' transparency server.
During his speech, Marcos announced his running mate Sara Duterte has agreed to take the Department of Education.
"So, Sara said she is capable. I asked her if she can do the job because the job of the Secretary of Education is hard. But she agreed," he said.
"I think part of it is because she is a mother and she wants to make sure that her children are well-trained and well-educated. That's the best motivation we can hope for."
Marcos is a former senator and the only son of the late president Ferdinand Marcos, whose authoritarian regime was marred with corruption and human rights abuse.
In 1986, his family fled into exile in Hawaii after the People Power Revolution ended Marcos' 20-year rule.

To his critics, the younger Marcos' candidacy is a deliberate attempt to take back power that once belonged to the Marcoses.

In the vice-presidential race, Duterte is also in a big lead with more than 31.55 million votes. Second to her is Kiko Pangilinan, Robredo's running mate, who has won about 9.2 million votes so far.