Commentary: Marcos Jr's popularity shows lasting appeal of strongman leaders in the Philippines
Many Filipinos look at Marcos Jr as their saviour – believing he can achieve the best of what his father did in his time, while avoiding the worst of his mistakes, says Manila-based writer Jeff Bansigan.
MANILA: Nearly 70 million Filipinos headed to polling centres on Monday (May 9) to elect the next president of the Philippines, hoping their pick will turn around a country battered by the COVID-19 pandemic over the last two years.
The fight for the presidency was centred between Ferdinand "Bongbong" Marcos Jr, the son and namesake of the late Filipino dictator, and Vice President Maria Leonor "Leni" Robredo, a human rights lawyer and economist.
On Wednesday, Marcos Jr claimed victory, after partial unofficial counts covering 98 percent of the votes showed he had obtained 31 million votes, double that of Robredo. Sara Duterte-Carpio, President Rodrigo Duterte's daughter and Marcos Jr's vice presidential running mate, has also been reported to have won over three times more voters than that of her closest opponent.
Marcos Jr and Duterte-Carpio, who hail from the north and south of the country respectively, are now a few steps away from the doors of the Palace, with an official result expected at the end of May. But can they shake off the baggage of their family names?
VOTERS SEEM UNCONCERNED ABOUT PAST ISSUES IN MARCOS RULE
It seems voters, mostly from younger generations, were simply not interested in the issues that hounded the Marcos family – the corruption, human rights violations, and killings blamed against the family. In the past, the Marcos family added to the general hardship of Filipinos by plundering billions of dollars from state coffers
Disillusioned by unfulfilled promises from the Duterte administration to lower costs of living, end labour contractualisation and clean up corruption, they believe Marcos Jr could deliver change.
Support for Marcos Jr's is phenomenal, doubling the number of votes of his highly popular predecessor. A big reason could ironically be the fervour of the 1986 revolution when thousands of people had gathered along the EDSA highway in Manila to drive the elder Marcos from office, overturning 14 years of martial law. Nothing has brought Filipinos together like that historic event ever since.
Marcos' campaign, focused on unifying the country and bringing it back to the global stage must have resonated. His message of "look at us, we have been severely affected by the pandemic but will get back on our feet" was something many Filipinos were eager to get behind.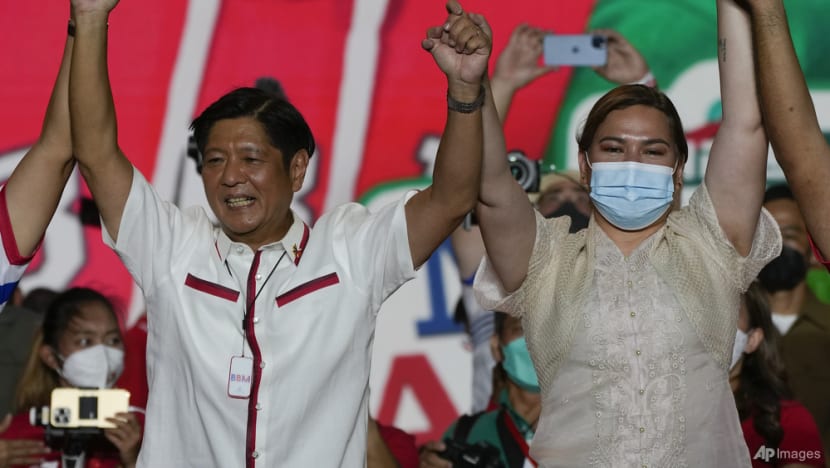 There are other factors that should also be considered about his landslide win. For one, Robredo's outspokenness on Duterte's anti-drug war since she became vice president attracted much criticism, even accusations that she supports communist rebels.
Since she is not a "traditional" politician, Robredo did not form her own political machinery, which is critical to bids for the country's highest position. According to anti-disinformation site tsek.ph, Robredo was targeted by false or misleading narratives that were preponderantly negative.
But it is Marcos Jr's extraordinary appeal to the man on the street that has been notable. Many Filipinos look at Marcos Jr as their saviour – believing he can usher in the rapid economic growth that characterised the early era of his father's rule.
These supporters expect the new administration to lower the prices of commodities, create more jobs, continue the war on drugs and find solutions to the country's deeply rooted corruption.
It is unclear what Marcos Jr's long-term plans are for the country, save for campaign promises of making the Philippines known worldwide as a better place to live – where, in the wake of the pandemic, people can return to their jobs, have money to buy food and send their children to school.
REHABILITATING THE MARCOS NAME?
As Marcos Jr looked set to win, hundreds of activists marched in Manila to show their opposition to his leadership, which they fear could be worse than President Duterte's. Thousands have died from Duterte's war on drugs, while thousands of activists were killed or remain missing under Marcos Sr's martial law.
Nobody knows what the son of the late dictator might do under his term – and judging by the overwhelming electoral tally, the majority of Filipinos don't believe having another Marcos in the palace will put the nation at risk.
Some residents in Tondo, a suburb of Manila, defend their decision of giving Marcos Jr a chance of proving his detractors wrong and that he is different from his late father, in that he will put the people first by not imposing martial law or plunging the country into more debt.
It could be argued that Marcos Jr's supporters – those who attended rallies and voted for him – are smart enough not to be fooled a second time. Repeating the mistakes of his late father will be doubly damning for him and turn those who believed in him into enemies.
The elder Marcos was chased out of the country by the People Power Revolution in 1986. His wife and children were allowed to fly home three years after his death in exile in 1989. They have since slowly rehabilitated the family name by re-entering politics and getting elected as local officials.
In 1998, Marcos Jr became the governor of Ilocos Norte province, and was congressman from 2007 to 2010 and senator from 2010 to 2016. His sister, Imee, was a senator , while their mother, Imelda, was elected congresswoman. The Marcos name was no longer solely associated with the misdeeds of the father.
HOW WILL MARCOS JR BRAND HIMESLF?
As president, Marcos Jr has the opportunity to rebrand his image, such as by taking a firm stance on foreign policy – particularly on China, compared to Duterte's softer approach. Marcos Jr could look to further unite Filipinos behind nationalist issues, such as by reinforcing the 2016 international court ruling in favour of the Philippines over disputed waters in the South China Sea, against Beijing's claims.
Marcos Jr would also have to reckon with international criticism of the Philippines' human rights situation – including the extrajudicial killings of Duterte's war on drugs, and "red-tagging" where activists and government critics are accused of being communist fighters.
While there's no pronouncement yet, Marcos Jr would likely continue the anti-drugs crackdown started by outgoing President Duterte in 2016. Despite the international outcry, many voters support the programme as they feel safer with it.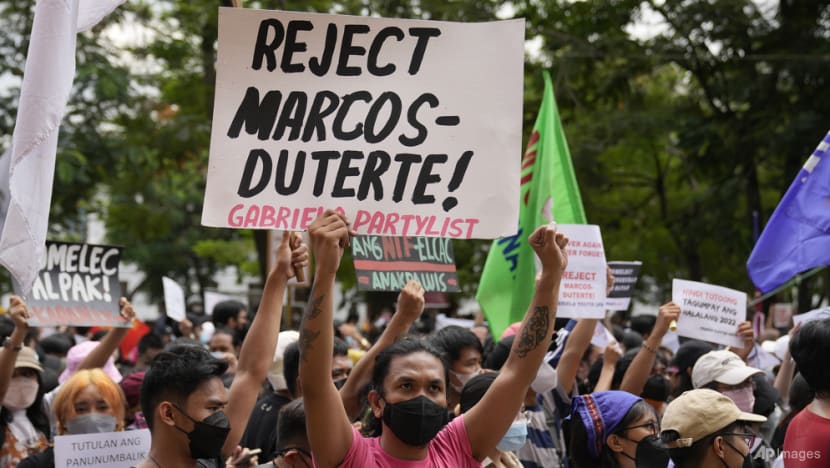 Having Duterte's daughter at his side also makes it likely Marcos Jr would protect the outgoing president from charges of crimes filed against him.
Just a few days before the election, Duterte downplayed accusations of corruption lodged against Marcos Jr when he was a senator. Duterte even claimed the government has found no ill-gotten wealth linked to the Marcos family, which contradicted the 2003 ruling of the Supreme Court that the Marcoses amassed ill-gotten wealth of more than US$658 million.
"To the world, he says: Judge me not by my ancestors, but by my actions," Marcos Jr said in a statement via his spokesperson. Time will tell if the worst of history will repeat itself – and if it does, what happens next is up to the people that put them in power.
Jeff Bansigan is a journalist based in Manila.