Dim prospects for Hong Kong's neon signs amid enhanced safety regulations, redevelopment efforts
Fewer than 500 neon signs remain across Hong Kong, as locals urge authorities to rethink their policies towards what they view as a crucial part of the city's heritage.
HONG KONG: An iconic feature of Hong Kong's night scenes may soon be a thing of the past.
Vibrant neon signs light up the city at night, but with tighter safety regulations and redevelopment efforts taking place, it is a fast-fading sight.
Today, fewer than 500 signs remain, bathing the streets of Hong Kong in technicoloured hues.
SAFETY STANDARDS
The neon signs are big, bright and add colour to otherwise drab buildings.
However, many have been removed after authorities amended safety standards in 2010.
Under the revised rules, most of the signs were deemed to have breached the size limit, extended too far into the street, or blocked fire escape routes.
Among them was Cheung Shun Pawnshop's sign, which had to be replaced by a smaller one after being up for two decades.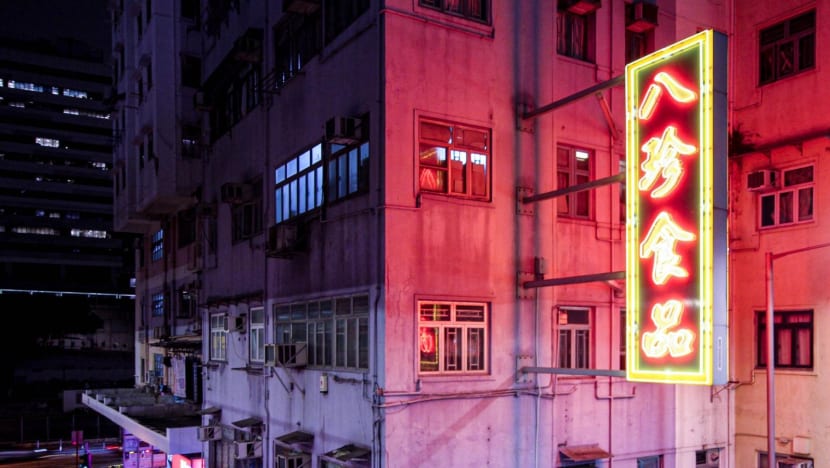 Manager Ernest Kwok Pak-ki told CNA: "The previous signboard is bigger than the current one by almost two-thirds, and it extended into the middle of the road. It was indeed quite eye-catching."
Removals have sped up in recent times, with over 1,100 taken down last year, compared to less than 700 in 2015.
Non-governmental organisation Tetra Neon Exchange is racing against time to save as many neon signs as possible, before they get destroyed. 
Its general manager Cardin Chan told CNA the signs are "actually the embodiment of a lot of stories and culture".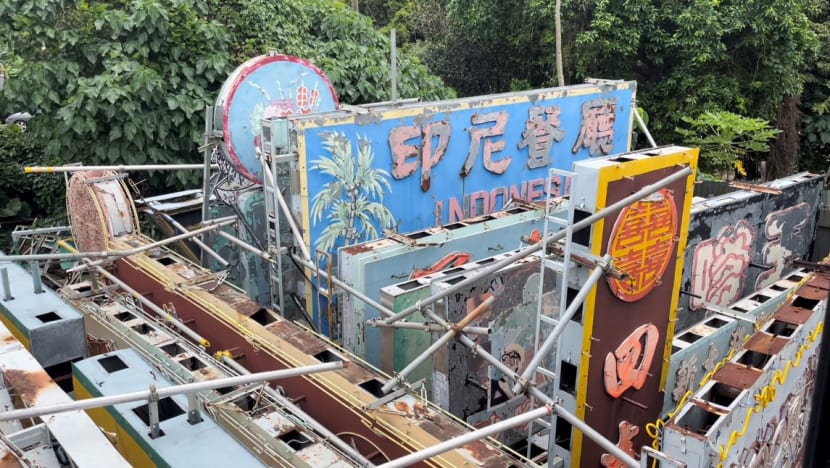 She noted that what makes a Hong Kong sign unique is the "handwritten Chinese calligraphy and hand-painting or hand-drawn artwork design, and also the neon chip bending".
A DYING CRAFT
Some shops have switched to LED boards as a cheaper option.
Another reason, however, is the lack of skilled craftsmen who can still produce neon signs.
"The maintenance and repair of neon signs can be challenging. The makers are getting older, and fewer are taking over, so we are concerned about damage in the future," said Mr Kwok.
Among the only eight neon sign masters left in Hong Kong is Mr Wu Chi-kai, who has been in the trade for 36 years.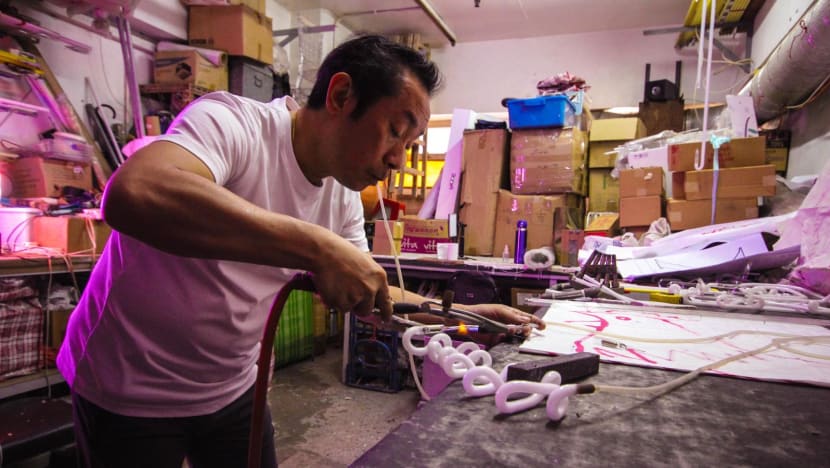 "The workload used to be very heavy. In the past, I was making neon sign boards with two other masters. There was one week we were too busy to return home to sleep," he shared.
With falling demand these days, Mr Wu has had to pivot to remain in the industry, taking on an apprentice looking to learn how to combine neon lights with art.
Though the next generation of artists has to comply with the new building rules, many locals say it is still important to preserve such heritage, amid Hong Kong's redevelopment.
Mr Kwok said: "The neon sign somehow represents the image of our industry as a traditional one.
"The nostalgic feeling that neon signs give people is a reminder of the glorious days of Hong Kong, back when everything was vibrant and colourful."
Ms Chan said she hopes there is a future for neon signs in the city, along with other traditional crafts.
"I hope the stakeholders or the lawmakers will be able to think through if their policies could benefit neighbourhoods," she said.
"This is part of Hong Kong. This is part of us growing up as well."